From being a guard in the China's military services to becoming the richest Chinese in the world, it has been an incredible journey for Wang Jianlin, chairman of the Dalian Wanda Group.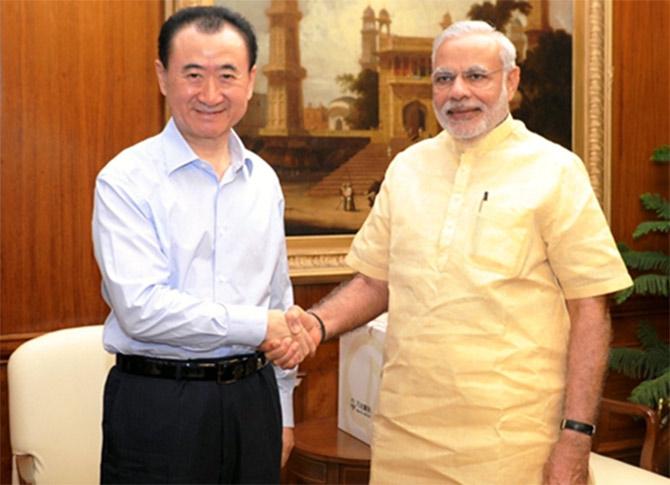 Image: Wang Jianlin, richest Chinese in the world with Prime Minister Narendra Modi. Photograph, courtesy: Wangda Group
Real estate tycoon Wang Jianlin toppled Li Ka-shing, chairman of CK Hutchison Holdings and Cheung Kong Property Holdings and Alibaba's Jack Ma to become richest man in China.
While 87-year-old Li Ka-shing takes the second position with a wealth of $32.8 billion, a fall in Alibaba's shares saw Jack Ma slip to third position in China's richest list.
According to the Hurun report, 1,577 individuals have net wealth of at least $320 million each.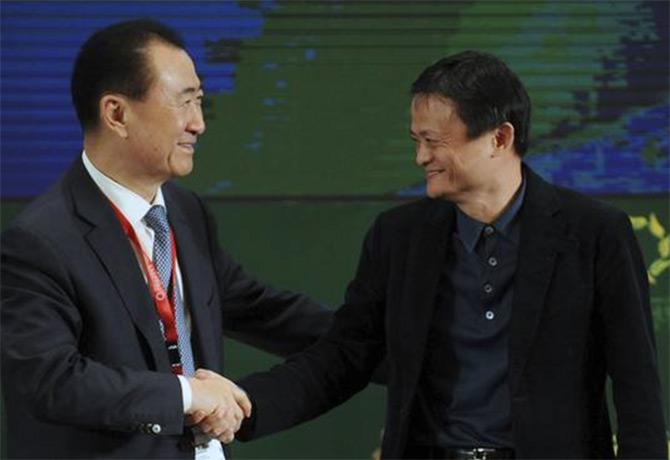 Image: Wang Jianlin with Jack Ma (L). Photograph: Reuters
The total wealth of these individuals amounts to $2.1 trillion, equivalent to the GDP of Russia or 1.5 times the GDP of South Korea.
Of these, 504 are dollar billionaires. "Chinese may account for 20 per cent of the world's population, but global Chinese dollar billionaires make up 25 per cent of the Hurun Global Rich list," finds Hurun research.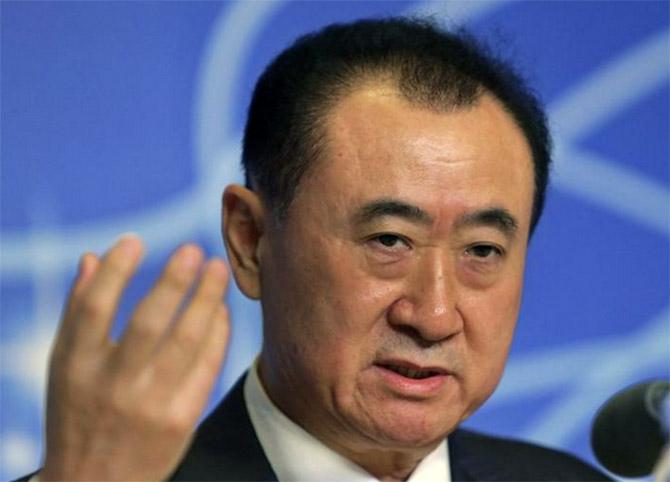 Want to know more about the success of China's richest man? Read on…
At the young age of 15, Wang joined the People's Liberation Army as a guard. He rose through the ranks to become a regimental commander after spending 17 years in the military services.

He then worked as a government official in Dalian before he decided to test his fortunes in the realty business.
Founded in 1988, Dalian Wanda Group operates in four major areas - commercial property, luxury hotels, culture & tourism, and department stores. In 2014, the company's assets totaled $85.6 billion and annual income stood at $38.8 billion.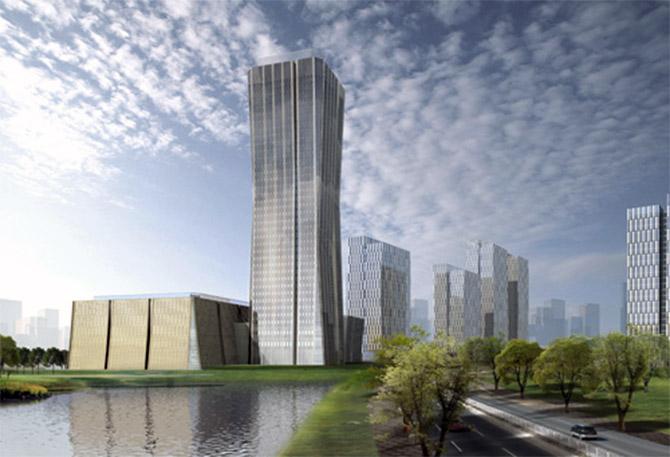 Image: Wanda Hotels and Resorts Co has opened 71 five star and luxury five star hotels across China. Photograph, courtesy: Wanda Hotels
The company owns 109 Wanda Plazas across China, with a total leasable property space of 21.56 million square meters. The company has ambitious plans of opening 26 more properties in 2015, to become one of the world's largest owners of commercial realty.
Wanda Hotels and Resorts Co has opened 71 five star and luxury five star hotels across China.
China's biggest real estate developer, Wang also is also the world's largest movie theatre operator.

Image: Wanda operates 99 department stores in major cities. Photograph, courtesy: Wangda group
The Wanda Culture Industry Group operates in 10 areas: cinemas, film production, film industry parks, performing arts, film technology entertainment, theme parks, franchise entertainment, print media, and art investment and travel.
Wanda operates 99 department stores in major cities such as Beijing, Shanghai, Chengdu and Wuhan.
Wang Jianlin's wealth has zoomed to $42.6 billion from $24.2 billion in 2014.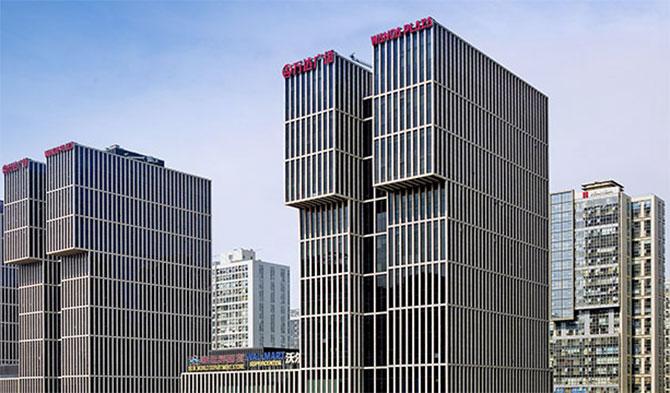 According to Hurun, the $3.7 billion Dalian Wanda Commercial Properties IPO and $209 million Wanda Cinema Line Company IPO helped Wang bag this envious position.
The shares of WandaCinemas zoomed by 500 per cent since it was listed in Shenzhen in January adding to Wang's riches. Dalian Wanda Commercial Properties also performed well gaining 11 per cent since going public in Hong Kong in December.
Wang's companies include US cinema chain AMC Entertainment, Hong Kong-listed Wanda Commercial Properties and Wanda Hotels.
Image: Wanda's CEO Wang Jianlin, (centre), Baidu CEO Robin Li, (left), and Tencent CEO Ma Huateng. Photograph: Alex Lee/Reuters
In 2014, he started an e-commerce company with two of China's biggest internet companies - Baidu and Tencent.

In 2012, he became world's largest theatre owner when his company took over US-bas AMC Entertainment for $2.6 billion.
He has won the CCTV's Chinese Economic Person of the Year award twice. He has received three China Charity Awards from the Ministry of Civil Affairs. In 2013, he was awarded the title of Honorary President of the China Charity Federation.
Wang owns 20 per cent of the Spanish football club Atletico Madrid.
An art lover, Wang has an impressive collection of a number of Chinese calligraphy and paintings. In 2014, he bought Pablo Picasso's painting for $28 million!