As the teachers began gaining confidence, it also drew the attention of other women in the community, leading to greater demand for teaching jobs, finds Ranjita Ganesan.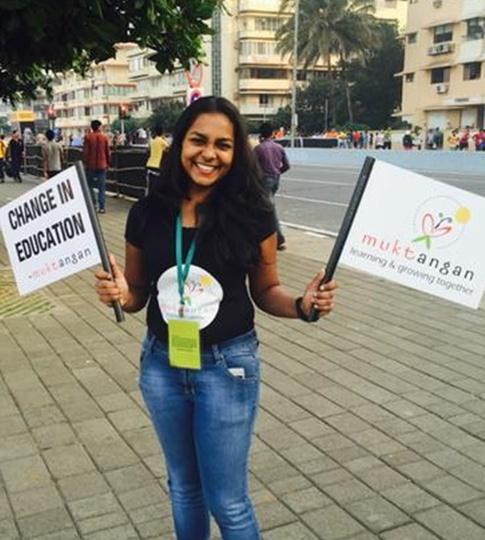 Image: Muktangan makes a positive impact. Photograph, courtesy: Muktangan
After serving dinner and sending her children to bed, Sneha Sawant had to deal with a different kind of home work. Each night at 11, she would sit down in her Worli chawl room studying course books in English with the help of a dictionary.

In 2006, over a decade after completing Class XII in Marathi medium, Sawant joined an alternative schooling NGO, Muktangan, as pantry staff before slowly enrolling in its teacher training programme.

She was keen to succeed here because odd jobs at tailoring units were inadequate to sustain the family while her husband was unemployed.

Following two years of preparation, Sawant was recruited as a teacher and has since risen to lead the pre-school at the Babasaheb Ambedkar Municipal School in Worli.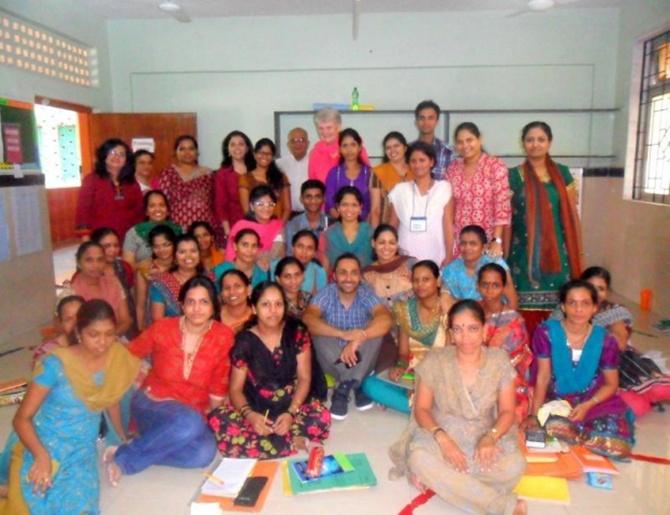 Image: Actor Rahul Bose with Muktangan team. Photograph, courtesy: Muktangan
"I want to increase my knowledge and speak more fluently," says the 40-year-old, who is furthering her education with an arts degree and plans to pursue a Bachelor of Education (BEd) next.
This sentiment is echoed by fellow teachers in Muktangan, which picks women from underprivileged backgrounds and trains them as teachers. The only requirements are a Class XII qualification and clearing basic aptitude tests.

Muktangan runs seven English-medium schools in partnership with the Brihanmumbai Municipal Corporation (BMC), employing most of its own trainee tutors.

It is an initiative "for the community and by the community," says Elizabeth Mehta, a British educationist who co-founded the NGO with husband Sunil Mehta, a retired businessman.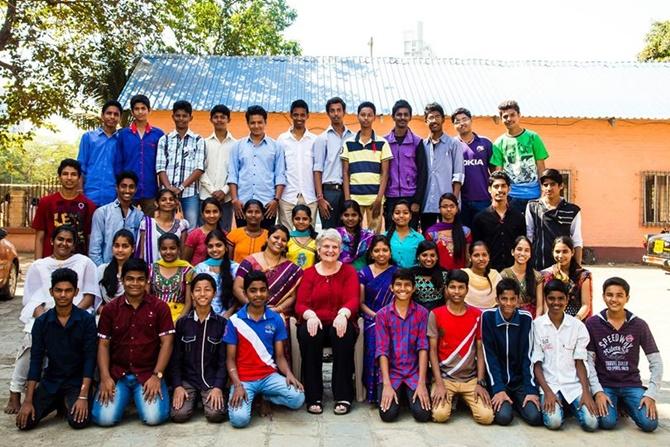 The schools, spread in central Mumbai, use an "active learning" method. The idea developed in the early 2000s as the closing of mills in Lower Parel affected the schooling of workers' children.

Elizabeth, who was earlier vice-principal of the Bombay International School and had researched primary education in rural districts, decided to start a kindergarten with the help of local women.
Seven young women started by learning concepts in early child education. They went door to door enrolling children from their neighbourhood.

The maiden batch of 90 pre-schoolers in 2003 was so happy at school that founder Sunil reports some children would cry on weekends.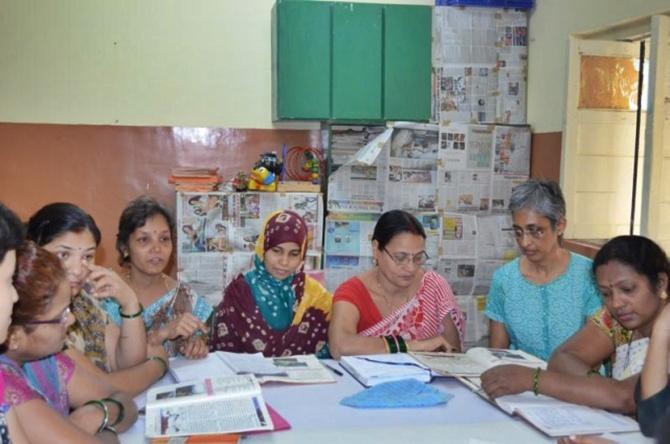 As the teachers began earning and gaining confidence, it also drew the attention of other women in the community, leading to greater demand for teaching jobs.

Soon, local families and corporators encouraged Muktangan to start primary and secondary classes in unused rooms of BMC schools.
For several women, this is a first job, says Dhanashree Yeddandi, who heads the school in Elphinstone Road. They feel more appreciated in school than at home, she adds, so they are eager to impress.

The approach is innovative with teachers keeping daily records for each student, which helps identify and deal with learning disabilities through additional tutoring. The results seem promising.

A second full batch, which studied with Muktangan from kindergarten to Class X, cleared the board exams recently. Of the 52 students, two scored over 90 per cent, while 31 scored over 75 per cent.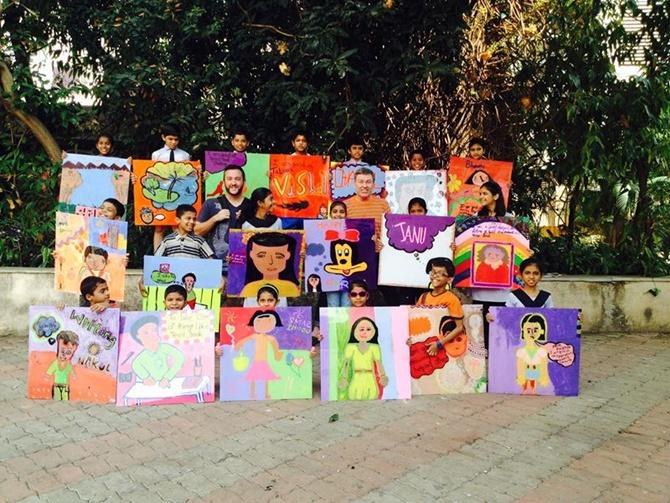 The clamour during admissions is growing but the foundation restricts numbers to maintain low student-teacher ratios. Consequently, the dropout rate is low and attendance higher than in most municipality schools, reports Muktangan.
There are benefits to attracting teachers from the same marginalised community. It is easier to understand and interpret the child's behaviour in school.

When tutor Jagtap dropped by a student's house in her immediate neighbourhood, it made sense why he loved to sprint back and forth in class. His was a large family packed like sardines into a single room with a low roof.
However, as the city changes and people migrate, the distance between teachers and students' homes has grown. One teacher travels from Igatpuri daily, while some students have moved to Panvel and Kalyan.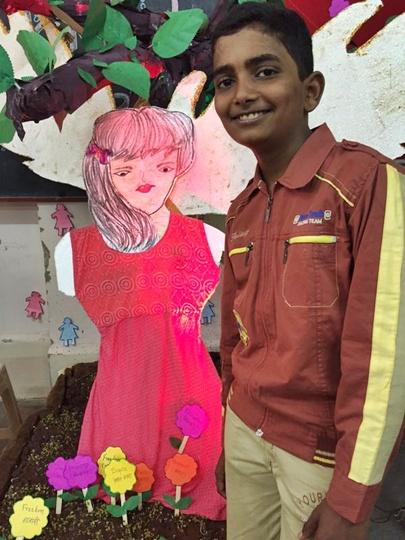 So as to continue observation of students outside school, tutors pay occasional home visits. During a visit last year, when they found that a student who had moved to Borivali lived in a hut with no electricity, they made arrangements for him to use a nearby park for studying.
Some ideas at the classroom level attempt to simplify learning. Children sit in a circle around the teacher instead of in rows. There are multiple bulletin boards outside and within rooms, each filled with charts and trimmings.

At lunch hour, BMC-funded khichdi and seasonal fruit sponsored by the foundation - bits of papaya or pearls of pomegranate - are distributed. Each class is divided into two or three groups, taught by one teacher each. Somehow there is no chaos.
"Is the earth's orbit bigger or the moon's," one 12-year-old wants to know during a geography lesson at the Sayani Road school, Dadar.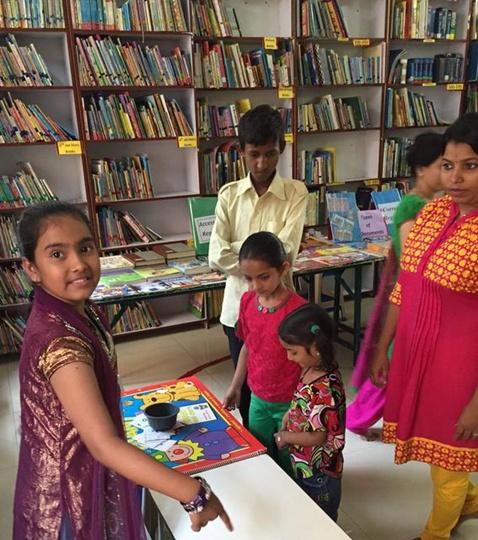 "What is an umbra region?" another child asks. Their curiosity is encouraged even if the teacher does not have a surefire reply to the question about orbits. "I will bring some more information on that in the next lesson," she promises, before suggesting they visit the library together.

Rather than just according to grade, rooms are divided subject-wise into languages, science and social sciences.

This is so that learning aids like charts and equipment can be on constant display. For instance, a Class VII social science room includes globes, pictures of eclipses and timelines of historic events.
But challenges remain. Muktangan's teacher education course does not have government accreditation because a rule states there must be a separate building for training teachers.

Further, to land teaching jobs at other schools, according to rules of the National Council for Teacher Education, one needs a diploma or bachelor's degree in elementary education.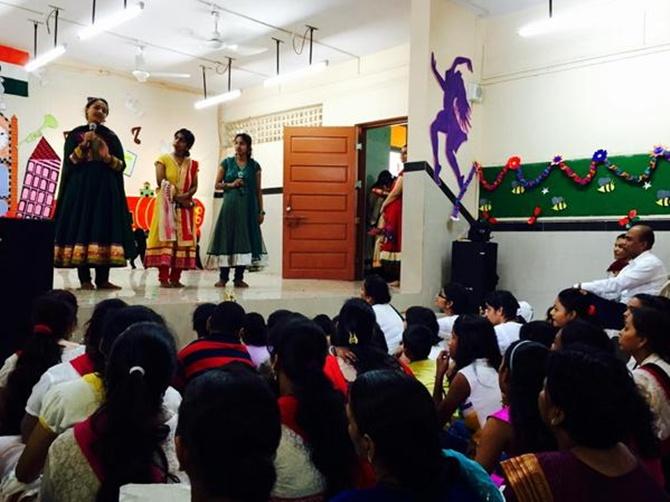 So many teachers in the NGO are upgrading their qualifications separately. Muktangan feels its efforts have unofficial recognition as BMC and Unicef have invited it to conduct workshops on teacher training.
Each teacher has a story of transformation, says Jumana Rampurawala, who leads teacher education. Tabassum, whose husband would take away her railway pass so she could not attend school, teaches Class IV now.

Chanchal was a Class VII dropout when she joined as an assistant but is pursuing her graduation now. Pre-service training lasts a year, where trainees are taught to work with learning aids.

They also serve internships, auditing classes in Muktangan-run schools for two days a week. Following regular assessment, they are placed either within Muktangan or other NGOs.

Training continues for a year while in service, when teachers learn to plan the curriculum and come up with creative ways to communicate concepts. Although Muktangan's model mainly led to women's empowerment, men have slowly started enrolling too.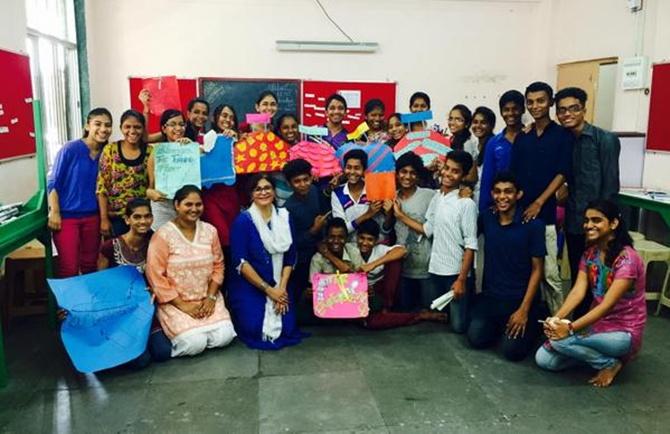 The organisation will not be taking up more schools but plans to spread its teacher-training to other states. There is scope, believes Sunil, to partner with schools run by big companies operating in rural India.

Donors, including Luis Miranda, former Chairman of IDFC Private Equity, and YM Deosthalee of L&T Finance say Muktangan shows a reimagining of mainstream education is possible.

The NGO's most significant feat appears to be the addition of empowered confident women to the teaching force. Nanda Salunkhe, a kindergarten teacher, points out, "Working with children, many of us are able to forget that we are adults with problems. For me, it was a chance to live a childhood I never had."