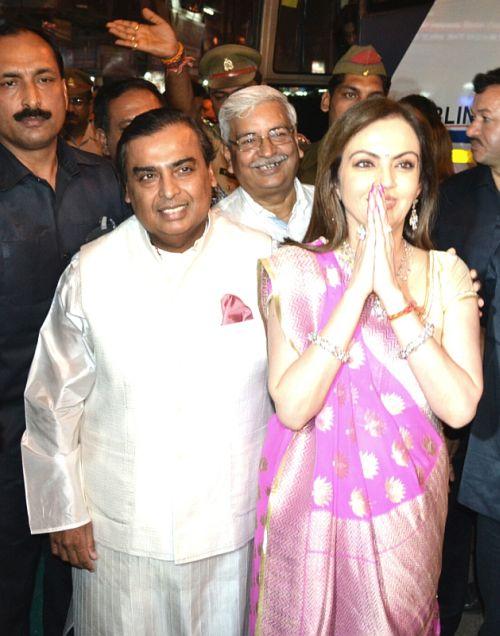 Image: Mukesh Ambani with wife Nita. Photograph: Sandeep Pal
These people have the power that "shapes and bends the world, and moves people, markets, armies and minds," says Forbes magazine about the the world's 72 most powerful people.
In the list which has politicians, corporate bigwigs and heads of government organisations, there are 39 successful CEOs who control over $3.6 trillion in annual revenues.

Fourteen of these business heads are founders of companies like Alibaba's Jack Ma and Mark Zuckerberg.

The list of most powerful people is based on an evaluation considering important factors like 'financial resources, scope and use of power, and the number of people they impact'.

Take a look at the most powerful business people from India and the world…
Mukesh Ambani
Global Rank: 36
Net worth: $22.8 billion

Reliance chairman Mukesh Ambani has moved 2 ranks ahead this year on the most powerful list.
Mukesh started his career in Reliance at a young age of 24 and proved successful in expanding the company's business across petrochemicals manufacturing, oil and gas production, telecommunications, retail, and media.

For the last 8 years, he has been ranked India's richest business tycoon.

He hit the headlines recently when Reliance acquired the media company Network18 for $655 million.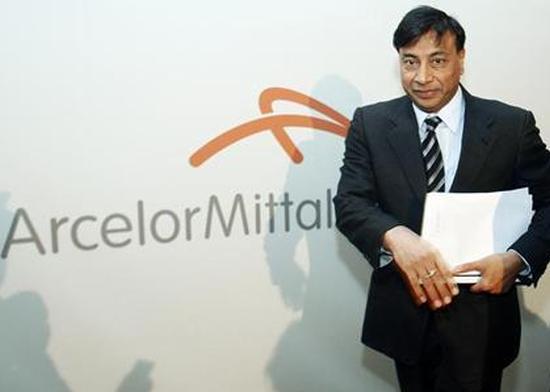 Image: Arcelor Mittal chairman Lakshmi Mittal. Photograph: Reuters
Lakshmi Mittal
Global Rank: 57
Net worth: $14.3 billion
Lakshmi Mittal is the second most powerful Indian businessman in the list as he rules supreme as the world's biggest steelmaker.
Mittal has slipped to 57th position from being ranked at 51 last year.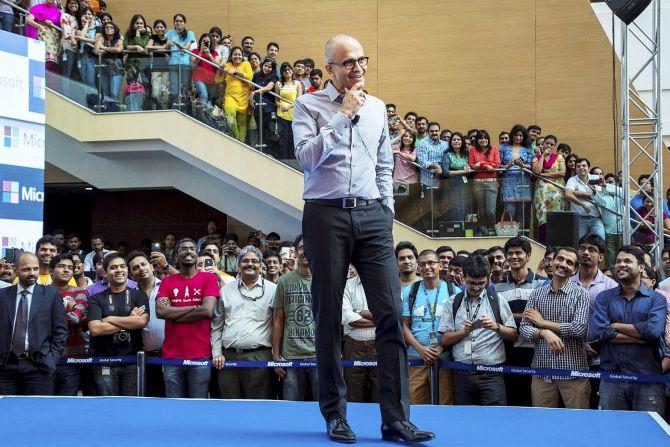 Image: Satya Nadella interacts with employees in India. Photograph: PTI
Satya Nadella
Global Rank: 64
India-born Satya Nadella who became the new chief executive of Microsoft in February this year is ranked 64.

One of the world's most influential technology wizards, he has a tough task in hand to drive the profitability and growth in Microsoft in a very competitive market.

He recently hit the headlines for his biased comments that women should have faith in the system and trust their "karma" than seek pay parity. He later apologised for his unfair remarks.
Here's a look at world's 16 most powerful people from the world of business..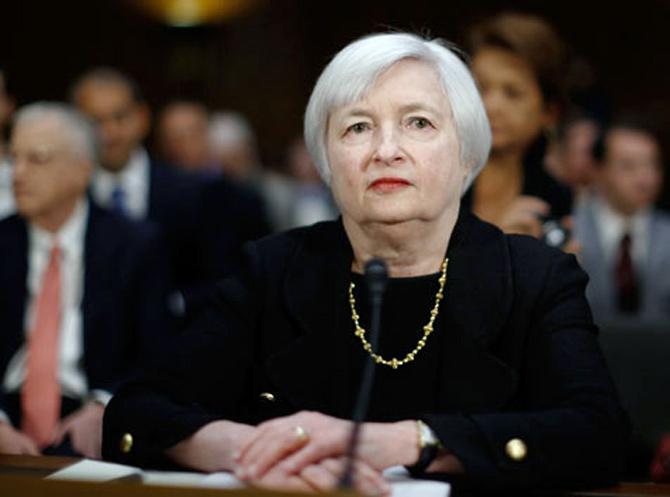 Image: US Fed Governor Janet Yellen. Photograph: Reuters
Janet Yellen
Global rank: 6
Governor, US Fed
Janet Yellen is the most powerful person from the business world, according to Forbes.

She is first woman to head the US Federal Reserve Bank.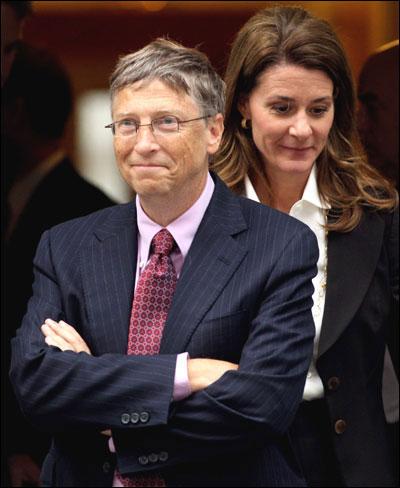 ImageBill and Melinda Gates. Photograph: Getty Images
Bill Gates
Global rank: 7
Net wealth: $81.7 billion

The world's richest man certainly wields power. In Gates' case, he uses the power and money to make a big difference in the lives of millions of poor with a number of philanthropic activities.
The Bill & Melinda Gates Foundation contributed $30 billion since 2000 to various social welfare activities across the world.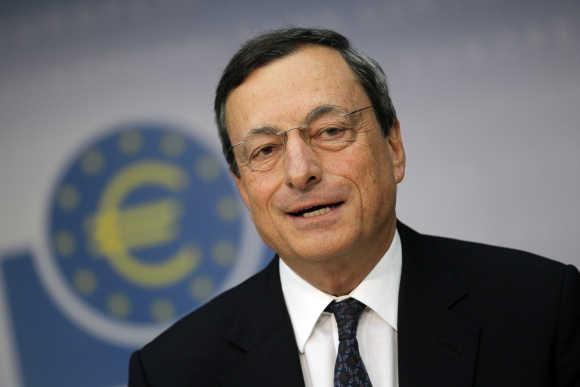 Image: European Central Bank President Mario Draghi. Photograph: Alex Domanski/Reuters
Mario Draghi
Global rank: 8
President, European Central Bank
As the president of the European Central Bank, Mario Draghi has a challenging job.

Nicknamed 'Super Mario', his job includes maintaining financial stability across 18 countries in Europe.
Forbes ranked Draghi as the 9th most powerful person in the world in 2013.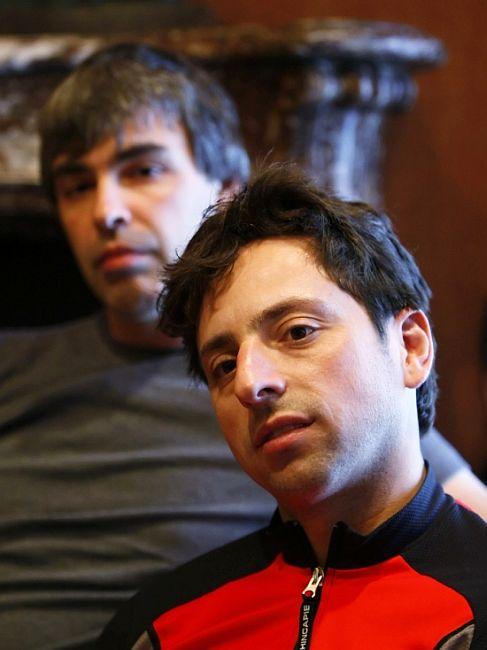 Image: Larry Page and Sergey Brin (R). Photograph: Rick Wilking/Reuters
Sergey Brin & Larry Page
Global Rank: 9
Net wealth: $29.8 billion
Sergey Brin & Larry Page are two of the most influential people in the digital age.

Their company Google still dominates online search, with a 65 per cent share of the global market.
Both of them have made rapid strides to be ranked at 9th position from 17 last year.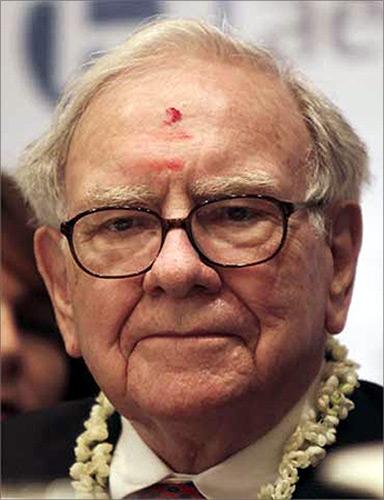 Image: Warren Buffett. Photograph: Reuters
Warren Buffett
Global Rank: 12
Net wealth: $70 billion
At the age of 84, Warren Buffett continues to be at the helm both professionally and philanthropically, says Forbes.
Warren Buffett, the second richest American continues to grant billions for philanthropy.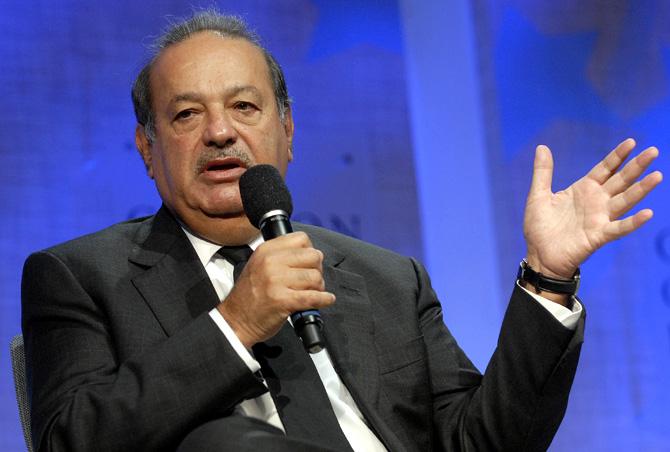 Image: Carlos Slim Helu. Photograph: Reuters
Carlos Slim Helu & family
Global rank: 14
Net wealth: $80.6 billion

Mexican business tycoon Carlos Slim Helu is the second richest man in the world.
Carlos Slim's America Movil has telecom operations in 18 countries in and 265 million mobile phone customers.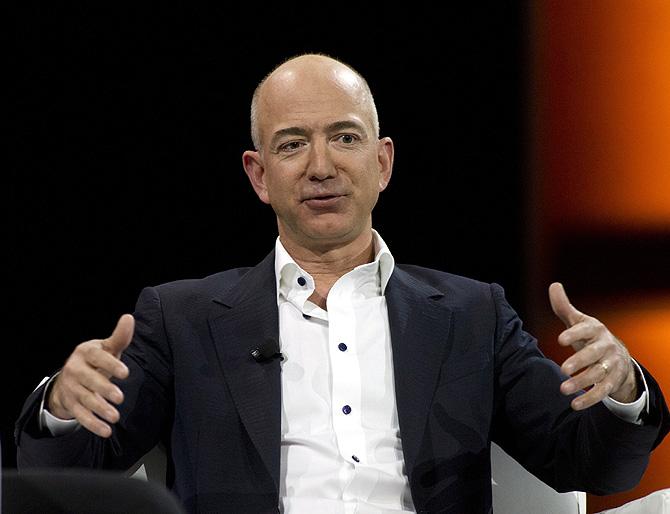 Image: Jeff Bezos. Photograph: Richard Brian/Reuters
Jeff Bezos
Global rank: 16
Net wealth: $27.7 billion
Jeff Bezos-founded Amazon.com is the second-largest e-commerce company in the world.

Bullish on prospects in India, Bezos recently announced that Amazon would investing $2 billion.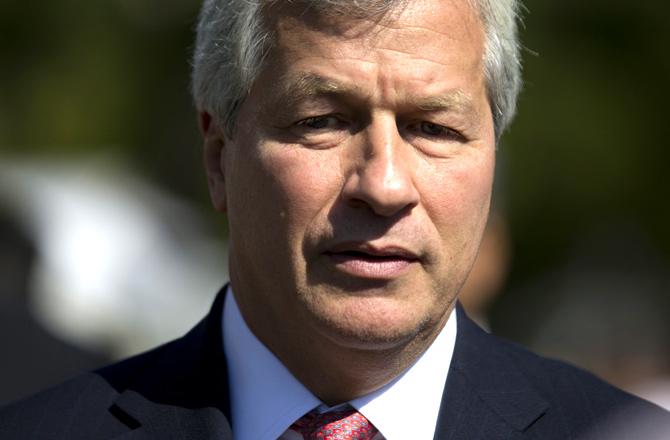 Image: Jamie Dimon. Photograph: Jason Reed/Reuters
Jamie Dimon
Global Rank: 18
Though Jamie Dimon had to gone through a tumultuous phase in his personal life, after being diagnosed with throat cancer, he returned to work in October.
An optimistic boss, he has told his employees that his disease is curable.
After taking over the company in 2005, Dimon helped the company tide over the financial crisis and emerge profitable as well.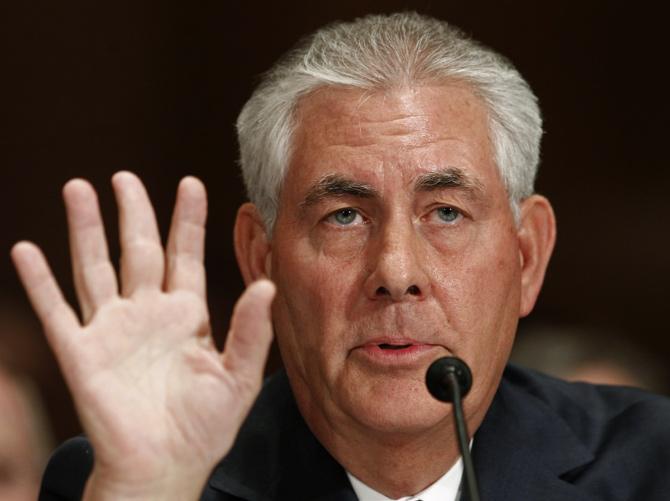 Image: Rex Tillerson. Photograph: Kevin Lamarque/Reuters
Rex Tillerson
Global Rank: 20
Rex Tillerson, CEO of The Exxon Company joined the company in 1975 as an engineer.

Today, it is the world's most valuable publicly traded oil company.

The company has generated $34 billion as net income in the past year, says Forbes.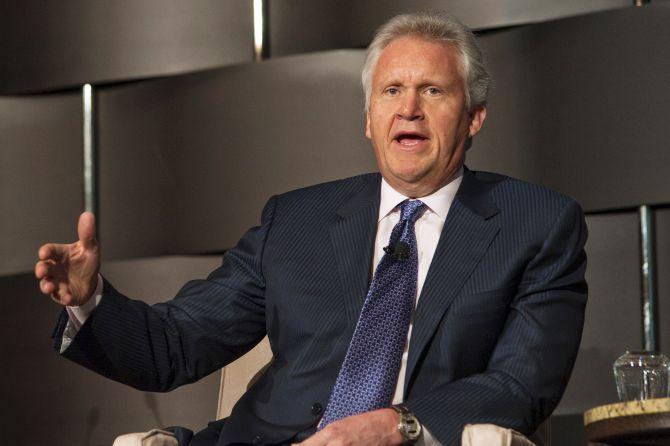 Image: Jeffrey Immelt. Photograph: Keith Bedford/Reuters
Jeffrey Immelt
Global rank: 21
CEO, General Electric
Jeffrey Immelt has been CEO of General Electric since 2001.
Immelt was named by Time magazine's 100 most influential people in the world in 2009.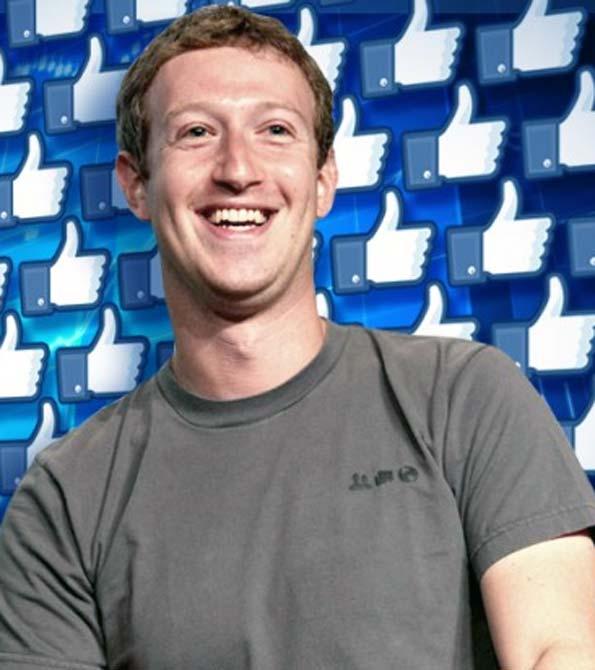 Image: Mark Zuckerberg. Photograph: Beck Diefenbach/ Reuters
Mark Zuckerberg
Global rank: 22
Net wealth: $33 billion
Facebook CEO and founder Mark Zuckerberg scripted one of the biggest internet success stories.

This year, Zuckerberg signed a deal to buy WhatsApp for $19 billion.
Image: Michael Bloomberg. Photograph: Brendan McDermid/Reuters
Michael Bloomberg
Global rank: 23
Net wealth: $35.6 billion
Former mayor of New York, Mike Bloomberg is the founder of Bloomberg, the global financial data and media company.
Bloomberg has given away $3.3 billion to philanthropy, including $100 million to the Gates Foundation.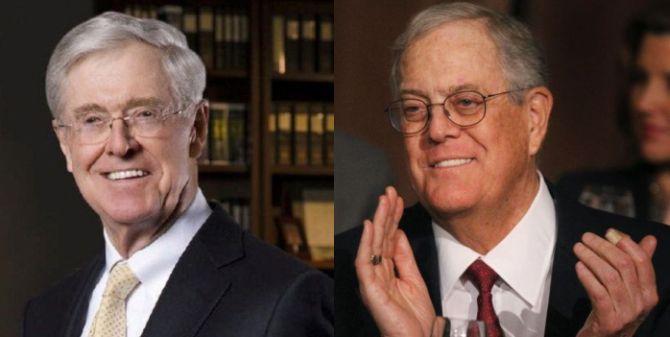 Image: David Koch (L) and Charles Koch. Photograph: Brendan McDermid/Reuters & Koch Industries
Charles Koch
CEO, Koch Industries
Executive Vice President, Koch Industries
David Koch
Net wealth: $42.4 Billion
Global rank: 24
Brother Charles and David Koch's interests spans across business, philanthropy and politics.

Charles has been at the helm of Koch Industries since 1967.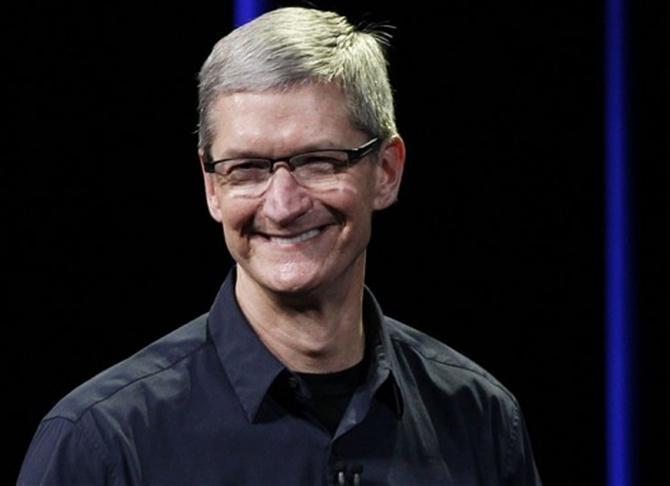 Image: Apple CEO Tim Cook. Photograph: Reuters.
Timothy Cook
Global Rank: 25
Tim Cook is one of the world's most successful CEOs.
He succeeded Steve Jobs to become CEO of Apple on August 24, 2011.

With the iPhone 6 phone launch, Apple has seen record breaking sales, resinstating Apple's position as the world most valuable brand.

Tim Cook recently hit the headlines for calling himself a 'gay'.