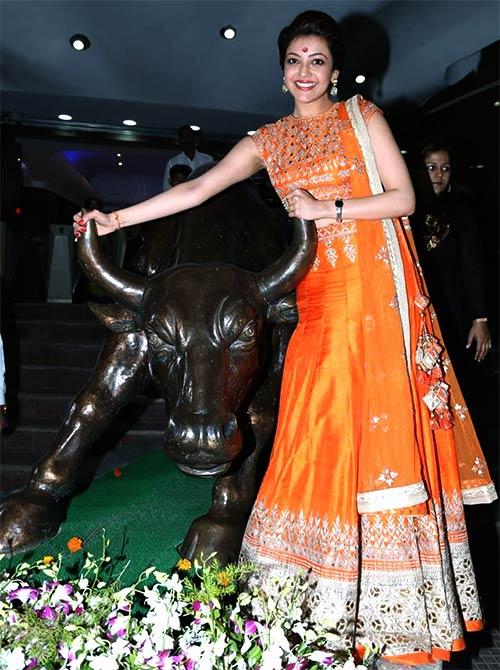 Image: Bollywood actress Kajal Agarwal at the Bombay Stock Exchange. Photograph, courtesy: BSE.
This year has been significant for India's equity markets on more than one count.

India, one of the best-performing equity markets in 2014, now ranks 9th on the league table of market capitalisation (m-cap).
India, with m-cap of about $1.6 trillion, is ahead of Switzerland and Australia (not in the table), and is closing in on Germany and France.

Interestingly, India's total market capitalisation has increased by around 39 per cent so far this year, by far the most compared to the other nine countries in the top 10 list.

Take a look at the top 10 performing markets...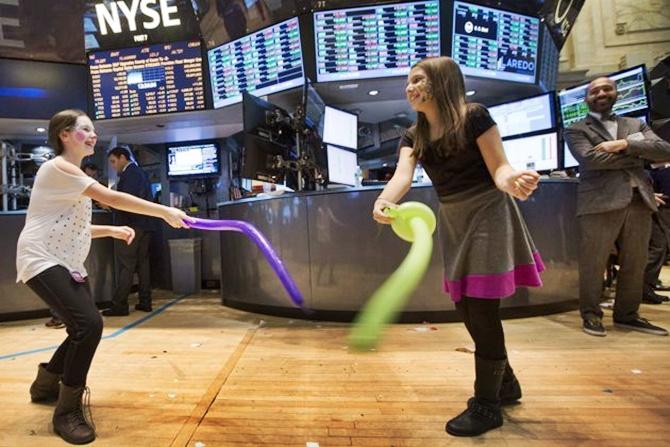 Image: Children play on the floor of the New York Stock Exchange. Photograph: Reuters.
United States

Rank: 1

Market cap: $23.8 trillion
Percentage of world m-cap: 37%
Change (year to date): 6.8%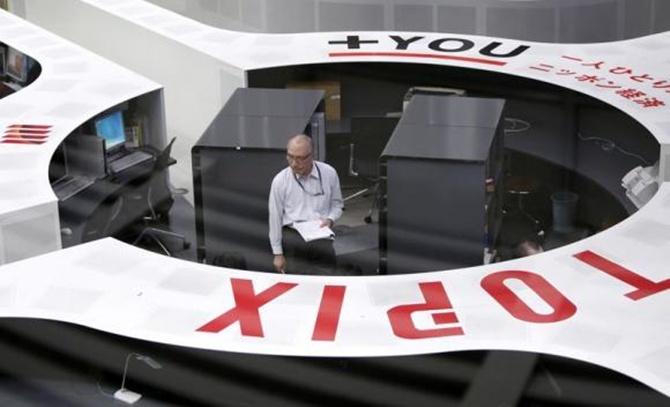 Image: Tokyo Stock Exchange. Photograph: Yuya Shino/Reuters
Japan
Rank: 2
Market cap: $4.5 trillion
Percentage of world m-cap: 7%
Change (year to date): -2.4%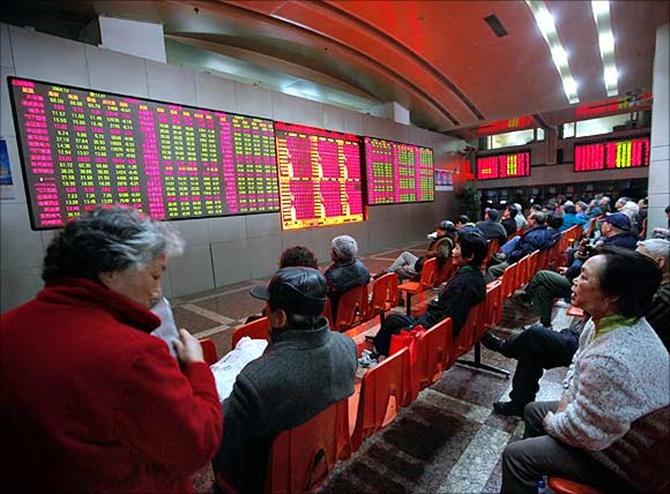 Image: People look at an electronic board at a brokerage house in Shanghai.
Photograph: Aly Song/Reuters
China
Rank: 3
Market cap: $4.2 trillion
Percentage of world m-cap: 6.5%
Change (year to date): 24.1%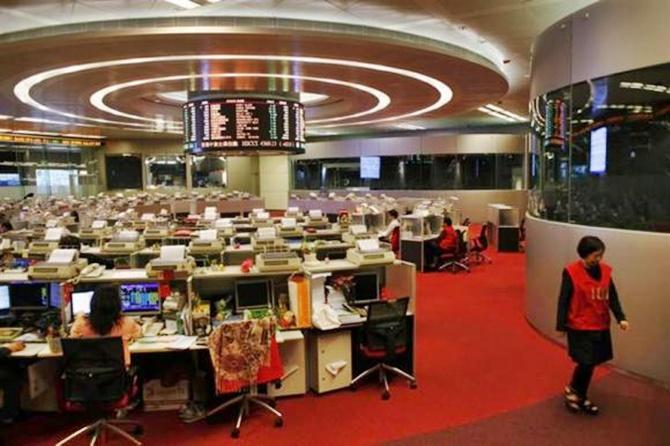 Image: Hong Kong Stock Exchange. Photograph: Bobby Yip/Reuters
Hong Kong
Rank: 4
Market cap: $3.8 trillion
Percentage of world m-cap: 5.9%
Change (year to date): 6.8%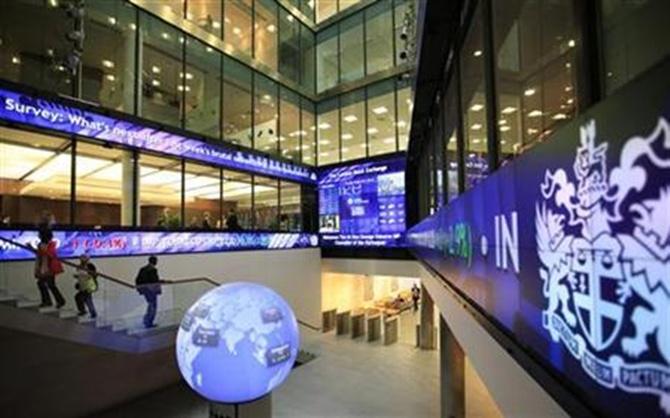 Image: London Stock Exchange. Photograph: Andrew Winning/Reuters
United Kingdom
Rank: 5
Market cap: $3.7 trillion
Percentage of world m-cap: 5.8%
Change (year to date): - 7.3%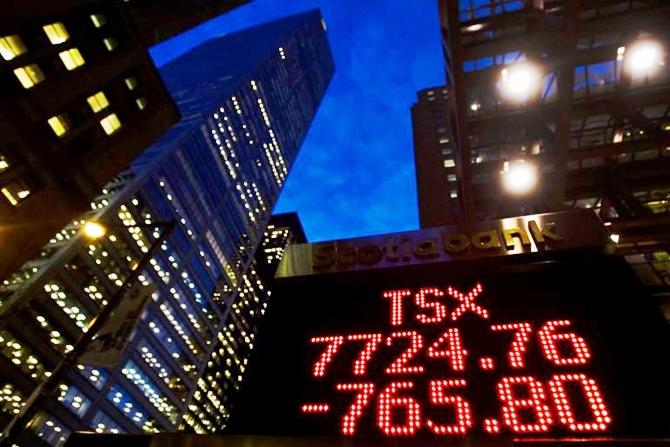 Image: Toronto Stock Exchange. Photograph: Mark Blinch/Reuters
Canada
Rank: 6
Market cap: $2.1 trillion
Percentage of world m-cap: 3.3%
Change (year to date): 0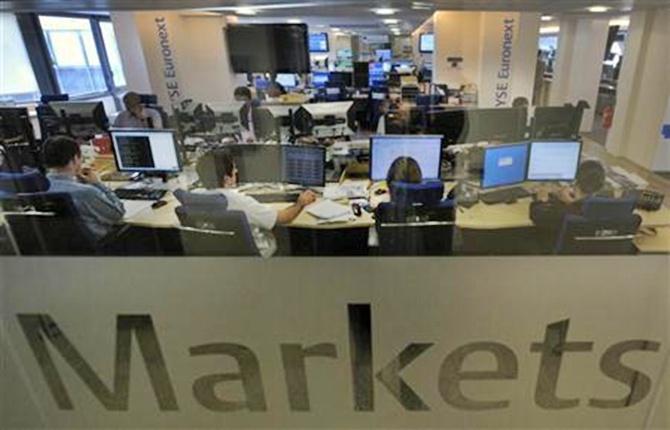 Photograph: Philippe Wojazer/Reuters
France
Rank: 7

Market cap: $2 trillion
Percentage of world m-cap: 3%
Change (year to date): -8.5%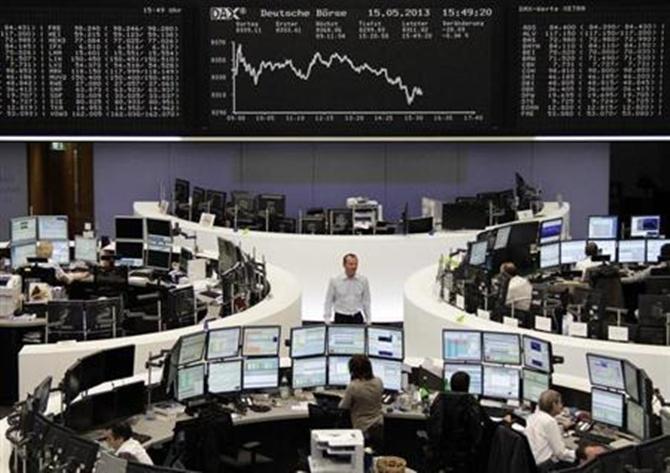 Image: Frankfurt Stock Exchange. Photograph: Lizza David/Reuters
Germany

Rank: 8
Market cap: $1.8 trillion
Percentage of world m-cap: $2.8
Change (year to date): -11.2%
Image: Bombay Stock Exchange. Photograph: Arko Datta/Reuters
India
Rank: 9

Market cap: $1.6 trillion
Percentage of world m-cap: 2.5%
Change (year to date): 38.9%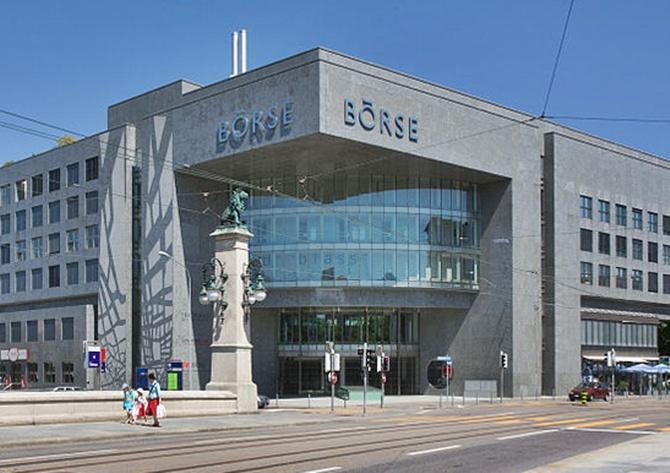 Image: Swiss Exchange, Zurich. Photograph: Ikiwaner /Wikimedia Commons
Switzerland
Rank: 10

Market cap: $1.5 trillion
Percentage of world m-cap: 2.4%
Change (year to date): 0.1%