Bengaluru-based babajob.com is trying to help unorganised blue-collar workers get better employment.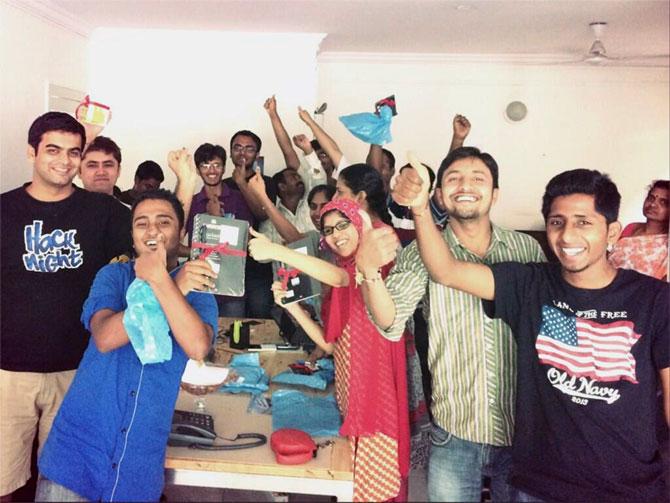 Image: Team that connects the employers with the right kind of workers
On learning that his boss needs another driver, autorickshaw driver Amit, in Bengaluru, recommends his cousin, Sumit. An out-of-work sharecropper, Sumit is hired, and his income doubles.
Anita works as a nanny for a well-to-do family in Mumbai. When another family she knows needs a cook, she recommends her sister, Sunita.
Most blue-collar jobs in India are offered and secured through such recommendations. But aspirations are changing and most employment seekers in the segment are now looking to work for brands that pay good salaries.
Dedicated to connecting the right job seeker with the right employer in this unstructured segment, Bengaluru-based start-up babajob.com uses the internet, mobile apps and a variety of other routes.
With a fresh round of capital from SEEK Ltd, an Australian online placement service, it now plans to expand.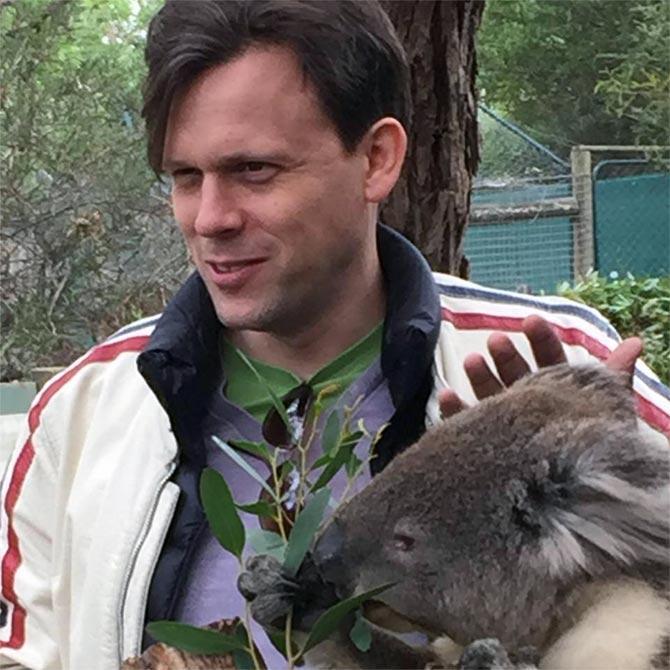 Image: Sean Blagsvedt, the man behind babajob.com
Fight against poverty
After nine years in Microsoft, Sean Blagsvedt moved to Bengaluru in 2004, to head the program management and advanced prototyping team of Microsoft Research India. He was focusing on mobile phones and technology in emerging markets.
"I came across a Duke University research study on poverty alleviation. It said the primary path out of poverty was income diversification by securing another job. The study also identified that successful income diversification involved knowing somebody with access to information about the jobs. This led to the idea for a Village LinkedIn, which gradually morphed into babajob.com," said Blagsvedt, now chief executive officer (CEO) of the start-up, launched in 2007.
The main difficulty, said Blagsvedt, was reaching the job seekers - delivery guys, drivers, security guards and household helps. Most of them do not traditionally have internet access.
"We tried working with non-government organisations and telephone companies. But we found that mobile web and telephone services like Miss Call for a Job reached more people by using traditional media like the press. Connecting with aspirational job seekers was the most effective acquisition channel. It allowed us to reach three million job seekers in 2015."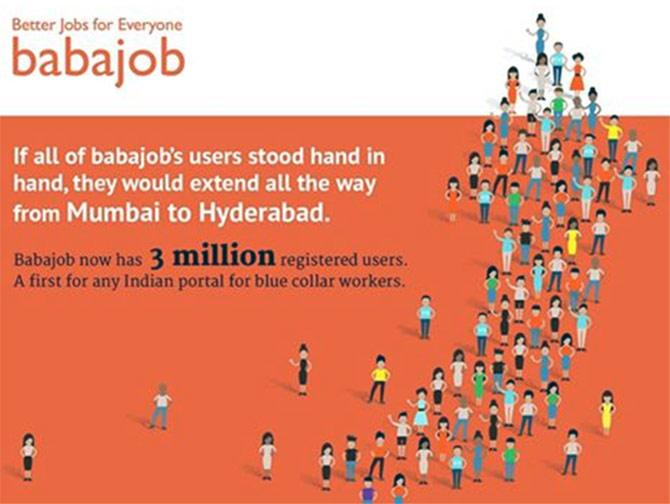 Missed call for a job
Two of the most frequent responses that successful job seekers provide babajob.com are 20 per cent salary raise and reduced commute to work.
The site now has about three million job seekers for 2.5 million vacant positions.
"Our primary point of contact is a missed call. A job seeker calls 08880004444. Then, our system automatically calls the number back and generates a profile for him/her through our interactive voice response system. The job seeker is registered on our website," said Blagsvedt.
The company is now processing about 150,000 job applicants every month.
"According to our estimates, we are able to place nearly 2,000 job seekers every month. We have placed more than 500,000 job seekers since inception," the CEO said.
The revenue model is simple. The service is free for job seekers but the employers have to pay for services, depending on the package they choose.

Each employer is assigned a recruitment support executive to optimise their campaign. Those who plan to hire in bulk get special packages. Applications through the website are about 47 per cent (combining WebApply and Web), mobile web applications account for 43.7 per cent of the traffic, while voice accounts for 9.2 per cent (including call centre), and Android has a 0.01 per cent share.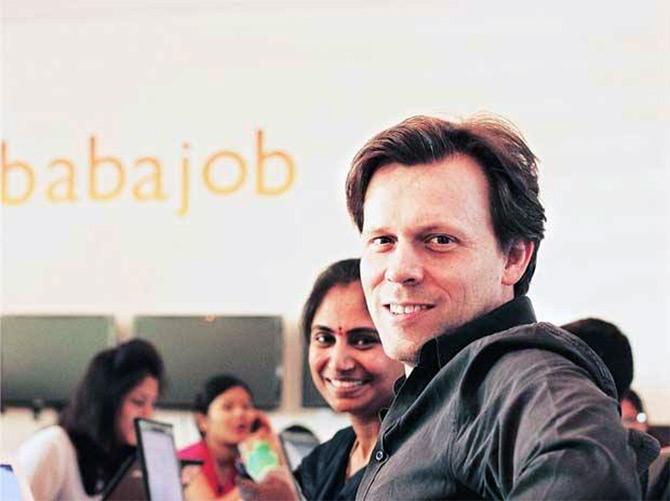 Road ahead
Experts feel it's no mean task to raise awareness about digital platforms among job seekers from socio-economically disadvantaged backgrounds.
The company believes smartphones are becoming popular among blue-collar workers. The road ahead would involve expanding the digital footprint.
The firm did not share information about its revenue, but said it would look at providing value-added services to employers and job-seekers to boost margins.

The recent funding would be used to expand the team, develop the mobile app and improve services.
SEEK and its affiliate firms are the largest global online job marketplace across Africa, Australia, Bangladesh, Brazil, China, Mexico, New Zealand and southeast Asia.

In a statement it had said, "SEEK is a strong partner, with a common vision of using technology to connect as many to better jobs, especially in emerging markets."
Asked about a possible geographical expansion, Blagsvedt did not rule it out. He said they were collectively excited about the association with SEEK and there was a lot to explore.

The target would be to reach hundreds of millions of people across the developing world in such a way that they are able to use the platform to seek jobs.
The start-up had earlier raised an undisclosed amount from GrayGhost Ventures and Khosla Impact in 2012, with a view to connecting all Indians to better jobs worldwide, especially in the Asia-Pacific.
FACT BOX
Founded: 2007
Founder: Sean Blagsvedt, Ira Weise & Vibhore Goyal,
Area of business: Mobile start-up dedicated to bringing better job opportunities to the informal job sector in the developing world
Funding: Undisclosed amount- GrayGhost Ventures & Khosla Impact (2012); $10 million from Australian online placement service provider SEEK (2015)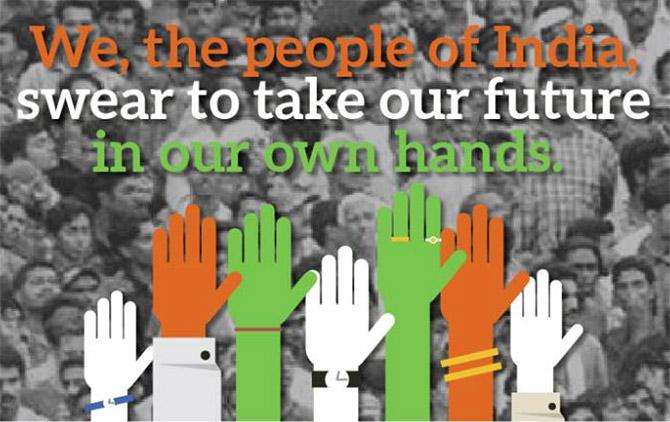 EXPERT TAKE: Ravi Venkatesan
Babajob is attempting to use technology to organise an unorganised market. It is a great opportunity but there are many challenges. Both employers and job seekers have to be made aware and educated about the service.
This is no small challenge when you consider the socio-economic profile of job seekers.
The user experience has to be seamless even as you scale. Unit economics have to be improved so that scale-up results in good profitability.

I believe the lower income workers that companies like Babajob are targeting are rapidly adopting smartphones. However there is great variation across this population, especially as you go away from the major cities.

So, it will be important for Babajob to retain a hybrid approach, i.e both offline and online channels in order to provide widespread access.

Companies targeting this space will have to remain innovative and learn to leverage the old word-of-mouth networking techniques with a technology overlay to win in this market.
I would expect to see very strong growth in the customer base and repeat buying, improving unit economics driving rapid improvement in profitability.
Ravi Venkatesan is chairman, Social Venture Partners India.