A busy businessman Sanjiv Goenka understands the importance of unwinding. Hindi serials like Yeh Rishta Kya Kehlata Hai, Swaragini or Savdhan are his antidote.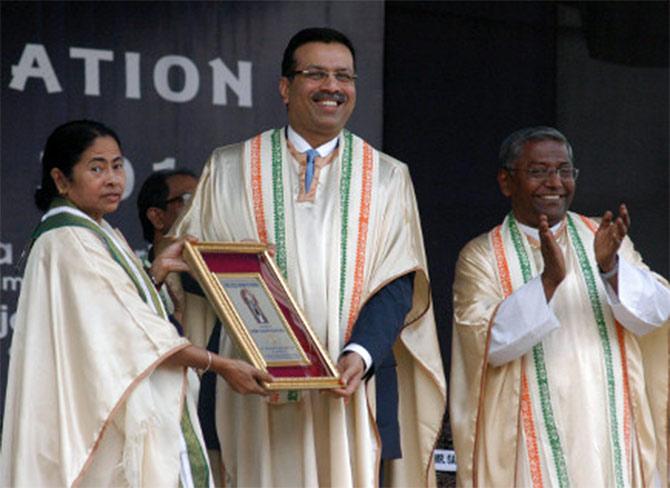 Image: Sanjiv Goenka says he learnt the ropes from his takeover tycoon father, Rama Prasad Goenka. Photograph, courtesy: RP-Sanjiv Goenka Group
Sanjiv Goenka
Chairman, RP-Sanjiv Goenka Group
The last week of January saw India's who's who - including Mukesh Ambani, Arun Jaitley, P Chidambaram, Farhan Akhtar and Rajkumar Hirani - arrive in Kolkata for the wedding of Sanjiv Goenka's son, Shashwat.

That was one rare occasion when Goenka took a break from work, albeit briefly.
"Much as I hate it, at least four or five times in a week, while I am having dinner, I am on the phone with something or the other," says Goenka whose day begins early with a 7-km walk followed by a 20-minute physiotherapy session.

"With age, I have realised that I need to adhere to the needs of my body," he says, insisting that he has a paunch. He says he works out for half an hour with a trainer every evening.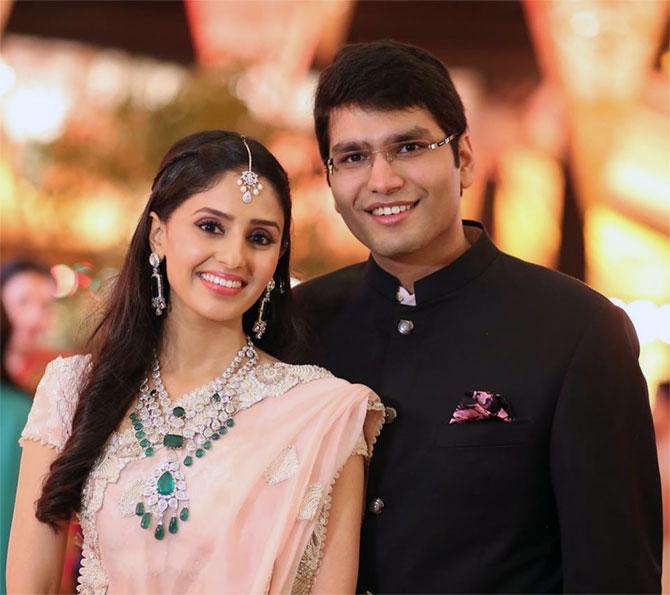 Image: Sanjiv Goenka's son, Shashwat's wedding was one rare occasion when Goenka took a break from work. Photograph, courtesy: Shashwat Goenka/Facebook
The busy businessman realises the importance of unwinding.

Hindi serials like Yeh Rishta Kya Kehlata Hai, Swaragini or Savdhan are his antidote.

And, of course, time with family. Every evening he makes it a point to spend an hour with his mother, Sushila.
But dinnertime conversation often veers towards work and his wife, Preeti, is quite used to it.

This is how, Goenka says, he learnt the ropes from his takeover tycoon father, Rama Prasad Goenka, and his grandfather, Keshav Prasad Goenka.

And this is how his children, Shashwat and Avarna, were initiated into the RP-Sanjiv Goenka Group.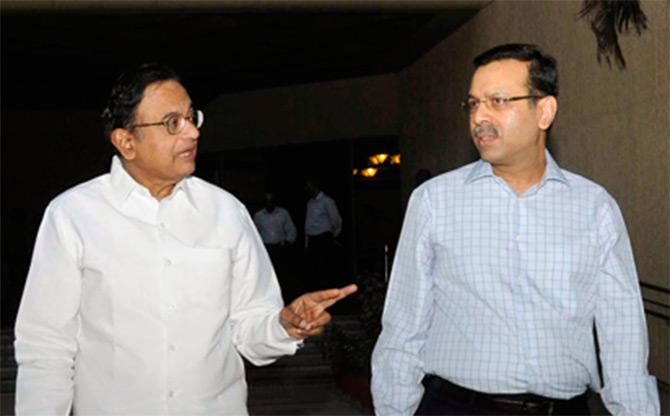 What's common between then and now, he says, is the respect for values. "But I allow them to make mistakes because that's the only way they'll learn," he says.
"My father was very protective and when you are protected, your ability to make decisions gets impaired. But what was brilliant about him was his unbridled support in [the time of] crisis, which I welcomed as a son."
A staid group known for its power utility business, CESC, Goenka's company is now venturing into sunrise businesses like sports, media and software. "I wanted to be in cement and telecom (Delhi circle) but it didn't happen. Electricity is something we did without backing and I am happy about it," he says.
So, is he a risk taker? "I am not risk averse," he says. "But I am not impulsive. I am guided by instinct but backed by logic."
Goenka says he believes in empowering people and not in running the day-to-day operations.
"I am not hands-on with any business, I am hands-on with situations," he says. To what extent are people who work for him allowed to make a wrong decision? He smiles and replies, "As long as the proportion of right to wrong is higher."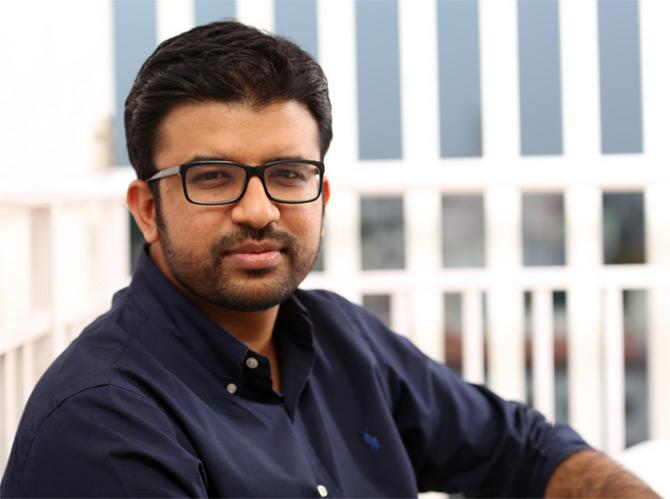 Shashank N D
Founder & CEO, Practo
Last November when Practo's employees got an e-mail saying the company's founder and CEO Shashank ND was going on a two week-long vacation, there was a need to pause to let that information sink in.
They had only seen their 28-year-old boss moving from meeting to meeting; Shashank hadn't gone on a proper holiday since the inception of Practo, an online healthcare service provider. That was eight long years ago.
Shashank's holiday plans took him to the Galápagos Islands.
"Charles Darwin discovered evolution there. I'm fascinated by inventions, creations and innovations. I may go back to see the iguanas and giant turtles there, but maybe this time, I won't wait for eight years before I take a vacation," he says.
A laid-back air prevails in Practo's swanky new office in Bengaluru's JP Nagar, as employees, most of them under 30, walk around in shorts.
There are black temporary markers everywhere, and there doesn't seem to be any paper to write on. But across all desks and boards are scribbled notes, codes and what not.
"We are very lazy people and just write anywhere," says Shashank. At Practo, information is quickly processed and moved along to make way for newer things.
"I don't keep anything up here," says Shashank, tapping his index finger against the side of his forehead.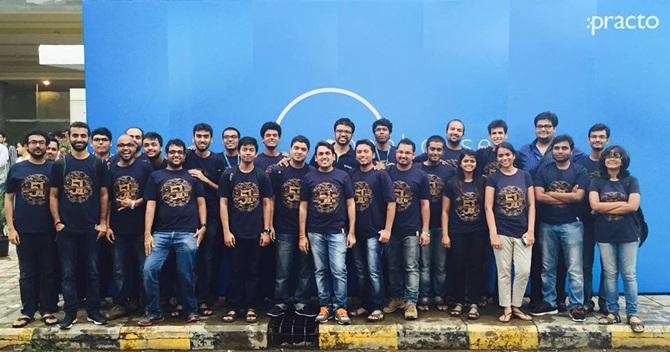 "I put everything on Evernote. I need to capture the perspective I have in each meeting, so that I can take off exactly from where I left," he explains, adding that his actions for the day are dictated largely by his Google calendar.
Usually up between 6-7 am, Shashank spends close to an hour working with his personal trainer before he heads for office by 9 am.
This morning, however, he has a breakfast appointment with an investor at 8 am.
"How do you know that? Do you have access to my Google calendar," he asks with genuine surprise.
News of the meeting has already made its way to Twitter, I tell him as he makes his peace with the pitfalls of a semi-public life.
"The added advantage of that morning appointment was that I actually got to have breakfast today, something I usually end up skipping," he says, thinking about the double, all-white masala omelette he had earlier.
But caffeine on the side, the caffeine that gets most of us up and ticking, is a strict no-no for Shashank.
"I avoid tea-coffee and prefer green tea instead."
Caffeine, he believes, is only needed when you need to work for 20 hours straight; he's had many of those days too.
And it's because of such days that Practo, which Shashank co-founded with his NITK-Surathkal classmate Abhinav Lal, is changing the way we deal and look at healthcare.
They started out when a good eco-system for start-ups was a still a long way in the future.
"Ambition is still a positive word. People thought we weren't in sync with reality at all and expressed doubts every single hour," he shares.
Today, Practo's valuations have well crossed the $500 million mark; the company, which was founded in Shashank's grandparents' unused house in JP Nagar, has 2,500 employees working across 35 cities and six countries. And Shashank is constantly on the move to add to this map.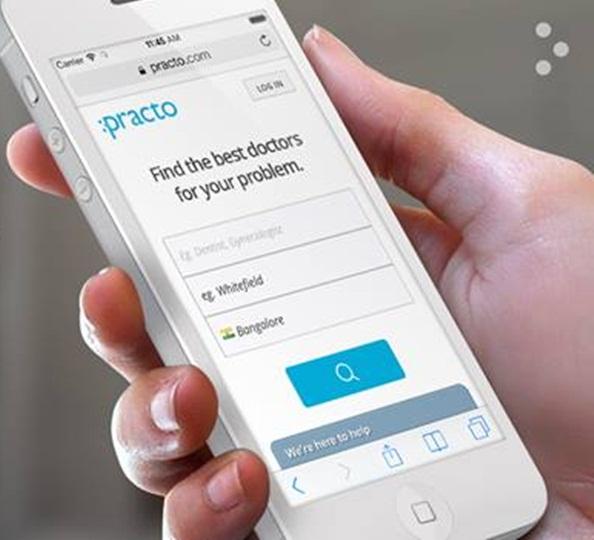 To keep him going, his lunch dabba comes from across the town, from his parents' house in Vijayanagar.
Two chapattis, veggies, curd and some salad – for a person who often misses breakfast, Shashank leans towards fruits a lot.
"I keep trying to get everyone here to eat healthy but people always sneak in chips," he says.
His days are usually dotted with meetings, and after work he prefers to socialise with friends before he goes to bed. Weekends come with a treat: a good and long run, a vigorous game of squash or two, and two hours of extra sleep.
Discipline is good, he believes.
"I studied in a school that's 'infamous' for its disciplinary track record. But that was a good thing," says Shashank, who was always one of the boys who walk the fine egg shell-lined path between getting into trouble and staying out of it. And this desire to push the envelope has only grown with time.
With Practo's growth, Shashank acknowledges the changes in his life.
"One thing that has definitely changed is that there are fewer limitations now. I get to surprise my family quite often; one of the perks is that I no longer have to think twice anymore about getting the latest iPads and smartphones for my parents. They are such addicts! I had least expected them to download a 100 apps."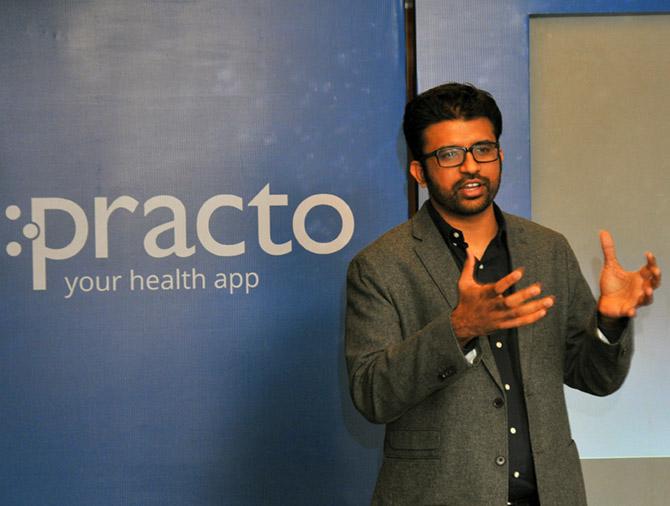 A coder who's loved calculus and computer science all his life, Shashank's superhero is the Iron Man (Tony Stark).
"It's his sense of humour; other superheroes are a bit stuck up and aren't real fun. Life needs a sense of humour," he says, agreeing with the idea that there may be a secret hideaway in his new office for Iron Man-like inventions and a superhero suit.
What about Practo's dreams of world domination, I ask. "Those aren't dreams, it's the reality," he says. "When we started out we knew that we wanted to have an impact on the whole world. We do not wish to create something that's needed by a few in select countries."
Up next, Shashank wants to put JP Nagar on the world map.
"People relate Mountain View to Google, that's what we want, for Practo to grow so much that this place will be identified as the birthplace of Practo."
Here's to world domination - one doctor, one patient at a time!"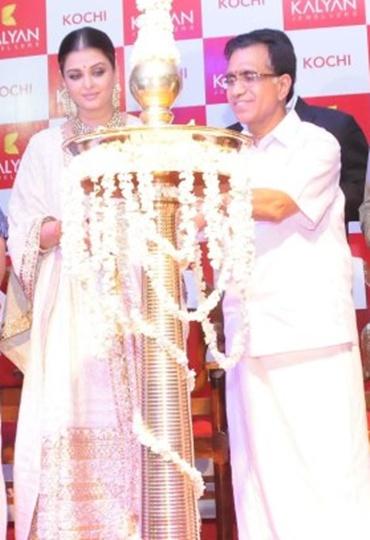 Image: T S Kalyanaraman has been on the Forbes billionaire list for the last three years. Photograph, courtesy: Kalyan Jewellers
T S Kalyanaraman
Chairman and managing director, Kalyan Jewellers
Business should be pleasure, not pressure, believes Thrissur-based T S Kalyanaraman who has been on the Forbes billionaire list for the last three years.
The 68-year old was initiated into business at age 12 by his father who owned Kalyan Textiles.
In 1993, he branched out and started Kalyan Jewellers with Rs 75 lakh. Today, the company has a turnover of Rs 10,000 crore 9Rs 10 billion) and 78 shops.
A business this size requires discipline and Kalyanaraman has this quality in good measure. His day starts at 6 am, with an hour of yoga - a routine that doesn't change even when he is travelling.
A visit to the Sitarama temple built by his great-grandfather is a must every day.
Till about six months ago, he lived closer to the temple in a two-storey house built in traditional Kerala architecture.
Now he, his wife, two sons, daughters-in-law and six grandchildren live in a Rs 75-crore (Rs 750 million) villa.
His grandchildren, he says, keep him up-to-date with technology.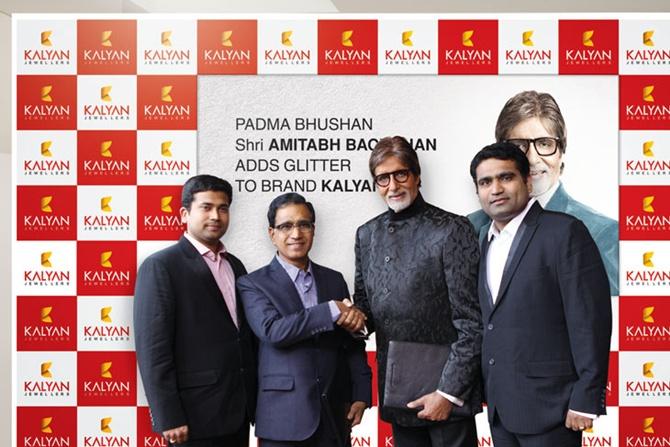 Image: Business should be pleasure, not pressure, believes T S Kalyanaraman. Photograph, courtesy: Kalyan Jewellers
For Kalyanaraman and his sons, work begins at 10.45 am when they leave for office, each in his Rolls Royce Phantom.

The boss's arrival, at 11 am sharp, causes no flutter among the employees, all of whom quietly go about their jobs.

Kalyanaraman, who usually wears a crisp white shirt and dhoti, also quietly goes into his office located in a swanky building furnished with plush leather couches and solid wood tables.
Unlike other family-run businesses, the building does not have any family portrait.

But there are diamond-studded statues of Rama, Sita and Laxman - one each in the offices of Kalyanaraman and his sons.
The day's routine is tracked by Kalyanaraman's Rolex watch - the first luxury item he ever bought.
Besides taking stock of the business, Kalyanaraman randomly calls customers for their feedback about the company's branches and services.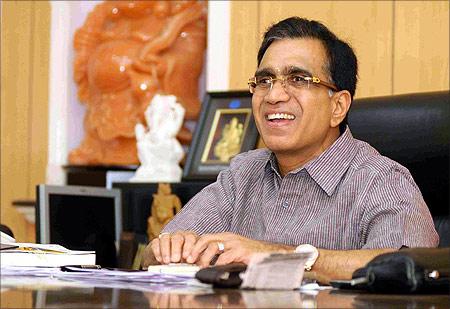 A 20-minute power nap recharges his energy as the day progresses. And by 8 pm, it is time to wrap up and head home.
Once home, neither the father nor the sons use their mobile phones. This time is reserved for Kalyanaraman's grandchildren and classical music.
The only person from office who can call on the residence's landline phone is Suresh, Kalyanaraman's secretary.
"We earn for our family. What's the point if we don't spend time with them?" asks Kalyanaraman.
The conversation at mealtimes is usually about matters pertaining to the family, village or temple.
Annual family holidays are a must and Kalyanaraman does not like to compromise on those. His son recalls an annual review meeting with around 200 managers of Kalyan Jewellers.
When he rose to address them, Kalyanaraman pulled out a list and read out the names of the managers who had not taken leave during the year.
He advised them to go on vacation and spend time with their families, recalls one of the managers.
His belief: if the employee's family is not taken care of, the business cannot succeed.