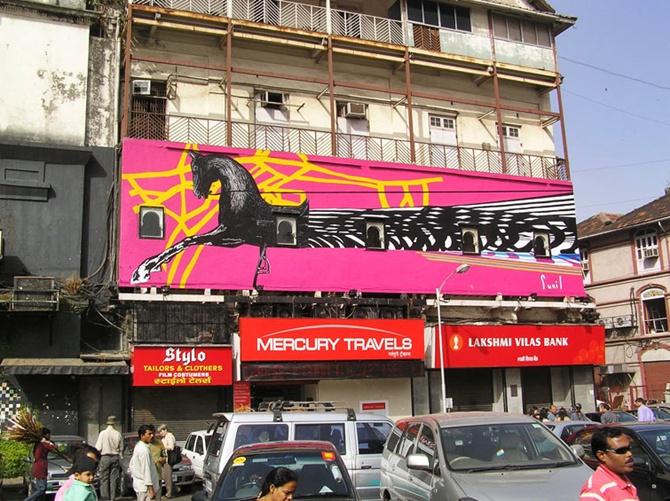 Image: A mural of the black horse (Kala Ghoda) near Rampart Row, Mumbai.
Photograph: Elroy Serrao/Wikimedia Commons
Kala Ghoda, the old-world cultural treasure trove in South Mumbai, might soon get a western makeover to look like Times Square of New York.
The props that will be used to recreate the magic of Times Square include glamorous lights, billboards, cartoons, movie characters and street performances.
The initiative is being given a shape by the Union ministry of tourism, along with Maharashtra's tourism department. Maharashtra draws the largest number of foreign tourists anywhere in India.
Colloquially named after the black stone statue of King Edward VII on horseback, the informal name somehow stuck with the neighbourhood in South Mumbai, even as the original statue was removed to Byculla.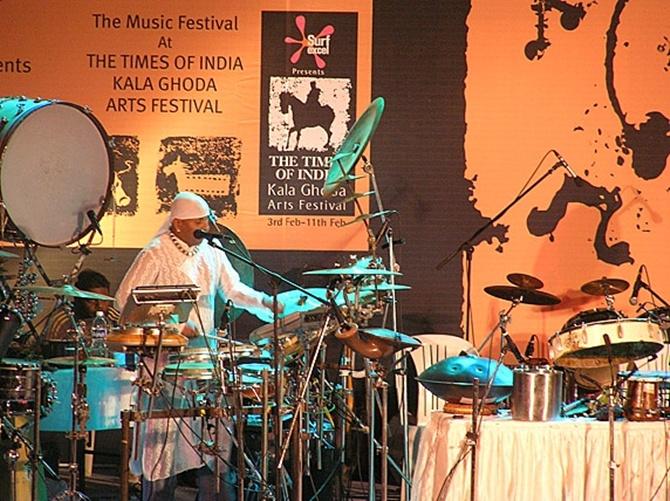 Image: Sivamani, percussionist at the Kala Ghoda Arts Festival. Photograph: Elroy Serrao/Wikimedia Commons
The cultural remnants of the bygone era, a large number of museums, art galleries, eateries and Victorian-era buildings, continue to adorn the city.
The annual Kala Ghoda Arts Festival, with the objective of presenting the heritage art of the area, is one of the largest multicultural events in India.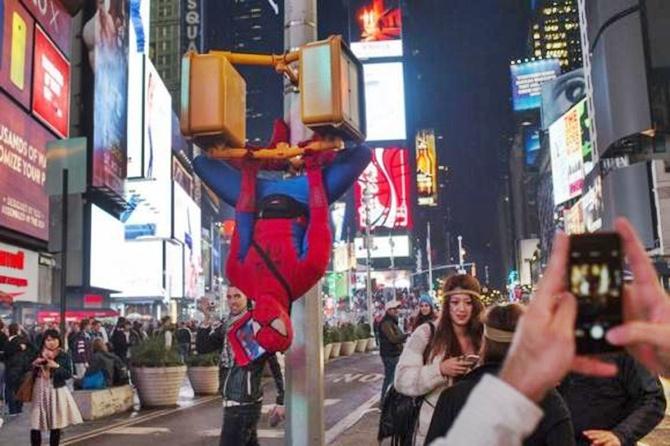 Image: A man in a Spider-Man costume hangs upside down from digital cross walk signs in Times Square during Halloween, in New York. Photograph: Adrees Latif/Reuters
Times Square, a neighbourhood in Manhattan, New York, is one of the world's most famous tourist attractions.
It receives over 40 million visitors annually. The latest proposal is divided into multiple phases, with the Union tourism ministry sanctioning Rs 5 crore for the first phase of the project.

The total cost of the project and its time frame has not been revealed. The Maharashtra government too would inject funds in creating infrastructure to facilitate and incentivise simultaneous private investment in the project.

The plan is to mix entertainment and heritage for visiting tourists as well as the residents of Mumbai.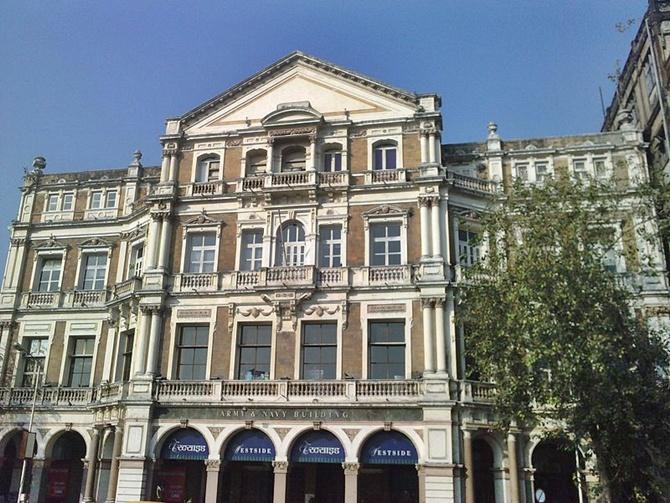 Image: Army and Navy Building Mumbai in Kalaghoda. Photograph: AroundTheGlobe/Wikimedia Commons
The ministry's plan includes a 15-foot high flag of India, drinking water fountains, advertisements, paid for by corporations, on large electronic billboards, film/cartoon characters for photo ops and street performances.
Maharashtra recorded a 56 per cent increase in the number of Foreign Tourist Arrivals (FTAs) in 2013, seeing over 4.1 million tourists in 2013 as compared to 2.6 million in 2012. It also saw the number of domestic tourists increase from 74.8 million in 2012 to 82.7 million in 2013, recording a 10 per cent growth.
A scheme to project 3-dimensional (3D) images of 36 Indian monuments, one from each State and UnionTerritory at India Gate, Delhi, is also on the cards. Depending on the success of that project, the Ministry of Tourism will consider similar projections on the Gateway of India, Mumbai.