At a time when the world is talking about Prime Minister Narendra Modi's vision of developing '100 smart cities' to accommodate the burgeoning population of India, we take a look at a few existing cities to know how well they serve the populace in terms of civic amenities and regional connectivity.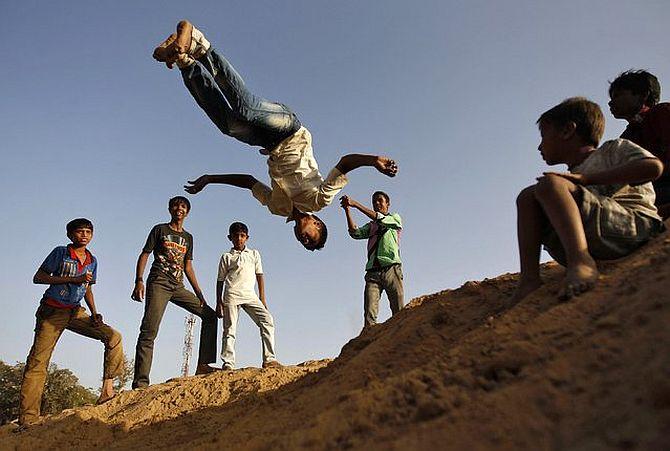 Image: A child performing a stunt, is applauded by a friend in the outskirts of

Ahmedabad.

Photograph: Amit Dave/Reuters
'Smart cities' is not a new concept in Europe, US and Asia. Global cities like Amsterdam (in Netherlands), Vienna (in Austria), Ontario (in Canada) Seoul (Korea) and Kyoto (in Japan) are world class examples of technologically advanced urban cities with a superb civic infrastructure.
What about India?
Prime Minister Narendra Modi is quite bullish to develop 100 smart cities by 2022 and Rs 7,060 crore (Rs 70.60 billion) has been allocated for the purpose.
Consultants, urban planners and developers are busy these days giving inputs on how these futuristic smart cities can be like.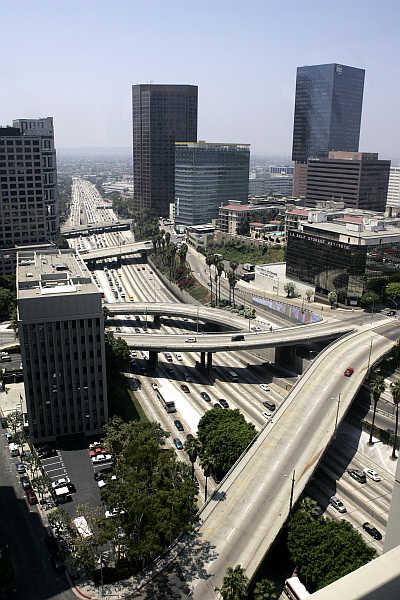 Image: Harbor Freeway in Los Angeles, one of the biggest megacities in the world.
Photograph: Sam Mircovich/Reuters
A quick walkthrough on what smart cities are believed to be like in India.
Urban planners, experts say existing metros are becoming congested by the day and upcoming ones must aim at bringing cities closer, must have better roads, must be eco-friendly and must definitely involve citizens in the overall planning.
And, of course state governments must integrate technology with the system to improve efficiency.
Few experts with whom Rediff.com spoke to pointed out that 'smart cities' is the way ahead but we also need to relook at our metros to check if they are meticulously planned.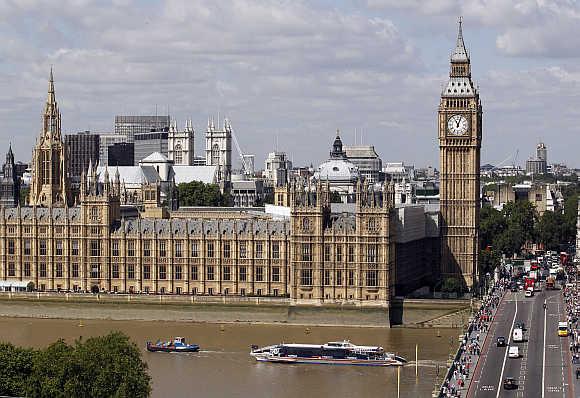 Image: Vehicles plying on the road adjacent to river Thames in London. Photograph: Suzanne Plunkett/Reuters
Before getting down to city specific criticism and appreciation, let's get an expert view on what can make the 'smart cities' concept work in India.
Anil Kothari, CEO, Edelweiss Housing Finance shared his viewpoint with Shaheen Mansuri of Rediff.com on how cities can get smarter in India.
The smartest thing state governments can do is, ensure infrastructure for each one and there must be a better way of governing the city.
Let's take an example of Mumbai where there are different authorities to look after each utility like the railways, public buses and schools.
The Brihamumbai Mahanagar Palika looks after municipal schools, then there are private bodies who govern private schools.
Railways is controlled by the central government, and public buses that ply on Mumbai and electricity supply is taken care of by the Brihanmumbai Electric Supply and Transport Undertaking (BEST).
Kothari further gave an instance of how London's mayor Boris Johnson is like a CEO of the city and is responsible to make it a better place for those living and working in it.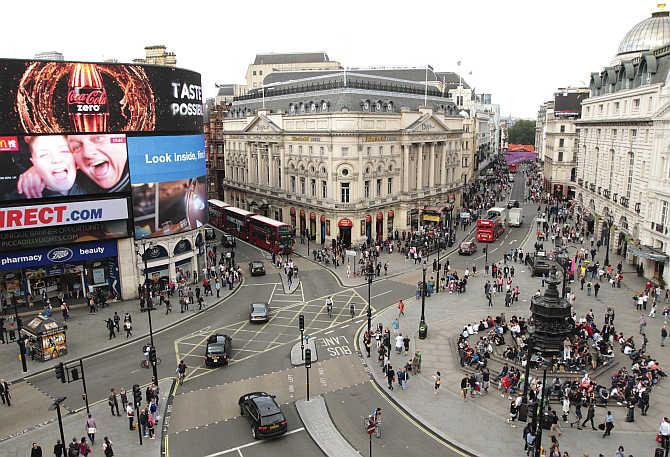 Image: A view of Piccadilly Circus in central London, United Kingdom. Photograph: Olivia Harris/Reuters
Johnson is responsible for making and allocating budget for the overall development of the city.
He has to ensure that people living in the city get best of education, transportation and healthcare facilities.
He has the mandate of providing affordable housing to the citizens.
To sum it up, Johnson is the man who sets an overall vision for London as a city.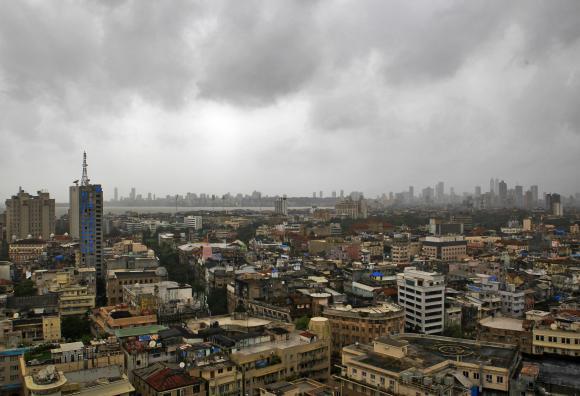 Image: Monsoon clouds loom over Mumbai's skyline. Photograph: Danish Siddiqui/Reuters
Kothari is very impressed with Chief Minister of Maharashtra Devendra Fadnavais who recently assured Mumbaikars about appointing a CEO to oversee the development and fast-track pending projects in the city.
Lastly, all sections of the society must be included in the planning process be it any city. "
"A smart city is one that has place for everyone," Kothari further said.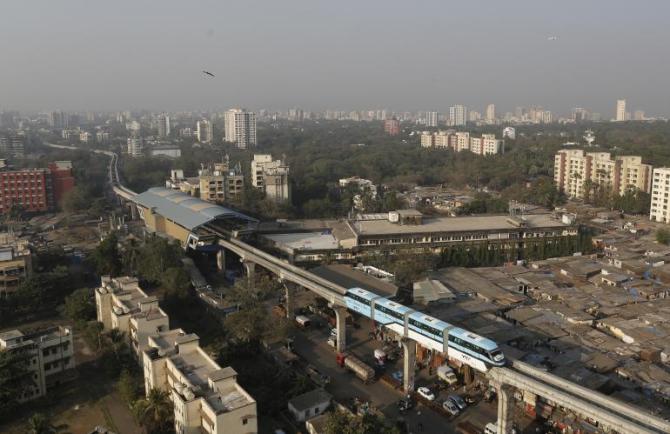 Image: A monorail passes through a residential area in the eastern suburbs of Mumbai. India's first monorail, covering a distance of 8.93 kilometers, opened recently. Photograph: Reuters
Rediff.com looks at existing infrastructure in Mumbai, Delhi and Bangalore through the eyes of experts.
Here's what Pankaj Joshi, executive director, Urban Design Research Institute has to say
Mumbai
Space starved: With a population of over 12 million, the city hardly has 2 per cent open space in the form of parks and recreation grounds.
Under-utilised national parks: Around 30-35 per cent of the 50 sq km of the city's national parks are covered with mangroves that are fast being encroached by builders.
Why can't we have a masterplan to develop parks and open spaces? asks Joshi.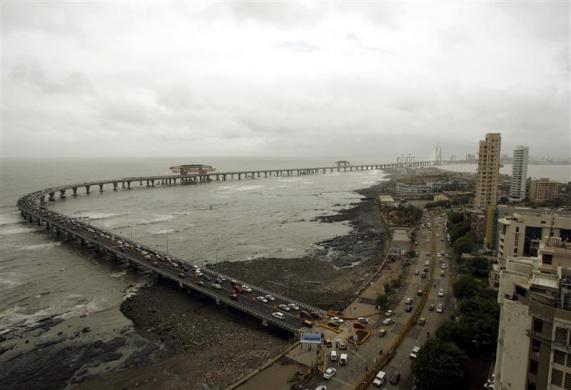 Image: Traffic moves through the Bandra-Worli sea link in Mumbai. Photograph: Punit Paranjpe/Reuters
Idle waterfronts: An even more disturbing fact is that the city does not utilise its natural resources well.
For instance, tourists from neighbouring cities never miss coming to take a breath-taking view of the Arabian sea.
The Arabian sea is a big draw for Mumbai but currently it has a muted presence.
Even the natural harbor on the east and west coast is away from the people.
Why can't we have water sports and recreational facilities on our waterfront?, questions Joshi again.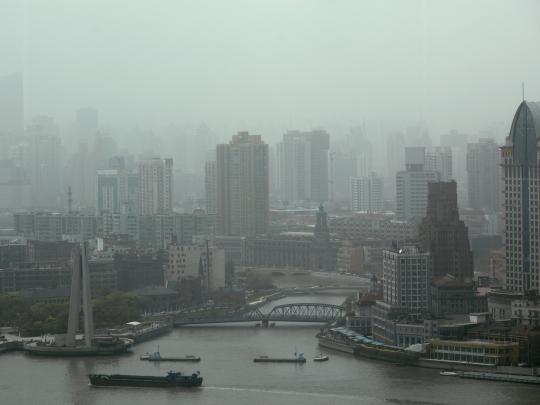 Image: Downtown Shanghai in haze. Photograph: Carlos Barria/Reuters
Mumbai is often compared to Shanghai but each one of us must know that the latter's waterfront has underground expressways, tunnels which connect the financial belt with the city and a very impressive bund surrounded by beautiful cafeteria and restaurants.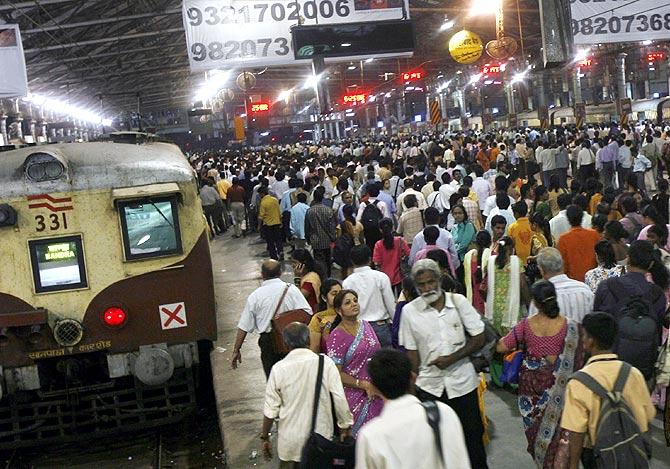 Image: Mumbaikars walk on platforms of Chhatrapati Shivaji Terminus railway station in Mumbai. Photograph: Arko Datta/Reuters
Transportation: Despite its ever-increasing population, Mumbai scores few brownie points on its rail network. It has its own flaws but it deserves a humble applaud for its well-knit local train network on which millions of office-goers commute.
Water supply: We need to find an alternative for insufficient and uneven water supply. Few places in Mumbai get around 70 per cent of the required water supply whereas a distant place like Waada district ahead of Thane doesn't get even 10 per cent of its requirement.
Information Technology: Only 8 per cent of the total population is connected by broadband.
However, more and more schools are now integrating technology with learning. Smart thing to do! Isn't it?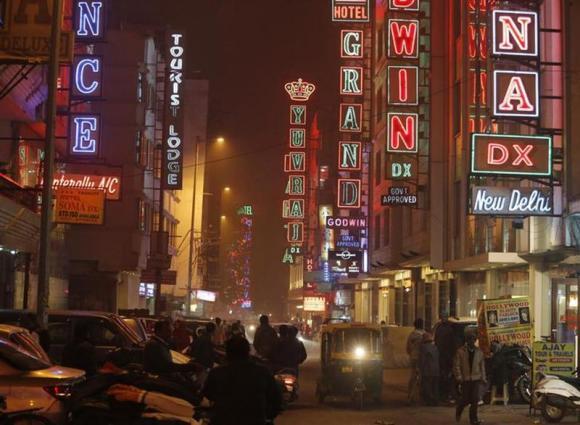 Image: A general view shows the Paharganj district, a popular tourist area packed with backpacker hotels and restaurants near New Delhi railway station. Photograph: Vijay Mathur/Reuters
Delhi has some good things and few bad points too
Urban development: Delhi has grown rapidly and haphazardly in the past few years.
Being the capital city of India, the government always has more focus on Delhi in order to make it an ideal city to live and do business in.
However, due to lack of integration of plans between departments, Delhi has not developed the way it should have been.
Open spaces: Delhi has quite a few open spaces which can be beautified further.
Bad roads: Despite receiving maximum attention from the government, roads in Delhi are termed as risky and dangerous.
The city tops the list in accidents year-on-year despite having wide roads.
Civic amenities: Inadequate water supply, bad sewage and waste management are integral in most parts of Delhi.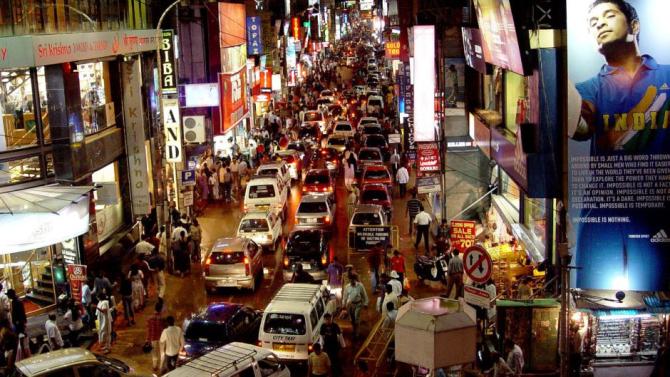 Image: A busy market in Bangalore where traffic has come to a halt. Photograph: Reuters
Bangalore can look better
City traffic: Office goers complain of getting stuck in traffic jams on the roads in Bangalore.
Traffic management systems must take off in a city which is better known as the Silicon Valley of India.
Transportation: There are no on-road taxis available in Bangalore.
One has to pre-book one, which is not acceptable in a flourishing city like Bangalore.
Civic amenities: Few areas have good sanitation and sewage system but few areas lack state government attention.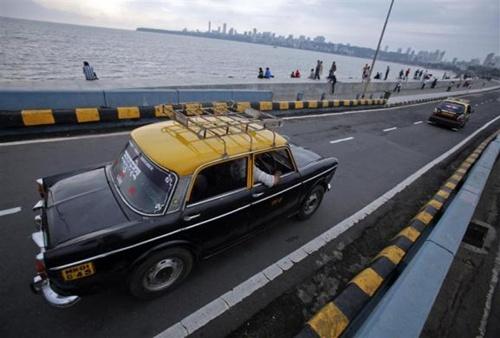 Image: A Premier Padmini taxi on Marine Drive in Mumbai. Photograph: Vivek Prakash/Reuters
Compact and crisp view from Anuj Puri Anuj Puri, chairman and country head, JLL India
Metro cities in India have been developed over the years.
In few of them, infrastructure had come first, for some it was more of a reactive measure after development was already well underway.
On this front, Mumbai, Delhi and Bangalore have displayed different dynamics.
Today, Mumbai is a prime example of the reactive approach to infrastructure, which is why it is facing monumental issues like inadequate transportation facilities and open spaces.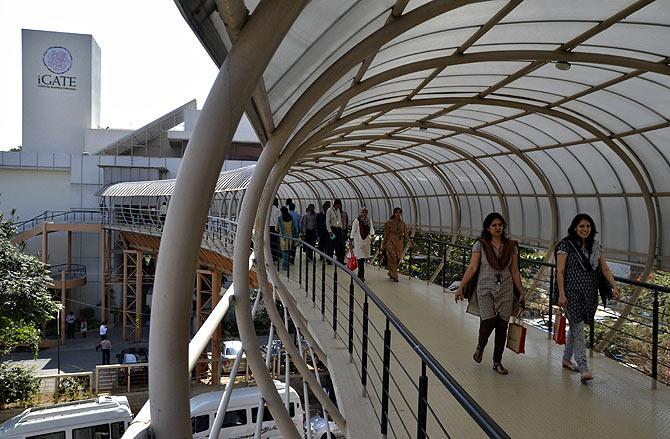 Image: Employees cross an overpass at the Indian headquarters of iGate in the southern Indian city of Bangalore. Photograph: Reuters
Bangalore has grown in a better way, but due to increasing populations it is facing infrastructure constraints which must be addressed.
In terms of infrastructure, Delhi has always enjoyed the benefits of being the national capital, but the development of other regions in the larger NCR market once again hinges on infrastructure.
In terms of open spaces, Bangalore and Delhi definitely score over Mumbai.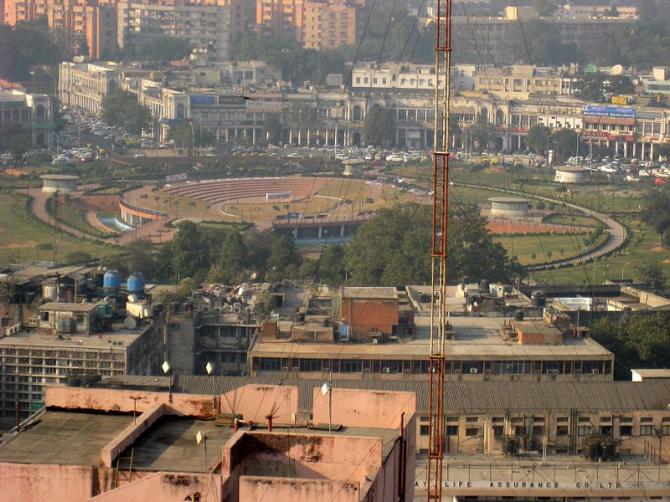 Image: Central Park, Connaught Place, New Delhi. Photograph: Courtesy, Carlton Browne/Creative Commons
Pankaj Kapoor, managing director, Liases Foras Kapoor has rated Mumbai, Delhi and Bangalore on a scale of 10 depending on their existing infrastructure.
Mumbai scores 3/10 and why
Mumbai is an inconvenient city: Urban growth has been exponential is the past decade or so, whereas road infrastructure like expressways and highways have seen linear growth.
Hence travelling from Mumbai to Panvel or Palghar takes a lot of time.
Load shedding is a common feature in Thane, Chembur, Trombay and Dharavi.
Mumbai needs to do something urgently to improve hygiene standards with overflowing gutters in slum areas.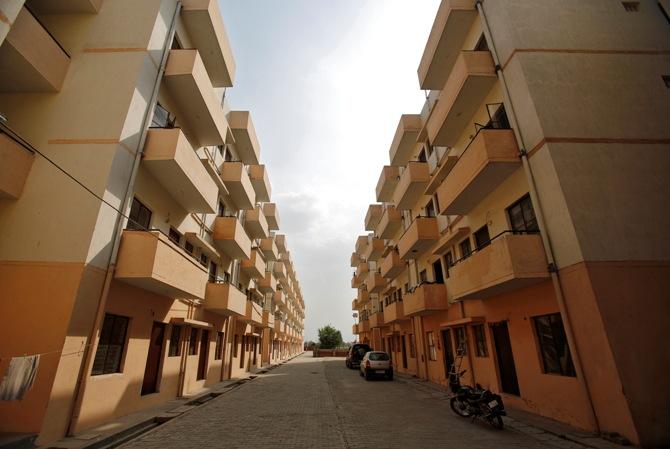 Image: Dinesh Nagar housing complex at Ghaziabad on the outskirts of New Delhi.
Photograph: Anindito Mukherjee/Reuters
Delhi gets 6/10
Due to good connectivity with the NCR, Gurgaon and Noida, one wouldn't mind buying a home at a slight distance from Delhi.
The government has ambitious plans to strengthen Delhi's overall infrastructure.
Resident forums are actively involved in making their city a better place to live in.
Bangalore 4/10
The city is considered to be a hot IT destination.
But youngsters from nearby city are not so keen to shift to Bangalore due to bad traffic, ill-kept roads.
The city must have solution to its bad traffic or it will lose out on good talent pool.
The city and its people have started taking efforts to make their city a better place and this deserves an applause.