Be willing to learn from mistakes and stick to your stated position.
Image: Arvind Kejriwal scripted one of the most dramatic comebacks in the history of Indian politics. Photograph: Reuters
Just when he was written off by critics, Arvind Kejriwal scripted one of the most dramatic comebacks in the history of Indian politics last week.

His Aam Aadmi Party (AAP) bagged 67 of 70 seats and won 54.3 per cent of votes at the Delhi Assembly elections.
The margin of victory, more than anything else, has stunned rivals and political pundits alike. Kejriwal's second coming has lessons not only for the political fraternity but the aam investors, too.
Learn from mistakes
After a dream debut in 2013, Kejriwal committed a blunder, resigning as the chief minister of Delhi barely 49 days after assuming power.

However, he was humble enough to admit his mistakes. This election, Kejriwal and his people redoubled their efforts to restore the people's faith in the party and erase the 'bhagora' (quitter) tag.

The slogan 'Paanch Saal Kejriwal' drove home the point effectively.
Like Kejriwal, investors need to admit their mistakes early. Don't hold on to duds in your portfolio in the hope that they will bounce back some day and you will be able to break-even. Instead, cut your losses and move on.

You might have invested in a company whose fundamentals are weak or is sitting on high debt or whose promoters are in the news for the wrong reasons.

Worse, you might have purchased penny stocks that have run up of late because of the surge in the broader markets.

If so, get out as soon as possible. Have an exit strategy and don't get emotionally attached to your stocks or funds. If you own shares, a good idea is to set stop-losses to help limit your losses.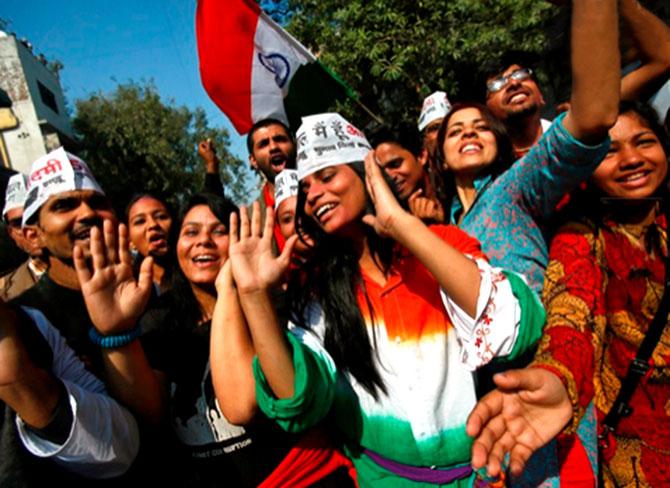 ImageKejriwal kept his electoral campaign simple. Photograph: Reuters
The KISS (Keep it simple, stupid) strategy
Kejriwal kept his electoral campaign simple, focusing on issues close to the people's heart. His promise of providing 20,000 litres of free water a month to all households and cutting electricity rates by half struck a chord with the masses.
Similarly, investors should keep their product choice simple across product categories.

For example, a simple term plan might be more effective in insuring your loved ones than those that mix insurance with investment.

Similarly, a basic diversified equity fund can work wonders in creating wealth, rather than a complex structured product that promises sky-high returns.

"Investors often fall for the glamour of complex products, little realising the risks that come with them," said Manoj Nagpal, chief executive officer, Outlook Asia Capital. If your portfolio is cluttered, clean it up.

Don't hold more than 8-10 stocks, five-six mutual fund schemes and two-three insurance products. Don't churn too often. Even veteran investors such as Warren Buffett and Peter Lynch have stuck to the adage of KISS: Keep it simple, stupid!
Image: AAP began its campaign preparations early.
Stick to a plan
AAP began its campaign preparations early and stuck to an action plan in the face of adversity.

Investors, too, need to start early and stick to a plan. If you want to put some money into equities, don't wait for the 'perfect time' or the markets to correct.

Start now. Whether it is fixed deposits or mutual funds, inculcate the discipline to invest regularly.
More important, stick to an asset allocation plan and don't alter it because of any interim shocks, negative news flow or volatility. Tweak asset allocation only if you change your goals.

Don't be among the scores of equity investors who exited the asset class lock, stock and barrel in 2008, after Indian equities nosedived in the aftermath of the global financial crisis.

The panicked sellers had to pay a heavy price as the markets bounced back in 2009.

Remember, tough times could be the best time to stay invested. As Tata MF's Chief Executive Arvind Sethi puts it, "Investment is a marathon, not a sprint. Stick to your objective even when the going gets tough."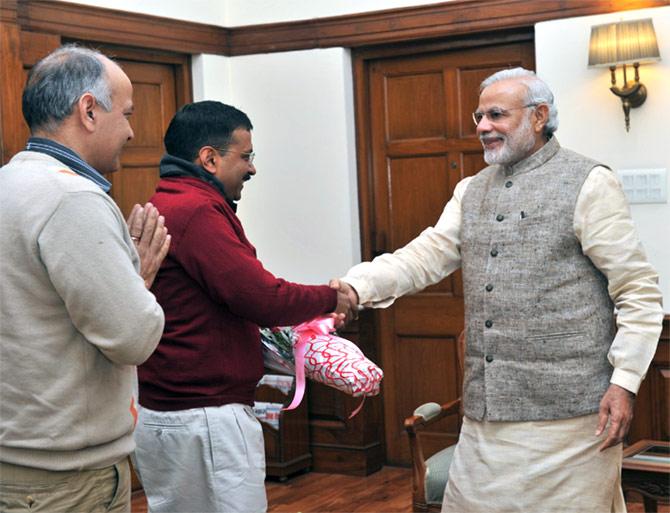 Image: Kejriwal did not ape his opponents' tactics. Photograph, courtesy: PIB
Don't ape others
Kejriwal followed his own strategy and did not ape his opponents' tactics. The Bharatiya Janata Party's was largely a negative campaign that focused on taking potshots at Kejriwal.

But the latter refused to be drawn into the mudslinging and stuck to a positive agenda that dwelt on development issues.

Investors often listen to recommendations or follow strategies dished out by friends and relatives, without paying heed to their own requirements. Don't blindly follow what others are doing.

Assess your own strengths and weaknesses. Don't invest in stocks or use a risky derivatives strategy only because someone else is doing it.

Look at your own risk profile first and then decide on the suitability of the product.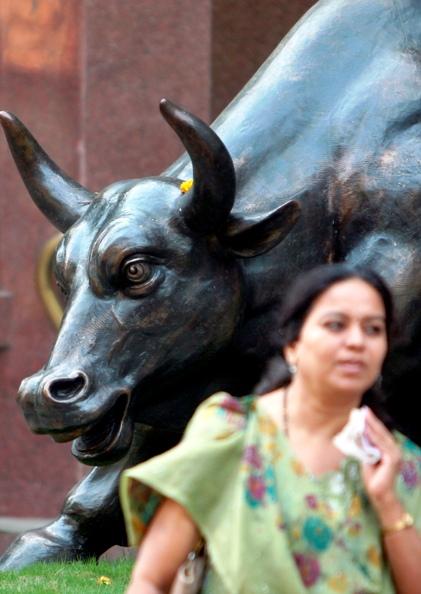 Image: As an investor, don't restrict yourself to traditional investment options. Photograph: Reuters
Go beyond traditional options
AAP not only used traditional media such as outdoor and radio but also new media to reach voters.

The party reportedly created a research tool in November last year to vet social media posts, which in turn helped it crystallise a 70-point agenda for its manifesto.

As an investor, don't restrict yourself to traditional investment options such as bank fixed deposits or public provident fund. These investments might be safe but not be able to give inflation-beating returns. Go beyond your comfort zone and be willing to take measured risks.
"Look at market-linked products. These may be volatile in the short term but will help you meet long-term goals and create wealth," said Hemant Rustagi, CEO, WiseInvest Advisors.
AAP Lessons
Don't keep duds in your portfolio on hopes they will bounce back some day
Keep portfolio clean. Stick to 8-10 stocks, 5-6 MF schemes and 2-3 insurance products
Stick to your asset allocation even in tough times
Don't blindly follow advice dished out by friends and relatives
Look beyond traditional investment options such as bank FDs or PPFs