While low fares spell good news for travellers in the short run, airlines need to have a closer look at their pricing policy in order to avoid disaster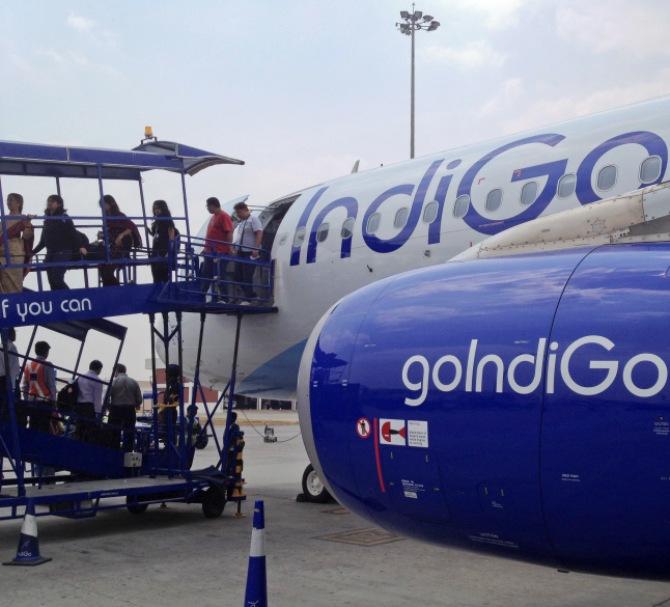 Image:

Passengers disembark from an IndiGo Airlines A320 aircraft at Bengaluru International Airport. Photograph: Vivek Prakash/Reuters



Domestic airlines in India seem intent on digging their own grave.
With oil prices slowly inching up and fares heading south, airline losses are likely to mount. It's almost as if the present accumulated losses are not quite enough.
According to data compiled by Cleartrip, average fares this year are almost 15 per cent lower than the same time last year.

Some routes show a sharper drop.
Samyukth Sridharan, president and chief operating officer, Cleartrip, says the lower fares partly reflect the lower fuel prices but also partially additional capacity on certain routes and increased competition as a result.
He declined to comment on what the issue of break-even means for specific airlines since their break-evens vary significantly.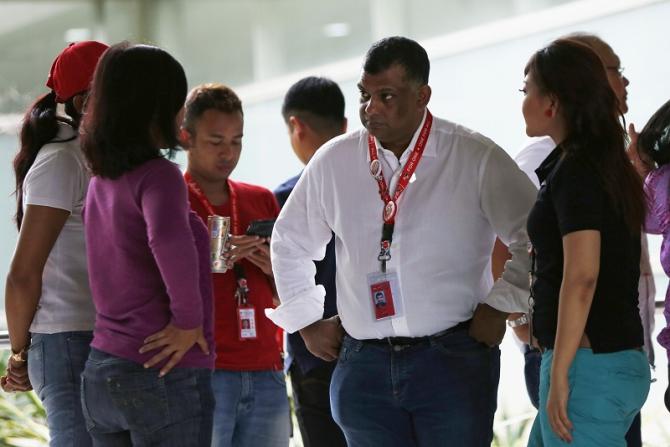 Image:

AirAsia chief Tony Fernandes speaks to his staff. Photograph: Reuters



The launch of two new carriers, Air Asia and Vistara, has led to additional capacity, even as Spicejet stabilises its operations.
IndiGo has also been steadily adding routes and capacity.

On the Delhi-Mumbai route, for instance, the newcomer Vistara has already added five daily flights.
Not only are fares lower, there seems little difference between full service airline fares and low cost airline fares, with the former beating the latter with lower fares on many days.
This clearly means even more trouble and higher losses since the costs of full service carrier's are higher.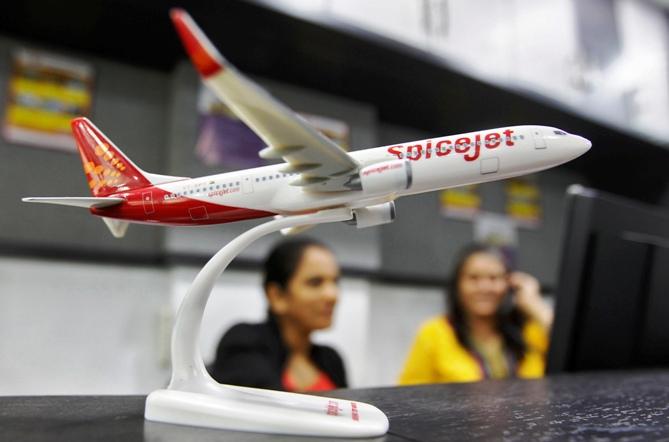 Image:

A SpiceJet booking counter. Photograph: Reuters



In general (this varies for each carrier), for a low fare airline to make some money or at least break-even, the net fare on the Delhi-Mumbai route needs to be Rs 4000 and the gross fare around Rs 5200 (this includes taxes and other charges), with a 70-80 per cent load factor.
This goes up to Rs 6000 net fare and Rs 7200 gross for FSCs.
But as things stand, the fares for the route are around Rs 4500, all inclusive, with Air India offering rates as low as Rs 3750 (one way) on some days. Vistara and Jet airways range between Rs 4500-5500.
Analysts argue that this strategy seems a trifle short-sighted, especially in the case of Vistara.
The airline claims to be full service and offers a superior qualityservice but charges the same fares.
"If you are an Oberoi, you can't charge the prices of a Ashoka Yatri Niwas as price is an integral part of your brand.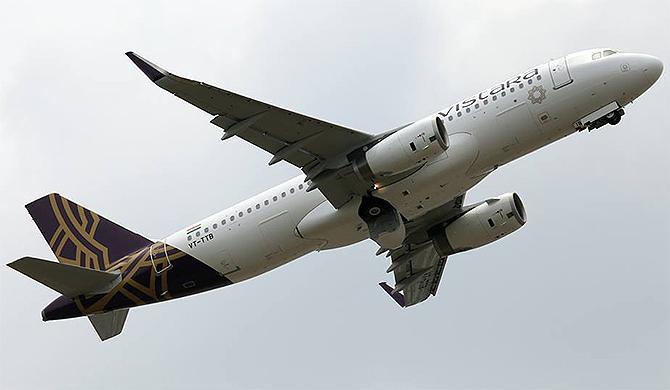 Image:

A Vistara aircraft. Photograph: Kind courtesy, Facebook page of Vistara



"If passengers get accustomed to paying a certain price for your product, when you raise it without any change in the product, they will question why," argues an industry analyst. The thought that arises in any normal customers' mind is that if she has to pay so much, she might as well try something else.
A senior industry source illustrates his point with an example.
"I see a lot of ladies carrying Louis Vuitton bags where the brand is prominently displayed.
"What is the message? That I am not just anyone. I can afford this.
"If they (Louis Vuitton) drop prices and everyone can afford it, they will lose half their customer base."
He says Vistara is running the risk of making the classic mistake of devaluing their own brand by charging what the 'commoners' do.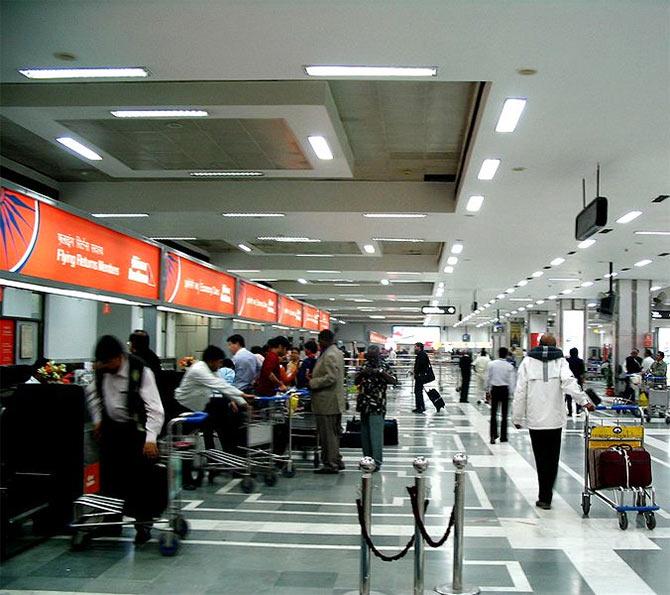 Image: Delhi airport. Photograph: Courtesy, Kprateek88/Wikimedia Commons
In response to a query on why the airline was offering the same fares as others while offering a premium service, Vistara chief executive officer Phee Teik Yeoh said, "Pricing is a function of demand and supply. It is therefore dynamic and keeps changing.
"Our pricing strategy has been disciplined, and determined by the unique value proposition we offer."
He also says that since he sells economy, premium economy and business class seats, the economics is different from the low fare airlines.
If the fares being charged spell trouble for full service airlines, they could spell even more trouble for newly-started low fare airlines like Air Asia India.
Unless they offer far, far lower prices on routes like Delhi-Mumbai -- which they claim they will be starting soon -- why will anyone take the low cost carrier flight when they are getting a full service airline for Rs 4000-4500?
They will have to charge far lower fares consistently to convince passengers that it makes sense to take the low fare offering.
And they will have to add frequencies as quickly as possible since a lot of this travel is for business and therefore timings matter.
What the industry is collectively doing appears to be imprudent for another reason. Most of the travellers who book their seats last minute (two to three days before they fly) do so for business purposes (it is rarely for leisure).
So, the passenger would book the seat even if the fare being charged was Rs 7000-8000 (one way) for Delhi-Mumbai.
If it is Rs 10,000 or above he may think twice but at Rs 7000-odd, he will probably go ahead.
So effectively, the airlines are foregoing revenue that they can mop up in this bid to outdo rivals.
A senior airline executive says this reflects immaturity in the market and in many cases 'a nervous cash flow' situation.
While all this may spell good news and cheer among travellers in the short run, airlines heading the Deccan and Kingfisher way in the long run hurts passengers just as much as it does everyone else in the industry.
So, the sooner the airlines get their act together on this, the better it is for all concerned.
HEADING SOUTH
Percentage drop in airline fares as compared to last year
8% Delhi-Mumbai
15% Delhi-Bengaluru
22% Mumbai-Bengaluru
2% Delhi-Goa
12% Mumbai-Goa
15% Overall fares
Source : Cleartrip