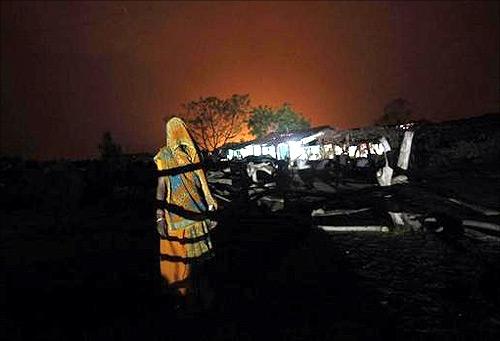 Image: A woman stands in front of an illuminated house powered by solar energy at Meerwada village of Guna district in Madhya Pradesh. Photograph: Adnan Abidi/Reuters
As the euphoria around US President Barack Obama's visit ebbs, the fine print of the investment announcements reveal a financial boost for American solar energy companies to increase their exports to India.
Of the investments announced by the US federal agencies in the clean energy space, most are institutional loan for US solar companies, aimed at increasing their export to the growing renewable energy (RE) market India, especially solar power.

The $1-billion loan agreement that the US Exim bank signed with Indian Renewable Energy Development Agency (Ireda), would be extended to US solar cell manufacturing companies that will export to India, said Indian government officials.
"The push has been given to US solar companies already selling or planning to sell in India to expand their presence through either exports or manufacturing," said a senior official.
Currently, only Sun Edison and First Solar are the two major American companies with operations in India.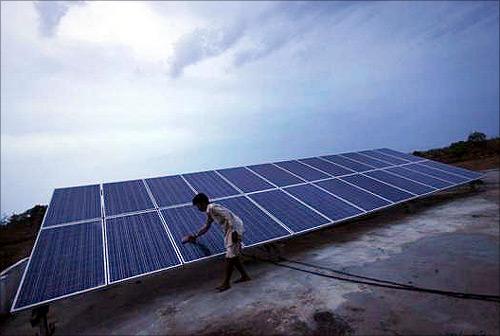 Image: Cost of solar cells globally has been on a decline. Photograph: Reuters
The cost of solar cells globally has been on a decline owing to over-capacity in the developed markets and demand from Asian countries including India.

US solar cell prices have come down to $0.6 a watt in 2014 from $0.75 a watt a year before. Even the Chinese module price has come down sharply to $0.5 per watt. For those expecting a concessional rate of interest from the US, there isn't any.
A loan offered by the US Exim, along with Ireda, would fall in the same bracket of 10-12 per cent as offered by other domestic lending institutions.
"US Exim offers a loan at four per cent but the hedging cost is as high as eight per cent. Ireda would charge an additional two per cent. It's at par with Indian agencies funding to RE projects. Unlike German state bank KfW or Asian Development Bank and World Bank, the US agencies do not fund projects. In short, this is an impetus to US solar business in India," said a senior executive tracking the US-India energy deals.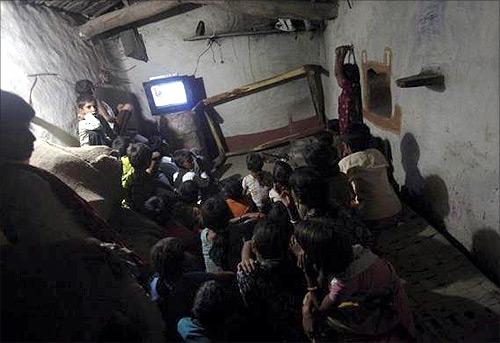 Image: Children watch television powered by solar energy at Meerwada village of Guna district in Madhya Pradesh. Photograph: Adnan Abidi/Reuters
While the country aims to add around 4,500 Mw of solar power capacity during the current financial year, the manufacturing capacity is only 1,500 Mw. The central government has recently revised targets for solar and wind energy capacity addition.

While solar power capacity addition has been revised to 1,00,000 Mw and wind power generation target is 60,000 Mw, both by 2022.
"This is a great business opportunity for solar companies from world over. The US solar industry would also like to be part of the growth story," said Vinay Rustogi, managing director, Bridge to India, a leading consultancy firm monitoring foreign investment in Indian renewable energy space.
The Indian solar projects are primarily based on Chinese equipment. According to industry reports, of the 3,000 Mw of installed solar power capacity, about 50 per cent of it has sourced solar cells from China, 10 per cent from the US and the balance is based on domestic content.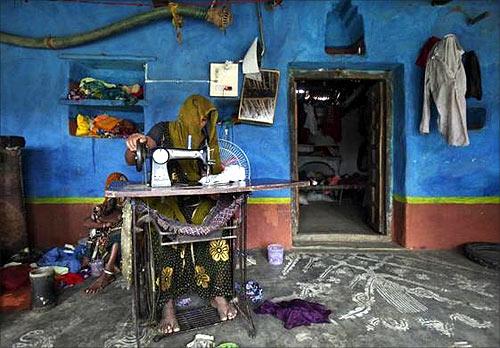 Image: A woman uses a manual sewing machinepowered by solar energy.
Photograph: Adnan Abidi/Reuters
And the US Trade and Development Agency has decided to leverage a $2-billion loan for RE projects. US Overseas Private Investment Corporation will lend $1 billion for clean energy projects in India.
While these are not preferential loans aimed at boosting US manufacturing but would be used for development incentives.

The funds would come in via one or more Indian financing agencies are likely to be used in providing subsidy or investment in renewable power projects. Ministry of new and renewable energy and Ireda officials said they are awaiting finer details of the deal.
Bridge to India in its recently released report said the announcements made the US President would take the proposed overseas funding commitments for Indian solar projects and green energy corridors to above $8 billion including other similar (mostly in-principle) commitments made by the World Bank, IFC, kfW, ADB and US-Exim.