Being a part of HRX Superheroes anchored by Hrithik Roshan is a dream come true for Saji Thomas, a class 7 dropout and a hearing-speech impaired person.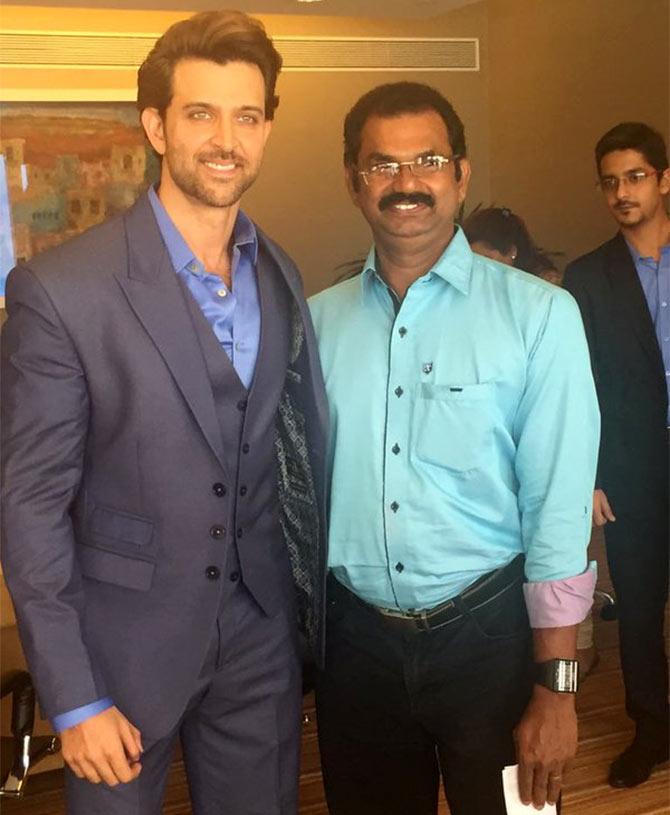 IMAGE: Bollywood star Hrithik Roshan with Saji Thomas in Mumbai. Photographs, courtesy: Discovery India
Life has not been the same for Saji Thomas, the deaf-mute school dropout from Kerala who built a light aircraft all by himself, ever since he was featured in Rediff.com in July this year.
Since then he has been receiving phone calls from Indians all over the world, with offers to help pouring in.
While several people offered help and support, the most generous readers were Rajkiran Vojjala and Manoj Talwar, who contributed substantially to help Saji in his efforts. Another encouraging initiative was from Sunil Mathew of WebArc Internet Services, who is revamping Saji's website, which had earlier been done by a well-wisher, Basil M.G from MBITS Engineering College.
And now, Discovery Channel will feature Saji Thomas in its docu series HRX Superheroes, anchored by Bollywood superstar Hrithik Roshan. The series, based on the true stories of people who have overcome physical handicaps and unfavourable circumstances to achieve extraordinary things, will feature outstanding personalities.
Being a part of HRX Superheroes is a dream come true for Saji Thomas. The nine-part series will feature famous dancer and actor Sudha Chandran, Sangram Singh, winner of the Commonwealth Heavyweight Championship 2015, entrepreneur Kalpana Saroj among others.
What makes Saji's story outstanding is that he built two light aircraft all by himself overcoming financial and physical constraints as well as criticism from family members and society.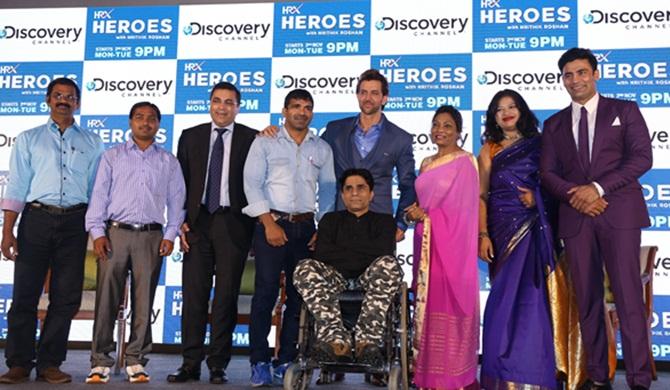 IMAGE: Hrithik Roshan, Rahul Johri, EVP, Discovery Networks Asia-Pacific with the real heroes.
Saji was thrilled to show the video of his aircraft to Hrithik Roshan who was excited on seeing it and applauded Saji.
Launching the series, Hrithik Roshan said, "I wish to share with the world and spread the belief that it is possible to look adversity in the face and emerge victorious by overcoming it. HRX real heroes will bring to focus these incredible real life stories which the entire nation needs to admire."
After the story was published on Rediff.com, Mariya, Saji's wife who has been taking calls on his behalf, was overwhelmed.
"I received numerous calls from people speaking Hindi, English and even Gujarati in the last three months. A call from Discovery Channel to feature Saji in their programme was incredible as he never received the appreciation he deserved in the last 15 years," Mariya said.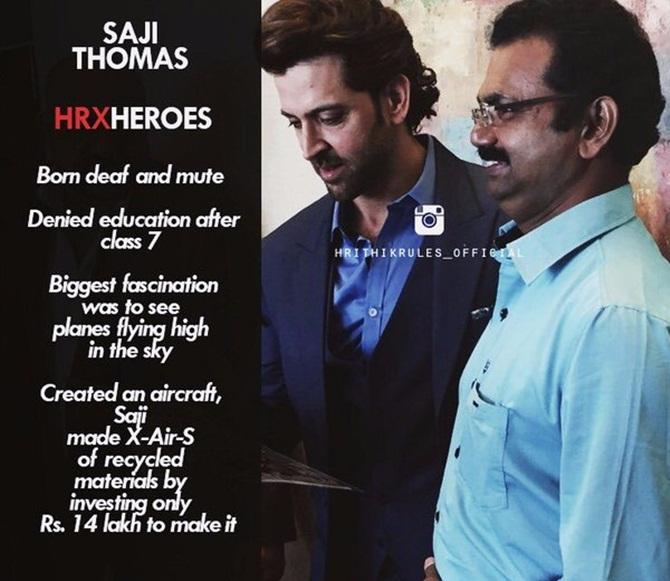 Mariya says she had given up hopes of her husband getting any recognition, despite building two light aircraft all by himself in the backyard of his house near Thodupuzha in Idukki district. She thought her husband had squandered all the money in building the aircraft, which served no purpose.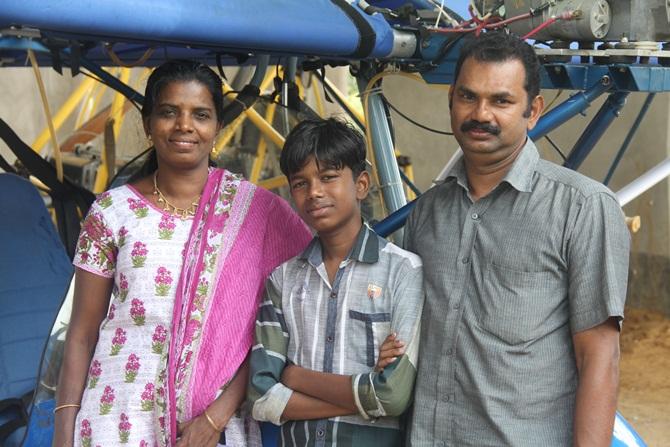 IMAGE: Saji with wife Mariya and son Joshua.
Though Saji's achievement is no ordinary feat, he has been denied a job in the government or private sector, had been sidelined for the last 15 years, and to such an extent that he even attempted to get the job of a cleaner in Kochi International airport.
However, the adulation and respect he has received in the last three months has turned things around.

Travelling to Mumbai in a flight for the first time was an exciting experience for Saji and his family.
The kind of attention and respect Saji is receiving now for his work is great. I am also being appreciated for being such a supportive wife, says Mariya.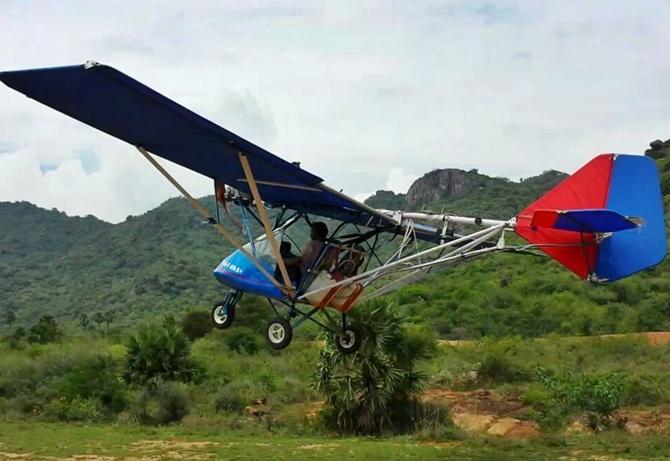 "Though I was very sceptical, Saji had the faith that someday the world will see his work. I am really happy that Saji's story will be seen around the world through the programme. We would like to thank the media, Discovery Channel and all our well-wishers for making a big difference to our lives," says an emotional Mariya.

Saji Thomas has, however, run out of cash after building the two aircraft. His request for a loan was turned down by banks who said, 'The poor should not indulge in expensive hobbies.'

Passionate about aircraft, Saji Thomas waits for the day to be employed with an aviation company. He believes he has the talent and potential, now if only he could be given an opportunity.

If you wish to help Saji Thomas, you can get in touch with his wife Mariya at +9194467 47473. You can SMS/WhatsApp Saji at +9194003 36313. His e-mail id is sajixair@gmail.com
HRX Superheroes will go on air from November 2 (Monday-Tuesday 9 pm), on Discovery Channel, with a repeat telecast on Saturday and Sunday at 8 pm.