Is your new logo doing more harm than good? Here's a look at the issues that could potentially derail a redesign exercise, and how to get around them.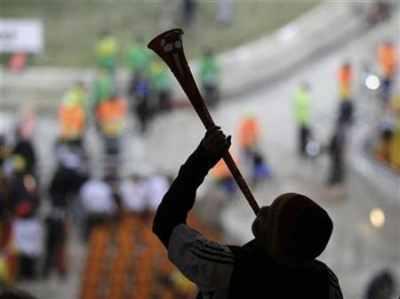 Image: A wrong strategy can derail a redesign exercise. Photograph:

Ivan Alvarado/Reuters
Karl Lagerfeld, a major creative force behind brands such as Tommy Hilfiger, Chanel, and Fendi, famously said, "Logos and branding are so important.
In a big part of the world, people cannot read French or English - but are great in remembering signs." Indeed, marketers swear by the belief that a logo should be so simple that one is able to draw it in the sand with one's toes.
So when did the task of logo design get so complicated? Examine the classic case of Tropicana in 2009 - in an effort to modernise its classic straw-in-orange visual mnemonic, it changed its logo and packaging to a clean but impersonal design of an orange juice glass transposed over a white background.
Observers said that the brand looked so different, it was unrecognisable on the shop shelves.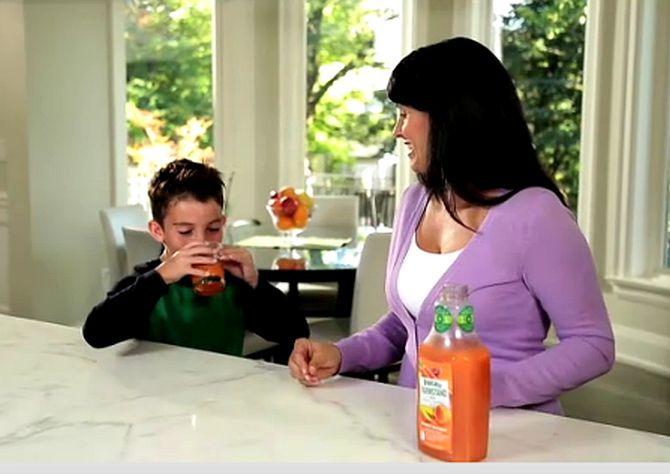 Image: Tropicana had introduced a new design which did not work well for the company. Photograph: A grab from a TV commercial.
People mistook Tropicana to now stand for powdered or manufactured juice as opposed to the fresh fruit juice they were used to.
The strategy bombed, and the brand's sales plummeted 20 per cent within a month of the introduction of the new design.
The debacle cost Tropicana $35 million. The brand did a quick turnabout and scrapped the new packaging in less than two months.
Then there is home-grown Frooti, whose logo change after 35 years crafted in black font - an attempt to reach out to young adults - was rolled out in February this year on social media and select outlets.
About Rs 70 crore was spent in changing the logo and rolling out a marketing campaign to support it.
Word about the new logo was first out on Facebook, Twitter and Instagram.
In the first five days of its rollout, MindShift Interactive reports, the brand received a flurry of reactions from its audience on Twitter, with maximum conversations happening there (94.1 per cent).
A majority of the conversations were neutral (54.2 per cent), with fans enquiring as to when the change was made and if it was a rumour.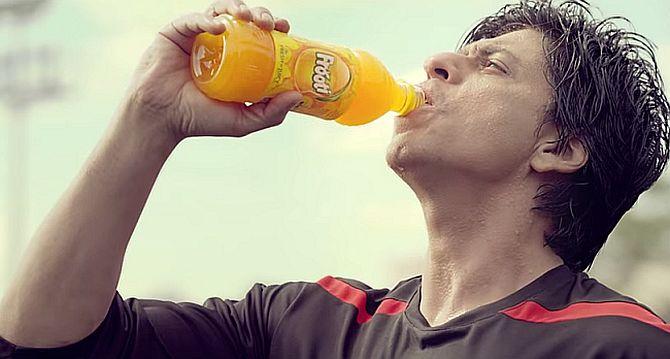 Image: Frooti has recently changed it brand image to appeal to the masses. Photograph: Courtesy, Frooti
However, 44.3 per cent expressed their dislike for the new logo.
Fans almost instantly related the new Frooti logo to that of a censored stamp, army logo or a reject stamp.
Many criticised Frooti's design consultancy Pentagram. All this while there was no response or explanation from the brand on social media.
The redesign might have gone down well if it were backed with communication of a storyline, according to MindShift Interactive.
That said, it is early days to label it as a success or failure - indeed the two are utterly subjective, especially in a grey area like logo design.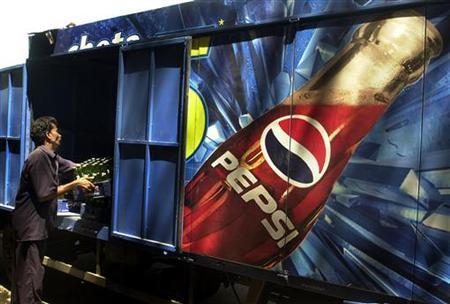 Image: Pepsico spent around $ 1 million to enhance brand image. Photograph: Reuters
There are other recent cases - like Pepsi spending about $1 million on its current logo, kicking up some harsh reactions on digital media.
On the other end of the spectrum you have examples such as the Nike 'swoosh', which cost only $35 to create, but is up there in the advertising hall of fame.
These examples raise a fundamental question: in a hyper connected world where viral media is right at the centre of all the action, is there a way of de-risking a logo redesign strategy?
Get the 'why' right The objective of a logo redesign could vary from a change in business intent, to acquisitions, consumer relevance, changing times and marketing problems.
The whole thing might start when a brand's positioning starts appearing ambiguous. Take Frooti. "Frooti has a fundamental problem.
There is still a very strong kids' association with the brand. Today's 25 year old still remembers it as a childhood drink in a tetrapack," says brand consultant Anand Halve of chlorophyll.
With the Shah Rukh Khan commercials, Frooti appealed to 15-30 year-olds while introducing the drink in a PET bottle.
But again - and unfortunately so - the brand stayed with the metaphor of a child. That of bringing out the 'child' in you.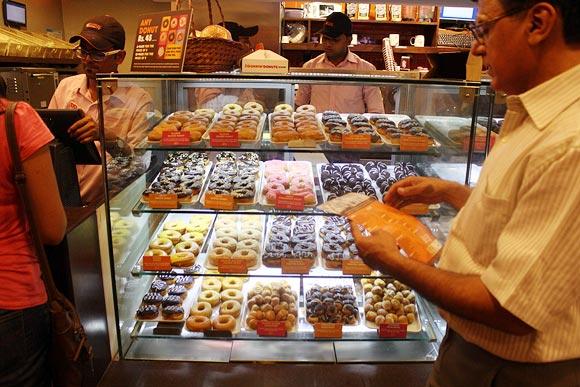 Image: Zomato has rolled out a new logo worldwide. Photograph: Hitesh Harisinghani/Rediff.com
"The proposition should be figured out before you tinker with the logo or packaging. This is the same problem that Rasna faced," Halve deduces.
"If I were Frooti, the puppy love, 13 year-old group is where I would pitch it. And then, change the logo."
In other words, logo redesign should follow the changed proposition or target audience.
"Quite frankly, I am seeing no such change in the proposition for Frooti currently - bringing in visual mnemonics on hoardings of Lilliputian men hauling oversized Frooti bottles leaves me baffled," he says. Food services company Zomato is a classic example of a flurry of logo changes in a short span of time.
In fact, it recently switched logos twice within a month.
Zomato started out as Foodiebay, where each letter in its brand logo represented an element related to food.
The rebranding to Zomato happened in 2010 to mark its foray into adjacent business verticals without being held back by a name. The new logo read 'Zomato', accompanied by a tomato with the letter 'Z' sliced in it.
By 2012, the sliced tomato couldn't quite keep up with the company's evolution, and was dropped. Between then and late 2014, just the wordmark was used as the logo, with some iteration along the way, including changing the kerning of the letters and dropping the '.com' .
By the third quarter of 2014, with a presence in 19 countries, Zomato evolved to become a food community of sorts, leading to the launch of its heart logo (with symbols of a fork incorporated within) representing food and people.
Barely a month later, with the acquisition of Urbanspoon, Zomato felt the need for yet another logo change.
"We had to make sure we could get Urbanspoon's existing user base in the US and Australia, accounting for two-thirds of our traffic once we complete migration, to start using Zomato," says Deepinder Goyal, founder and CEO, Zomato. So the brand decided to retain Urbanspoon's logo but with a 'Zomato' twist. But isn't so much change bad for brand stickiness?
"While it was a tough call to change our logo again, having rolled out the heart logo globally and across all brand assets just a month before that, we felt the long-term benefits outweighed the short-term challenges," explains Goyal.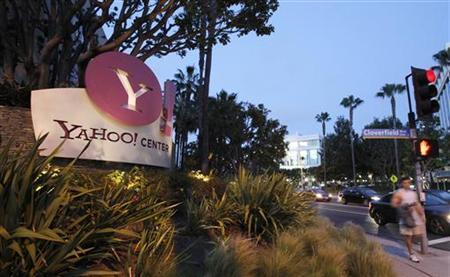 Image: Yahoo has changed its logo design quite a few times in the recent past. Photograph: Mario Anzuoni/Reuters
Now take digital giant Yahoo!, which changed the logo design quite a few times in recent years. After Marissa Mayer was appointed CEO of Yahoo! in 2012, its fight for relevance in the face of intense competition took on a new meaning at the company.
"The logo change in 2013 was about signaling our renaissance. We've delivered new product experiences for our users that are making their daily habits more inspiring and entertaining. Our new logo reflects our new energy and innovation," says Nitin Mathur, senior director, marketing, Yahoo! Asia Pacific. Clearly, a logo change cannot be an arbitrary exercise.
Don't ignore the 'how' October 6, 2010, was a historical day for GAP, but for all the wrong reasons.
For one, its earlier sophisticated typeface had been changed to a ubiquitous Helvetica, while the use of a blue gradient square cutting into the curvature of the 'p' alphabet made its logo look unattractive.
The swift consumer response to the redesign was so outrageous that TIME magazine even carried an article on why the neurons in a consumer's brain led to the emotion of 'anger' on seeing the new logo.
What was being defended for hours as a 'move towards modernity' was withdrawn and the company went back to using its earlier logo. Design is crucial to any logo change.
And design has a lot to do with category cues and what benchmark brands are doing.
Then, an assessment of one's own brand should be made - what are its positive attributes and what are some of its visual elements that are leading to a negative perception about the brand.
"You need to study the tangibles, the intangibles, the need for change from a business viewpoint and based on that, embark on a journey," says Ektaa Aggarwal, creative director at brand design consultancy, Landor Associates.
Then a brand starts building cues through colour, typography, graphics, photography styles etc to convey the right emotion.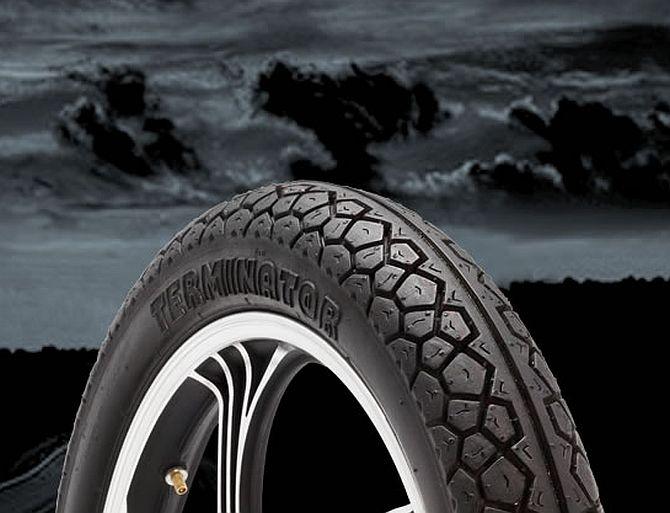 Image: TVS Tyres redesigned its logo to grab huge attention. Photograph: TVS Tyres
In the case of TVS Tyres' newly redesigned logo, an attempt has clearly been made to adhere to category cues.
One sees visuals of the American eagle, a pair of arrows denoting forward motion, a tyre etc. "However, I see too many cues in here," Aggarwal says.
In that sense, she says, Frooti's attempts to be rugged and no-nonsense with its black font and wooden carton stamp look, should be lauded.
On the media side, ZEE TV recently tweaked its logo design to correct its proposition from a finality-led 'Umeed se saje zindagi' to a continuum, 'Har lamha laye nayi umeed'.
This means the new logo needed to be more assertive. "We explored five shades of blue, and we got feedback digitally from consumers.
The findings revealed that assertiveness was coming forth nicely in a deeper blue shade than the calmer aqua blue that we had earlier," says Pradeep Hejmadi, business head, ZEE TV.
The packaging also became more contemporary with the pneumonic of a spinning top at the top left of the logo which also spins out of 'ZEE TV'.
If you think the use of grammar in design is absurd, consider the use of math in design. Yes, Yahoo! used mathematics to arrive at its logo.
"There is quite a bit of math and logic behind the characters and construction. The relationship between each character is emblematic of the collaborative culture that is driving us forward," says Mathur.
Finally, stay simple Needless to say, simply changing a company's logo isn't easy. The change management process is as important as communicating that change.
That is where brands like GAP failed, with an overnight change.
The initial reaction to an overnight brand change is always rebellion. The commonly associated risk with logo redesigning include existing consumers not being able to connect with a new logo.
There is also the risk of people who haven't really connected with the brand not being able to recognise it anymore.
The best possible way to mitigate the risks is to proactively communicate changes to people. Brands like Micromax have taken this to another level by 'crowdsourcing' logo design a few years ago through a contest in which it received 2,500 entries.
This gave the brand an opportunity to instil in its consumers a sense of ownership besides helping the company gauge the consumer perception.
"The advantage of this method as opposed to hiring a consultant is the freshness of ideas," says a Micromax spokesperson.
However, opening up one's corporate identity to public scrutiny can be daunting. There is a delicate balance: a brand can't get too democratic either.
"Help consumers try the change out, do soft launches versus the big bang reveal," says Aggarwal.
See how Yahoo! mitigated that risk.
To get everyone warmed up, Yahoo! kicked off a '30 days of change' campaign. "For 29 days, we showcased various logos on the Yahoo! homepage leading up to the final new logo on Day 30.
It was a fun way of honouring the legacy of our present logo," says Mathur.
Clearly, one needs to associate a strategic storyline with a logo redesign besides soliciting ample consumer feedback and involvement; otherwise a consumer is left baffled by just a visual change.
As they say, if it is a product, people buy it; if it is a brand, people buy into it. And it is here that a thoughtful logo design can make all the difference.