Comparing these hatchbacks, Tata Zica is built around the same platform as Tata Indica but as far as styling and overall design is concerned, the new hatch from the house of Tata is little resemblance with the latter.
The design studios of Tata is based out of countries in England and Italy with India's very own Pune also being a part of it.
These two former nations are known to produce some really extravagant looking cars and with Tata's DesignNext design language, Tata surely did not miss a trick here too.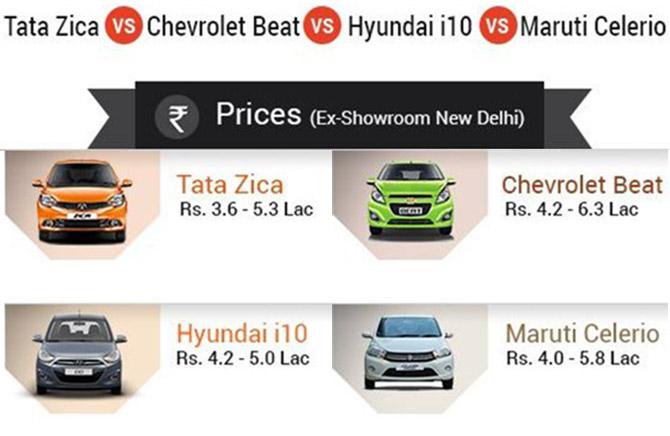 One of the things that stands out is the aggressive stance of the car that can be attributed due to the hood overhang.
The DesigNext language further enhances the boldness of the car by including features like slingshot line, Diamond DLO and humanity line.
It would be safe to say that Tata Zica has one of the most stand out designs among its competition with loads of other state-of-the-art features.
Engine
As stated above, major competitors for Tata Zica would be Hyundai i10, Maruti Celerio and Chevrolet Beat. Hyundai i10 is not available in diesel variant but the rest of the hatchbacks have options in both diesel and petrol.
Among the petrol trims, Tata Zica seems to be the most powerful with its Revotron 1.2 litre three-cylinder motor that generates 84bhp power and 116Nm torque.
Chevrolet Beat comes in second spot with 76.8bhp power and 106.5Nm torque while the third sport is taken by Hyundai i10 that delivers 68bhp power and 99Nm torque via its 1.1 litre four cylinder motor.
The least powerful of the lot is Maruti Celerio that uses its 1 litre motor to churn out 67bhp power and 90Nm torque.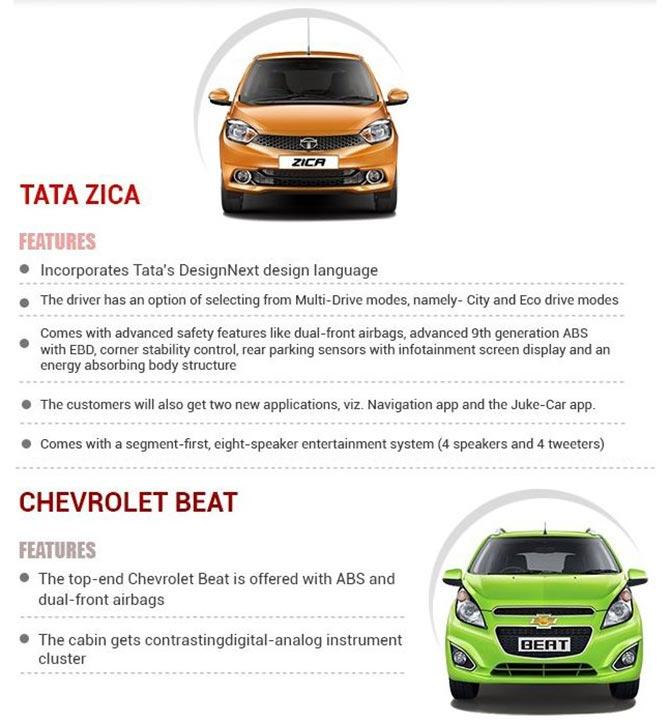 Among the diesel trims, Hyundai i10 is excluded and between the remaining cars, we see the same pattern as far as power generated is concerned.
Maruti Celerio comes with AMT gearbox for its petrol variant while all the rest of the hatchbacks feature a manual transmission system as standard.
Although there would be no AMT units for Tata Zica to begin with, the hatchback may get the option for the same later on in the production run.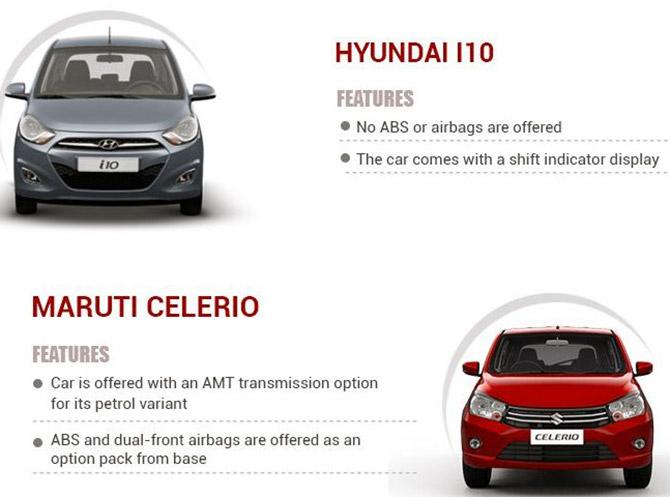 Safety
Tata Zica's most expensive trim would be provided with various safety features like EBD, ABS, corner safety control and dual front airbags.
Maruti Celerio on the other hand offers ABS and dual airbags features for all its variants while Chevrolet Beat provides the same only for the top end variant.
Hyundai i10 again falls behind in the safety section as well lacking airbags and ABS.