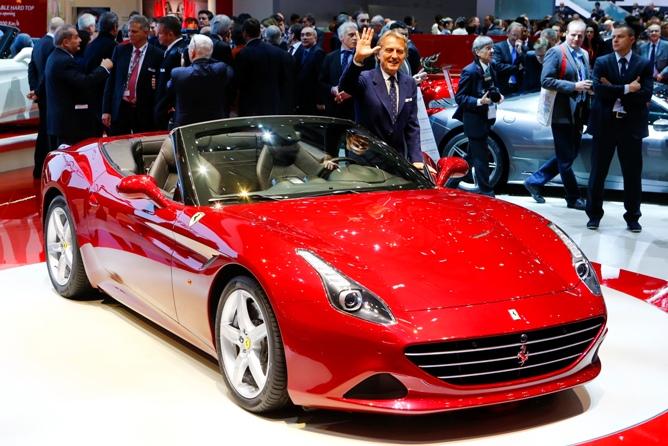 Image: Ferrari CEO Luca Cordero di Montezemolo poses next to Ferrari California T during the media day ahead of the 84th Geneva Motor Show at the Palexpo Arena in Geneva. Photograph: Arnd Wiegmann/Reuters
Ferrari's latest model, the 488 Spider, is also expected in the country soon
California T, a convertible from Italian super car maker Ferrari is set for an India debut on August 26.
It will be priced at Rs 3.3 crore or Rs 33 million (ex-showroom Mumbai).
It was launched globally last year. Ferrari's latest model, the 488 Spider is also expected in the country soon.
Though all vehicles in Ferrari's international line-up are available in India with the exception of La Ferrari, a hybrid super car, they had to be imported by buyers themselves.
The change now is that Ferrari will import them and deliver them to its dealers.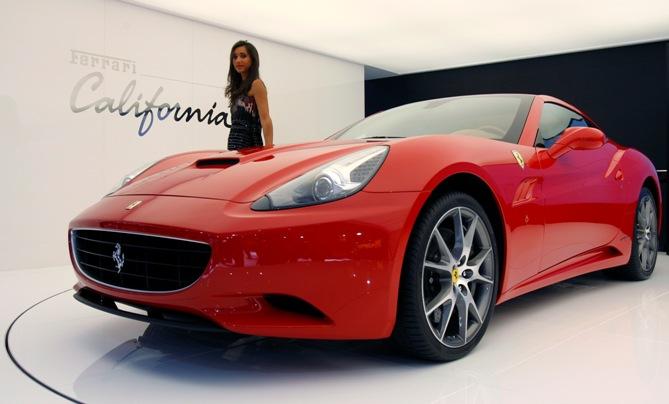 Image: A model poses near a Ferrari California car. Photograph: Jacky Naegelen/Reuters
Ferrari has gone all out to push California T among its discerning clientele.
Its two authorised dealers in Mumbai and Delhi who are in the process of setting up spanking new showrooms whilst accepting bookings, have also been contacting potential buyers individually.
And the premium ticket price notwithstanding, the company says its initial quota for the country is all sold out.
"There is a sell-out as far as India is concerned. We are taking bookings for 2016 presently", said a representative of one of the two dealers.
Though the company does not disclose sales figures unconfirmed estimates say it could be anywhere between 10-15.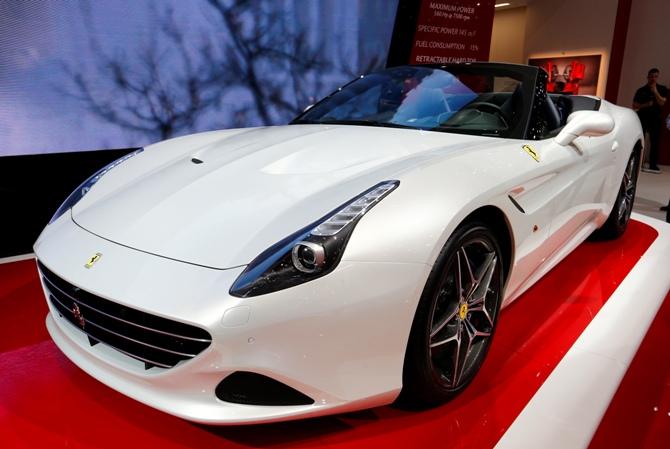 Image: Ferrari California T. Photograph: Arnd Wiegmann/Reuters
So if you want one, it may be best to get in the queue.
Uber luxury cars such as the Ferrari walk a fine line with demand-supply numbers.
Production is regulated so that demand always outstrips supply. The companies say that they prefer to bring in limited numbers so as to maintain quality and the brand's exclusivity.
The Mumbai dealership is yet to open and will be inaugurated in October.
The Jaguar Land Rover showroom in the business district of Bandra Kurla Complex is making way for Ferrari, confirmed an executive from Navnit Motors, the authorised dealer of Ferrari.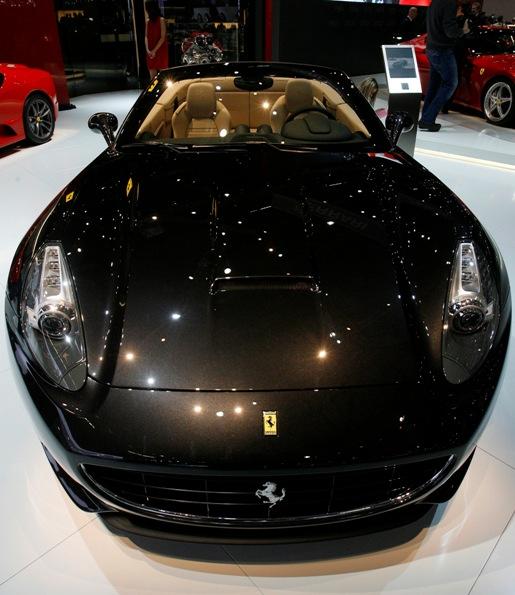 Image: A Ferrari California is displayed during the first media day of the 79th Geneva Car Show at the Palexpo in Geneva. Photograph: Arnd Wiegmann /Reuters
Similarly Ferrari's Delhi dealership is shifting to its new address on Mathura Road after having operated out of a showroom on Janpath for nearly four years.
This new showroom will also open in October this year.
For now Ferrari will operate with two dealerships and may contemplate on increasing the number after gauging the response the car gets.
In comparison China had 30 dealerships as of last year clocking sales of 700 units. Ferrari builds almost 7,500 units a year.
"Ferrari enjoys a passionate and enthusiastic following in India and is firmly committed to providing a class-leading sales and after-sales service in the country", the company had said in a statement.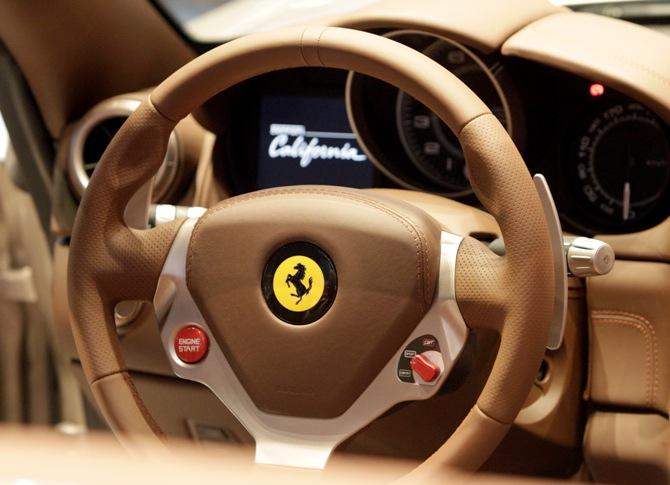 Image: The dashboard of Ferrari California car is displayed at an exhibition. Photograph: Denis Balibouse/Reuters
This is the car major's second coming in India.
The 85 year-old, Fiat-controlled company had to face a lot of flak after its then partner Shreyans Group folded operations leaving Ferrari owners high and dry. Raymond group Chairman and Managing Director Gautam Singhania was one such Ferrari buyer.
Singhania, who imported his Ferrari 458 Italia directly from the company, claimed in a Twitter outburst last year how he had 'a terrible after sales experience' blaming Ashish Chordia who ran Shreyans.
According to rough estimates there are between 50-80 Ferraris running on Indian roads.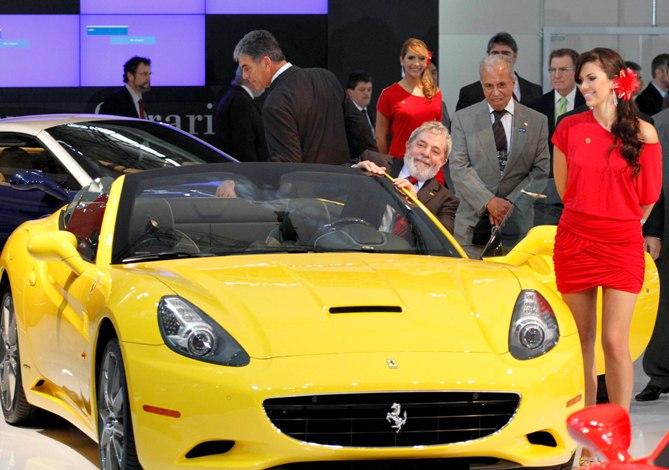 Image: This file photo shows Brazil's former President Luiz Inacio Lula da Silva entering a Ferrari California car. Photograph: Nacho Doce/Reuters
Sachin Tendulkar got a Ferrari Modena 360 after he equalled the late Don Bradman's record of number of test centuries. Tendulkar later sold his car to a Surat-based real estate businessman.
Though demand for mass segment passenger cars in India took a beating last year ultra luxury cars have not seen much slowdown. Fiat's other luxury brand Maserati also made its way into the country last month.
And Ford is clearing the decks to bring its sports car brand Mustang to India.
Image: Ferrari 488. Photograph: Norbert Aepli, Switzerland/Wikimedia Commons
Ferrari's interest in India is perhaps on account of a Boston Consulting Group report that the country has 928 millionaires (with wealth greater than $1 million).
The report defines this catgory as ultra high net worth individuals and their number is higher than Germany (679) but a tad lower than China (1,037).
A Kotak Wealth report titled Top of the Pyramid 2014 noted that the number of wealthy households increased by 16 per cent to 1,17,000 in the financial year ended March 2014.
Similar luxury brands from across the globe such as Rolls Royce, Bentley, Bugatti, Aston Martin and Lamborghini have already entered India. All of these exotic brands cost more than Rs 2 crore.