The long wait for delivery could kill Tata Motors' lead over Honda in compact sedans.
Image: Tata Zest; Photograph: Kind courtesy,

Tata Motors



The excitement was palpable in one of Mumbai's suburban Tata Motors showrooms as they waited to test-drive the Zest sedan that was launched a few months ago.
Most of the customers were visiting the showroom after dropping by Maruti Suzuki, Honda Car India and Hyundai Motor India outlets.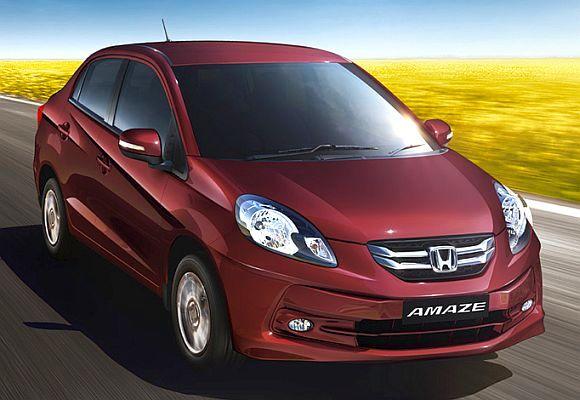 Image: Honda Amaze. Photograph: Kind courtesy, Honda

"After test-driving the (Hyundai) Xcent and i20, (Honda) Amaze and City, I booked a petrol Zest. The car is ahead of its competitors", says one of the customers.
Tata Motors has beaten Honda in the compact sedan space, with Zest out-selling the popular Amaze, and replaced the Japanese car at the third spot.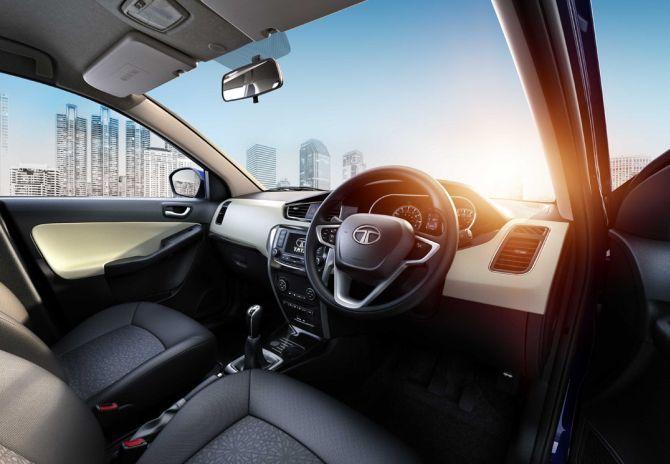 Image: Tata Zest interior. Photograph: Kind courtesy, Tata Motors

According to industry data, for two months, sale of the Zest (7,359 units) were higher than that of Amaze (6,792 units).
While Maruti's Dzire leads the segment, clocking 16,000 units a month, Hyundai's Grand i10-derived compact sedan Xcent is at the second spot with sales of 5,800 units a month.
Dzire reported a growth of five per cent at 128,000 during the April-November period, while sales of the Amaze dropped to 39,500 units, a decrease of 25 per cent over last year.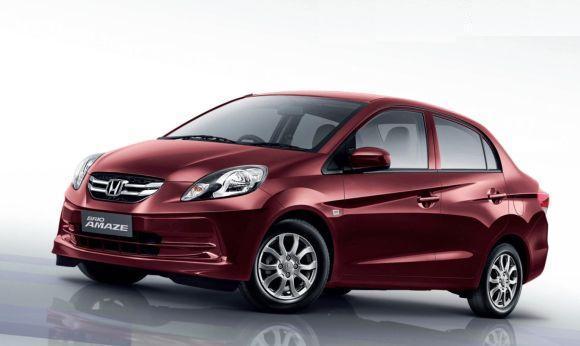 Image: Honda Amaze. Photograph: Kind courtesy, Honda

The customer opting for the Tata Zest, however, has a 4-6 month waiting period, depending on the variant, even as its competing brands are sold 'off-the-shelf' at discounted rates.
This is the first time in six years that a Tata car is seeing such long waiting periods.
Its mini car, Nano, following launch fanfare, too, had a waiting period of a year, forcing its maker to launch a lottery system to choose buyers.
Prior to that the first generation Indica had witnessed a similar response with record bookings well before the car was even commercially launched.
Market watchers, including Tata dealers, say the Zests sticker price and features have swung the tide in its favour.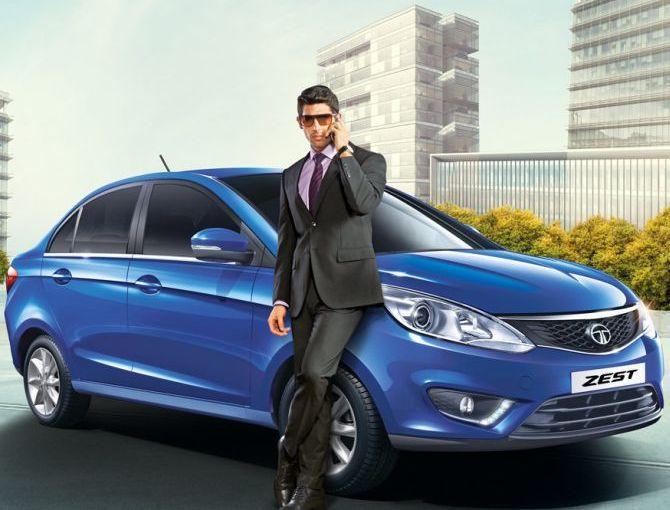 Image: Tata Zest. Photograph: Kind courtesy, Tata Motors

For instance, not only is the Zest the cheapest in its category, it offers features like alloy wheels, body-coloured side-mirrors with turn indicators and a turbo-charged petrol engine as standard in the base variant.
Its competitors have some of these features only in their higher variants.
Moreover, it is the only sedan in its category that has the automated manual transmission option for its diesel engine.
But the car's overwhelming waiting period could cause worry for Tata Motors.
Image: Tata Zest interiors. Photograph: Kind courtesy, Tata Motors

Even though the car is now in its fifth month of production, Tata Motors is not able to produce as many Zests as there are bookings for it, and blames its vendors, including its Italian AMT kits supplier Magneti Marelli, for the supply constraints.
"We are rapidly ramping up production to meet demand.
"A waiting period is a fairly normal phenomenon for most new car launches and we do have some waiting period for our top-end petrol and the diesel AMT models but are working closely with our suppliers to ensure we meet this growing demand", a spokesperson says.
While the first-generation Indica, which was India's first indigenously engineered small car, faced issues over quality, high noise and vibration, and poor engine performance, the Zest, has appeased reviewers in these departments.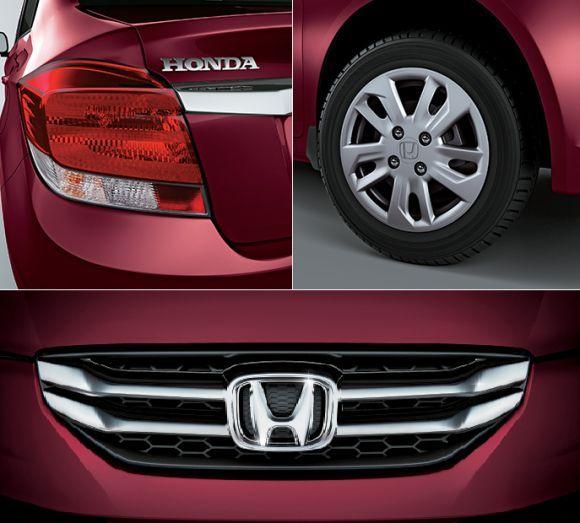 Image: Honda Amaze; Photograph: Kind courtesy, Honda

Will Zest keep the lead?
However, consumers have started to cancel bookings, owing to the waiting period.
Magneti Marelli also supplies AMTs to Maruti Suzuki, India's largest car maker.
"It is a common industry phenomenon to have some cancellations after bookings and these could be due to various factors; it is difficult to measure for one single parameter. Magneti is aware of the demand for AMT in the Indian market, and it has confirmed it will make all the efforts to meet this demand", says the Tata Motors spokesperson.
While efforts are on to up Zest's production, rival Honda is not sitting idle.
The Delhi-based company, which is dedicating production lines to the current best-sellers City and Mobilio, is confident of Amaze's return to the top three.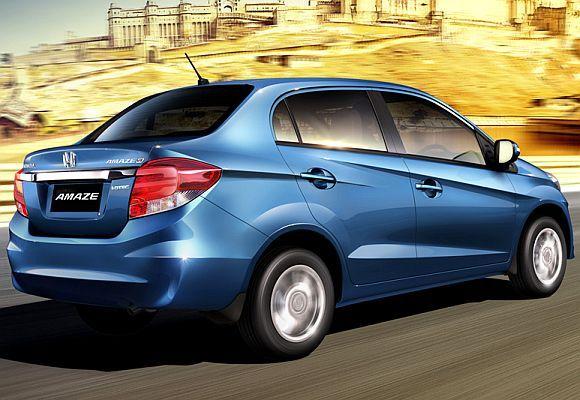 Image: Honda Amaze; Photograph: Kind courtesy, Honda

More than 50 per cent of Honda City's demand is for the middle and top-end variants, making the mid-sized sedan a top priority for Honda.
The City is the market leader in its segment. Mobilio, a Maruti Ertiga-rival in multi-utility vehicles is also gathering traction in the market.
Honda has prioritised these two models because of their demand.
However, the Amaze has a waiting of two-three weeks without discounts, says a source.
Jnaneswar Sen, senior vice-president, marketing & sales, Honda says this is set to change, boosting sales of the compact sedan: "The demand for Amaze continues to be very strong. In the last few months, we have been maintaining steady availability of the Amaze considering that we have to also cater to strong demand for the City and Mobilio.
With the beginning of new calendar year and successful ramp-up of our production after the introduction of the second shift at Tapukara plant, you will witness Amaze sales numbers going up substantially in the coming quarter."