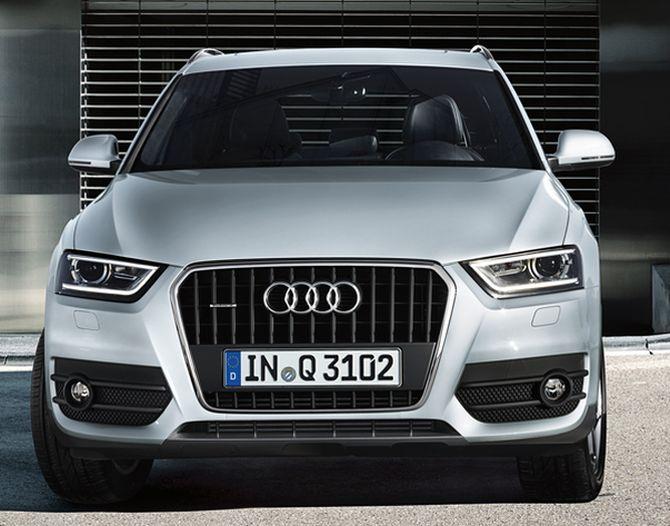 Image: Audi Q3 Dynamic. Photograph: Kind courtesy, Audi
Audi, Mercedes-Benz and BMW target broader segments of the market by looking at innovative ways to reach a wider audience
Luxury car brands are diving deeper into the Indian market. Expecting to notch up higher sales numbers outside the metros, they have introduced new models across a broader price spectrum and are now spending more on taking their brands into second and third tier towns.
Joe King, Head, Audi India said, 'Although the base is smaller, in tier II and III cities the sales growth rate is around 20-30 per cent, while in metros it is 10 per cent.'
And, he adds, 'This is where the next phase of growth will come from.'

Audi has a showroom on wheels that will be travelling around the country over the next two years, spreading word about the brand and showcasing the innovations and design changes that the German automaker is bringing about.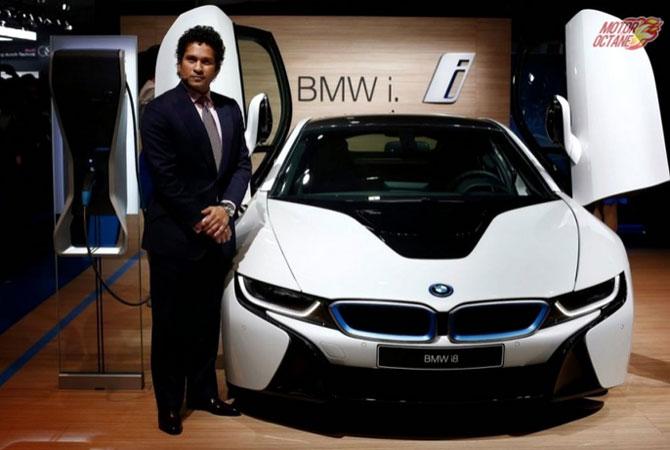 Image: Sachin Tendulkar poses with a BMW. Photograph: Rediff Archives

A couple of years ago, BMW had done the same.
Its mobile showroom had done the rounds of select Indian towns, which many say is the reason it could retain its tag of being India's largest luxury car maker in 2012.
Audi hopes it can do the same and fend off a surging Mercedes-Benz with this initiative. Benz has been hot on Audi's heels all of the last financial year and is looking at being numero uno this year.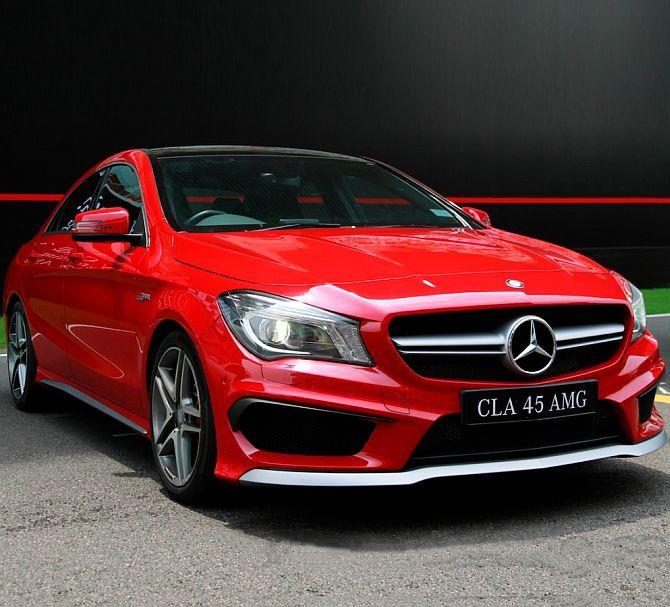 Image: Audi Q3 Dynamic. Photograph: Kind courtesy, Audi
An Indian odyssey
The Audi mobile showroom will tour 30 cities over the next two years.
King said, 'Tier II and III cities have grown consistently for us and also across the product range.
We are the first luxury carmaker to venture into the North-east, opening a showroom in Guwahati in February. We already had about 200 cars in and around Guwahati.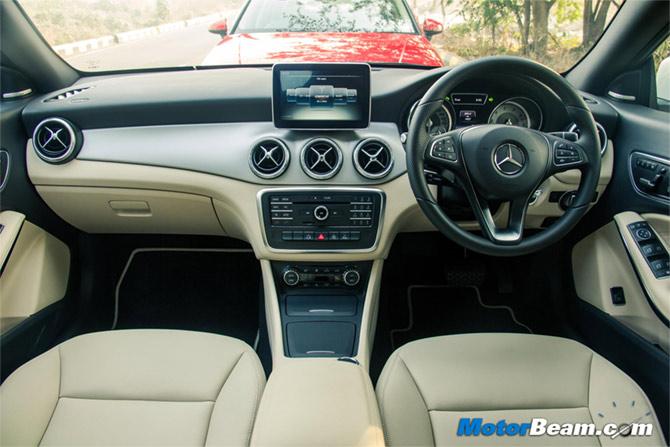 Image: Audi Q3 interior. Photograph: Kind courtesy, MotorBeam
These were buyers who travelled to Kolkata or Delhi to buy luxury cars. We were the first luxury car manufacturer to set up base in Ranchi as well.'
Many would say that the credit for Audi's continued rise in the Indian market is largely due to its growing thrust on non-metro markets.
And so is it with other luxury car makers too. Despite challenging market conditions luxury car sales rose 5 per cent last year to 30,723 units.
Audi clocked volumes of 10,851 units (growth of 8 per cent), while Mercedes-Benz posted sales of 10,201 units (growing 13 per cent).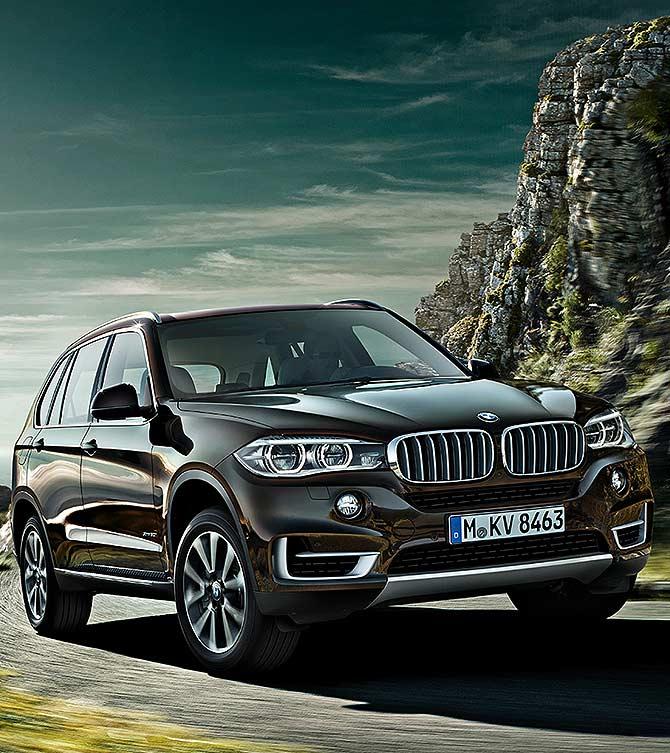 Image: BMW X5 diesel. Photograph: Kind courtesy, BMW
Both BMW at 6,812 units and Tata Motors-owned Jaguar Land Rover at 2,859 marked a fall in volumes.

Audi's showroom on wheels which is a luxury sedan hoisted on a tractor trailer has set itself a target of reaching out to 2000 customers.
The mobile brand wagon will park itself for two days in a chosen city, in association with the automaker's dealer partners and provide not just product insights but act as a one-stop shop for managing product bookings, undertake enquiries, test drives, after sales support and even sell branded souvenirs.
The showroom also has a lounge for tired shoppers.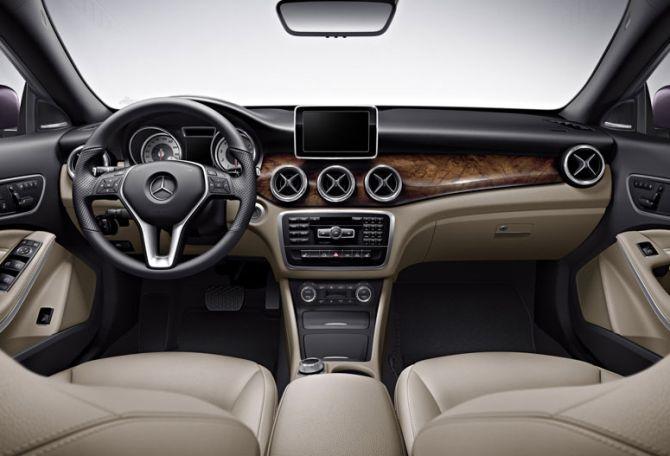 Image: Mercedes CLA 45 AMG interior. Photograph: Kind courtesy,

Mercedes-Benz



Audi is following in the footsteps of fellow German rival BMW, which launched a similar initiative three years ago.
BMW's mobile showroom, unlike Audi's, was not fixed on the back of a truck but comprised weather-proof, air-conditioned solid structures that could be dismantled before shipping to a new location.
The showroom took the brand to cities like Karnal, Agra, Bhopal, Jamshedpur Dehradun, Nashik, Visakhapatnam and Vijayawada. It had four cars on display, a reception area and a VIP lounge.
BMW Financial Services, the financial services company of the group, also was a part of the contingent.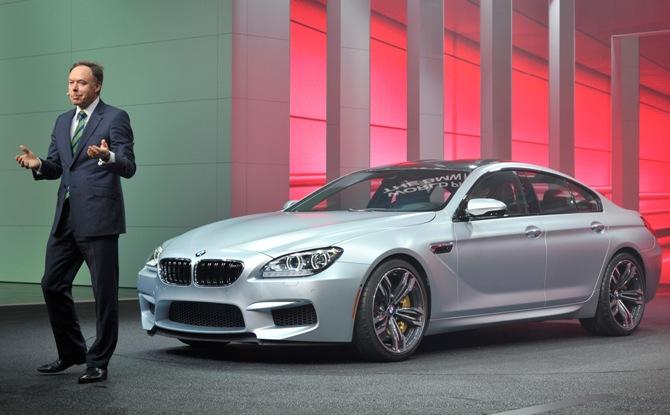 Image:

Dr Ian Robertson, of the BMW Board of Management, speaks next to the M6 Series Gran Coupe at the North American International Auto Show in Detroit, Michigan.

Photograph: James Fassinger/Reuters

Going door to door
The automakers are perhaps following an age-old tactic of brand penetration -- going door to door and directly speaking to the customers.
King said, 'The Audi mobile terminal brings the showroom right to the customer's doorstep, especially in tier II and tier III cities in India, where the emergence of a progressive and discerning set of customers is significantly contributing to the transformation of the luxury landscape in India.'
Customers do favour brands that take the trouble to seek them out.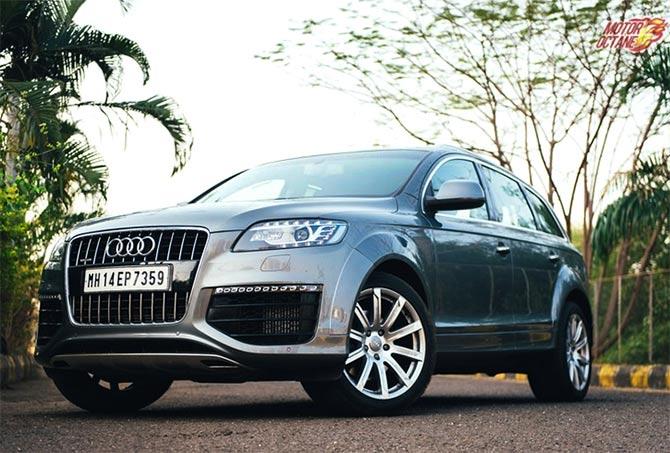 Image:

Audi Q7.

Photograph: Kind courtesy, Motor Octane

According to Mercedes-Benz, the leader in the luxury vehicle category, more than half of its sales emerge from markets other than Mumbai and Delhi.
Such initiatives also help gauge the traction levels for respective brands, thereby enabling car makers to decide if a particular market deserves a sales outlet or not and whether the town requires servicing facilities.
Some companies such as Mercedes-Benz, however, do not see the need to get its cars on to the back of a truck. Today as the market leader, it has the widest distribution network amongst the luxury car makers.
The company, which has 78 outlets across 39 cities, including three standalone Mercedes-Benz certified outlets, is the oldest luxury brand in operation in the country.
'With our wider reach we have already penetrated these tier II and tier III markets and so we do not need a mobile showroom-like concept,' said a Mercedes-Benz India spokesperson.

In comparison the dealer count of BMW India and Audi are around 40 sales outlets each. BMW plans to have 50 outlets before the end of this year.
With rising competition (the three German luxury car makers announced 40 model launches) and the growing appetite for such cars, luxury car makers are leaving no stones unturned to chase customers.