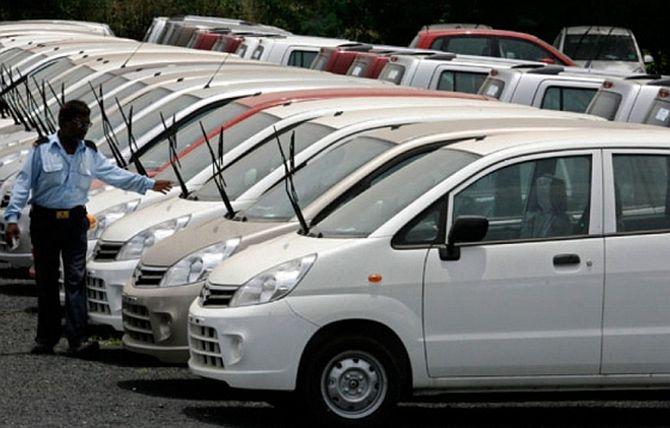 Image: Maruti is looking to manufacture compact SUVs, bigger sedans and even small trucks in near future. Photograph: Reuters
Carmakers continue to offer hefty discounts to attract buyers
Sales graph of Maruti Suzuki and Hyundai, India's top automobile manufacturers, seems to suggest consumer demand is on the mend.
The double-digit growth rates clocked by these companies in monthly sales might give an impression that car buyers are returning to showrooms.
However, extensive interactions with carmakers and dealers suggest it might be too early to celebrate.
Sales growth seen this year, mainly on account of last year's low base, fails to provide a clear picture.
On a sequential (month-on-month) basis, volumes remained stagnant in the April-June period.
July closed a tad higher, driven by two new launches -- Honda Jazz and Hyundai Creta.

Maruti Suzuki Executive Director (sales & marketing) R S Kalsi says: "I will not say the market has picked up.
"Growth that we are talking about has come on a low base.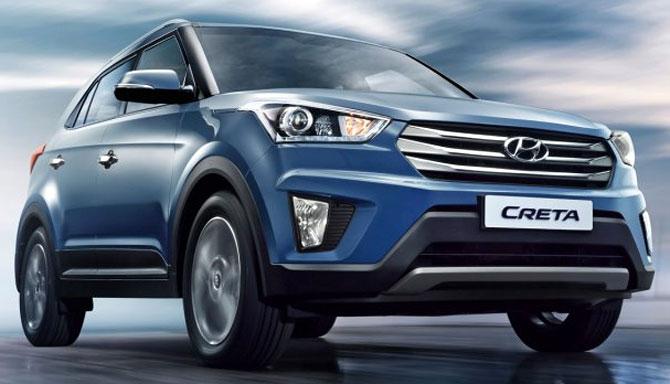 Image: Hyundai Creta. Photograph: Reuters
"If we talk of the July numbers, they are a little deceptive. In June last year, there was an apprehension that the government might withdraw excise duty concessions.
"As a result, vehicles were pushed heavily to dealerships."
The previous central government had lowered excise duty on passenger vehicles to four to six per cent, valid up to June 2014.
"Since the concession was not withdrawn, both wholesale and retail numbers for July last year were low," Kalsi adds.
The sales for Hyundai, the second-largest player in the passenger vehicle industry with a 17 per cent share of the market, in July grew 25 per cent to 36,500 units.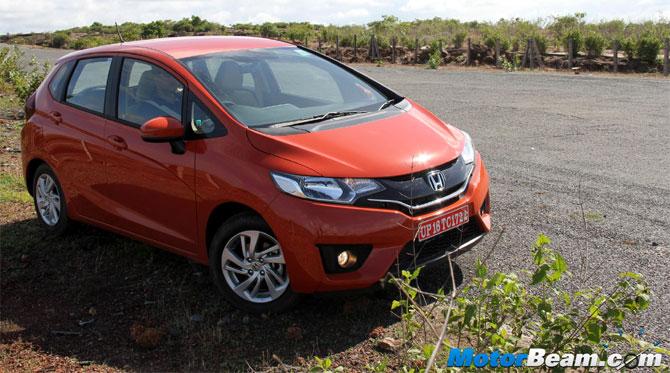 Image: Honda Jazz. Photograph: Kind courtesy, MotorBeam.com

"The effect of a low base is evident here, too -- the company's sales had last year declined from 33,514 units in June to 29,274 in July.
"There are challenges at the retail level, while we are seeing growth in wholesale.
"Sales growth is being led either by new products or a few well-established models," says Rakesh Srivastava, senior vice-president (sales & marketing), Hyundai Motor India.
Another factor making the sales charts look impressive is the increase in discount levels this year.
This is unusual because discount levels go down with corresponding rise in sales, and vice versa.

While company-sanctioned freebies like cash discounts are uniform across sales outlets, some dealers make the total benefit a lot juicier with added benefits like free insurance and registration.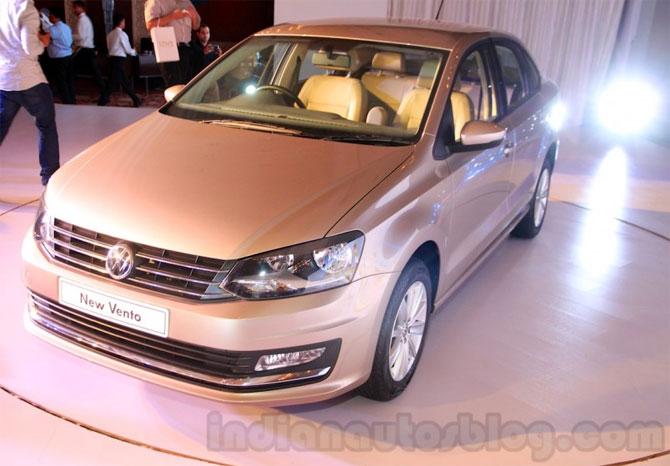 Image: Volkswagen Vento. Photograph: Kind courtesy, Indianautosblog.com

"Average discounts per vehicle stood at Rs 16,018 during the June quarter which was actually higher than the Rs 15,116 in the March quarter.
This is about Rs 1,000 higher," says Maruti Suzuki India Chief Financial Officer Ajay Seth.
To better highlight, benefits on Maruti Suzuki's entry product, the Alto 800, reportedly went up to Rs 50,000 in the April-June quarter from around Rs 42,000 in the January-March period.
Similarly, the Maruti Ertiga also saw an increase, with discounts ranging between Rs 60,000 and Rs 70,000, compared with less than Rs 50,000 earlier.
Though fuel prices have come down significantly, auto loan costs remain stubbornly high.
To mitigate this, dealers are forced to dole out discounts.
Honda Motor announced direct benefits of up to Rs 1.5 lakh on the urban utility vehicle Mobilio, based on the variant.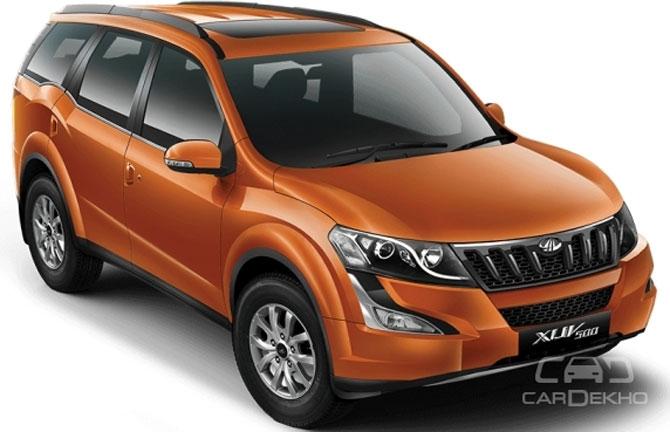 Image: Mahindra XUV500. Photograph: Kind courtesy, CarDekho.com

Sales of the vehicle dropped 73 per cent in July.
Thanks to the Jazz, which accounted for a third of Honda's domestic sales in July, the company was able to post an 18 per cent rise in sales.
But for this model, Honda's volumes in the month would have declined 24 per cent on a year-on-year basis.
Similarly, offers on the Volkswagen range were increased, with benefits on its premium hatchback Polo rising to Rs 45,000 in July from Rs 41,000 in the March quarter.
In the April-July period, the company posted a rise of 30 per cent in domestic volumes.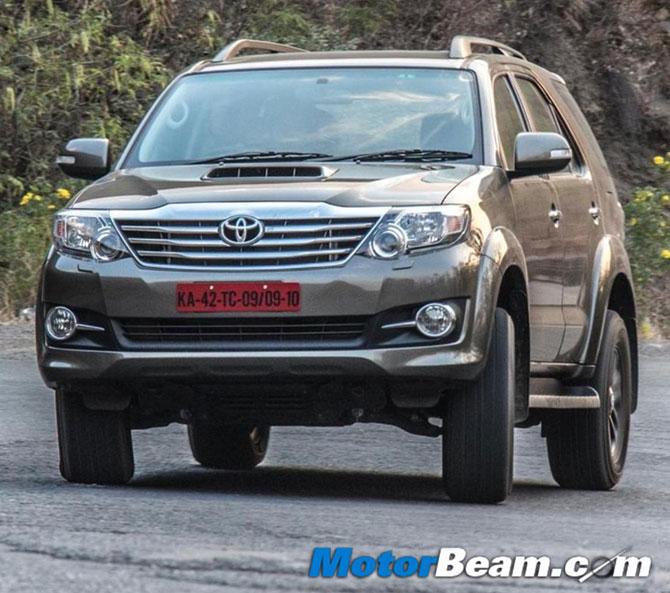 Image: Toyota Fortuna. Photograph: Kind courtesy, MotorBeam.com

Without a new product, the task was even tougher for utility major Mahindra & Mahindra.
The not-so-popular vehicles, like Xylo and Quanto, carried the highest discounts.
"There is no significant change overall; discounts have been there and they continue to be high," says Mahindra & Mahindra Executive Director Pawan Goenka.
At present, there are some models such as the Hyundai Elite i20, Honda City, Maruti Celerio AMT, Toyota Fortuner and new launches like the Maruti S Cross, Hyundai Creta, Honda Jazz and Mahindra XUV5OO (new) that do not carry any discount.