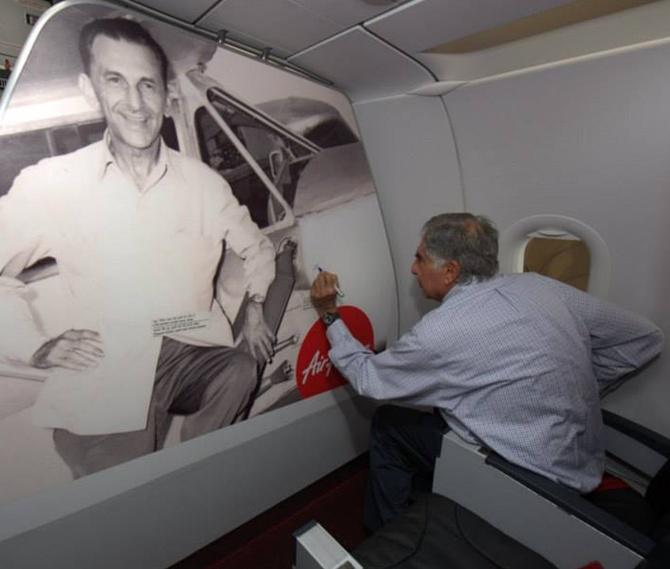 JRD Tata was a visionary who established civil aviation in India for the benefit of its people, Tata Sons Chairman Emeritus Ratan Tata said on Saturday after unveiling an AirAsia India aircraft with JRD Tata livery.
The livery of AirAsia India's fourth aircraft, unveiled at a function Hyderabad on Saturday and dedicated to the founder of civil aviation in the country, dons an image of JRD Tata with a Puss Moth, the aircraft he flew on October 15, 1932, leading to the birth of Tata Airlines and launch of civil aviation in the subcontinent.
Tata Sons holds 30 per cent stake in AirAsia India in the domestic arm of the Malaysian budget carrier AirAsia. While AirAsia holds 49 per cent in the joint venture, the rest 21 per cent stake are with Arun Bhatia of Telestra TardePlace.
"JRD Tata was a visionary. He established civil aviation in India because he believed that the country and its people must benefit from what the rest of the world did. I am happy that AirAsia India is paying tribute to him," Tata said.
The aircraft has been christened as 'The Pioneer." Besides Tata, the unveiling was done by Tony Fernandes, Group Chief Executive Officer of AirAsia, Mittu Chandilya, CEO, AirAsia and S Ramadorai, non-executive chairman of AirAsia India, at GMR Aero Technic MRO Hanger.
Stating that AirAsia India's special livery pays tribute to the man who pioneered aviation in India, Fernandes said AirAsia shares the same passion and zeal JRD Tata had towards setting up an airline in India. "We will continue the legacy," he said.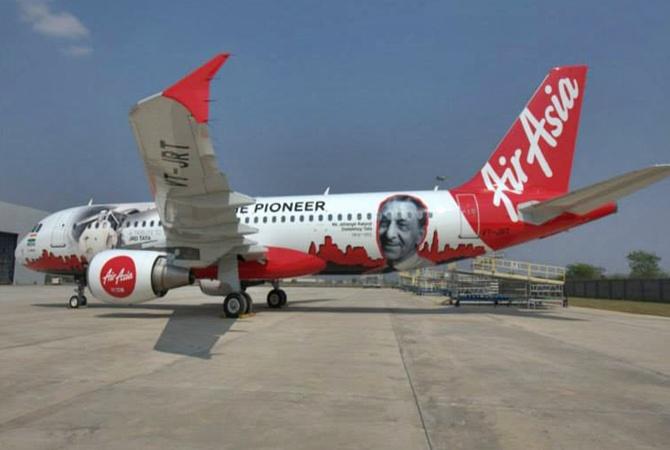 "AirAsia is all about daring to dream and our dream is to further elevate Indian aviation by introducing lower fares, providing more choice and creating jobs. This is the perfect homage to honour the Tatas and celebrate our partnership," Fernandes said.
In an obvious criticism of domestic players who are opposing government's new proposed norms for international operations by the Indian airlines, Fernandes said competition should prevail over other things as that would benefit the public.
"AirAsia will fight those who try to protect the status quo by lobbying for antiquated rules. Indian people must be put first before those who just lobby to protect their own bottom line as opposed to competing," he said.
The current rules allow only those domestic airlines to fly abroad who have flown for five years on local routes and have 20 aircraft fleet. The proposed norms, however, which are being opposed by the domestic airlines lobby Federation of Indian Airlines, would make an start-up Indian carrier fly on overseas routes in two to two-and-a-half years time.
Besides, proposing to reduce the 20 aircraft requirement to five, the draft rules have also linked the international operations to domestic flying credits (DFCs).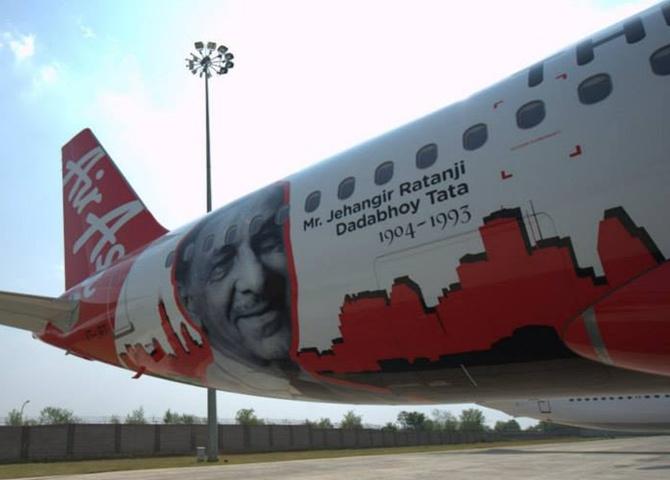 Describing JRD Tata as the man without whom flying in India would not have been possible, Chandliya said, "We wanted to celebrate the growth of AirAsia India by honouring the man without whom flying would have been impossible in India. The Tata group has shaped Indian aviation to a great extent and has been a huge support to the AirAsia India team as well."
AirAsia India takes pride in launching its fourth aircraft by reliving the magic of JRD Tata, he said adding, "with another addition to our fleet, we will soon make flying, a possibility for every Indian."
"Today is a landmark occasion for us as we take great pride in unveiling this special aircraft to honour Mr JRD Tata for his contribution to our nation. The JRD- Tata livery, dedicated to him will mark the journey of his contribution and legacy as a token of our gratitude. Today, we celebrate the courage of a pioneer and his undying spirit," Ramadorai said.
AirAsia India at present operates from its base Bengaluru to Chennai, Kochi, Goa, Chandigarh, Jaipur and Pune with a fleet of three Airbus A320s.

Photographs, courtesy: AirAsia