Piramal Healthcare's drug discovery arm, Piramal Life Sciences Ltd, is planning to move at least three more novel chemical entities under development into the human clinical trial stage within the next six months.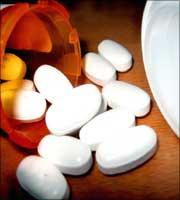 Currently, PLSL has seven molecules under development in the clinical trial phase. These three molecules under development are in focus areas of PLSL such as cancer, diabetes, inflammation and infectious diseases, said MD and CEO Somesh Sharma.
PLSL's lead molecule under development for cancer treatment has completed two Phase-I studies and is being tested in two Phase-II clinical trials in America. Another phase-II trial for the drug is also being held in India for multiple myeloma. Two combination studies are also going on for the drug in India for head and neck and pancreatic cancers, he said.
"We hope the drug will reach the markets by 2011," said Somesh Sharma.
A few days before, the company's drug under development for Type-II diabetes completed Phase-I trials in the Netherlands. Phase-II studies will soon begin in Europe and India, on 30-60 human volunteers.
PLSL, formed as an independent research-driven company by demerging the new drug research assets of Piramal Healthcare, has a pipeline of 14 compounds of chemical and plant origin. It also has drug discovery and development collaborations with Eli Lilly and Company, and Merck and Company, two of the leading pharmaceutical companies in the world.
PLSL had debuted in the stock exchanges in May last year, as the second Indian drug research firm to be listed on the exchanges, after Sun Pharma's drug discovery arm, Sun Pharma Advanced Research Company.
Somesh Sharma said the company would divest about 10-15 percent stake of PLSL to private equity funds or strategic partners within six months to fund the drug discovery process. The crash of markets had forced the company to suspend the plans.
Currently, the Piramal family and parent company Piramal Healthcare are funding the drug development activities at PLSL. Piramal Healthcare has 18 per cent stake in the new company and the other 82 per cent is held by the former's shareholders. At the time of listing, NPIL was independently valued at about $500 million for its assets and a pipeline of 14 drugs under development, including four drug candidates in the clinical trial stage.
PLSL has research laboratories built over 200,000 sq ft of space in Mumbai and over 350 scientists engaged in drug discovery and development. Piramal Healthcare also had transfered Rs 95 crore (Rs 950 million) of assets to the new company.