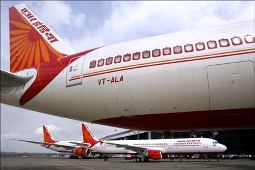 Delhi high court on Wednesday asked the Centre and the Air India management to respond to a plea of striking pilots that their salaries and other pecuniary benefits have not been paid.

"Issue notice to the respondents (the Centre and the Air India). A reply be filed within a week," Justice S P Garg said.

The court was hearing a petition filed by Captain Sumeer Saini and his fellow pilots seeking payment of their back wages and other perquisites due to them.
Senior advocate Pinki Anand, appearing for the pilots, said, "Salaries of nearly 450 pilots are due. This petition has got nothing to do with the ongoing agitation.
"The equated monthly installments (to be paid by pilots) and other things are getting delayed."
The lawyer was responding to the remarks of Justice Garg that "how can their plea be entertained when they are on strike".
Anand said that the pilots, who went on a strike from May 7, have not been paid their dues for the period prior to their strike.
The court has now posted the matter for further hearing on July 10.
Lalit Bhasin, counsel for the AI management, opposed the plea of the pilots, saying "their plea cannot be entertained till they end their strike".
Earlier, Justice Reva Khetrapal had issued contempt notices to 67 striking Air India pilots and their representative body, Indian Pilots Guild (IPG), for disobeying its earlier order by which their stir was termed as illegal.
The high court had on May 9 restrained over 200 agitating pilots from continuing their 'illegal strike', reporting sick and staging demonstrations, a day after the airline management sacked 10 pilots and derecognised their union.
The court had also said allowing such a strike to continue would cause irreparable loss to the company as well as huge inconvenience to the passengers travelling by the national carrier.
The IPG had challenged the May 9 ex-parte order of the single judge holding the strike as illegal.
A division bench of the court had, subsequently, dismissed their plea, saying the pilots could not 'willfully and flagrantly' disobeying court orders to end their 'illegal' strike and could face contempt action.
The pilots, under the IPG banner, are agitating over the rescheduling of Boeing 787 Dreamliner training and matters relating to their career progression.
The IPG is protesting AI's decision to train pilots of Indian Commercial Pilots Association, a union of pilots of erstwhile domestic carrier Indian Airlines, for Dreamliner Boeing aircraft.
Earlier, the AI management had filed an injunction suit terming the strike as illegal and had said due to the pilots' stir, the company was compelled to cancel some of its international flights which had resulted in extreme hardship and also inconvenience to the passengers.
As a result of the cancellation of flights, Air India was facing financial loss of over Rs 10 crore (Rs 100 million) per day, it had said.