However, experts caution that investors should not expect the big returns they got from the sector between March and September 2020.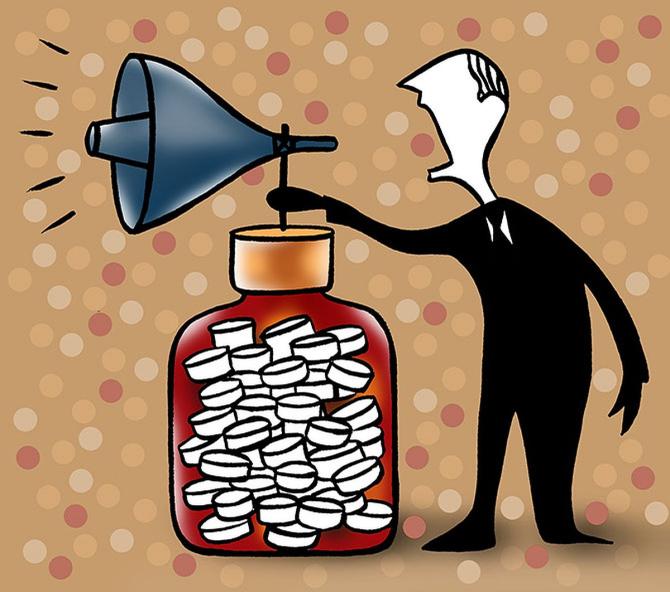 After underperforming the broader market for the most of the past six months, pharmaceutical stocks are back in favour as Covid-19 cases rise, pushing the equity market into a tailspin.
The BSE Healthcare index has risen 9 per cent in two weeks, against a 4 per cent decline in BSE Sensex.
On Monday, the BSE Healthcare fell just 0.8 per cent, while the Sensex declined 3.44 per cent.
Dr Reddy's Laboratories was the only index stock to gain on Monday, rising 5 per cent.
Similarly, three of the four Nifty50 stocks that gained on Monday were pharma stocks — Dr Reddy's Lab, Cipla, and Divi's Laboratories.
In contrast, the health care index has corrected by nearly 9 per cent from its 52-week high, reached in the second week of January, even as the broader market continues to rally.
Pharma stocks and the healthcare index hardly participated in the post-Budget rally.
However, that changed with the second wave of Covid-19.
For many analysts, the recent rally in pharma and healthcare stocks is part of the market move towards defensive sectors such as pharma, FMCG, and technology and away from cyclicals such as banks, financials, metals and capital goods.
"Defensives outperformed cyclicals as a second Covid-19 wave impacts economic activity, resulting in higher preference for defensives," analysts at Motilal Oswal Securities wrote in their latest update on Indian equity markets.
Before the second wave, analyst expected pharma companies to report modest earnings growth in Q4FY21, despite a favourable base last year.
"In Q4FY21, we estimate pharma would report 7 per cent year-on-year (YoY) growth in revenues and 25 per cent YoY growth in net profit as domestic recovery has been slower than expected," Kunal Randeria and Aashita Jain of Edelweiss Securities wrote in a report.
Other analysts say it will be tough for pharma stocks to lead the market recovery.
"This time, pharma stocks may not fall much and thus outperform the broader market.
"But investors should not expect the big returns they got from the sector between March and September 2020," says G Chokkalingam, founder and MD, Equinomics Research.
The BSE Healthcare index had rallied 67 per cent between the end of March and September 2020, against a 25 per cent rise in the Sensex.
The relatively muted show of pharma stocks is attributed to a sharp rise in their valuation in the past year.
The BSE Healthcare index is currently trading at price to earnings multiple of 37.3x, up from 26.2x at the end of March 2020.
This, analysts say, could cap the upside for investors who may wish to make fresh investments.
The top stocks in the sector, however, would be a good vehicle for investors to protect their capital from market risk.