In May, price growth for drugs was in negative territory at (-)1 per cent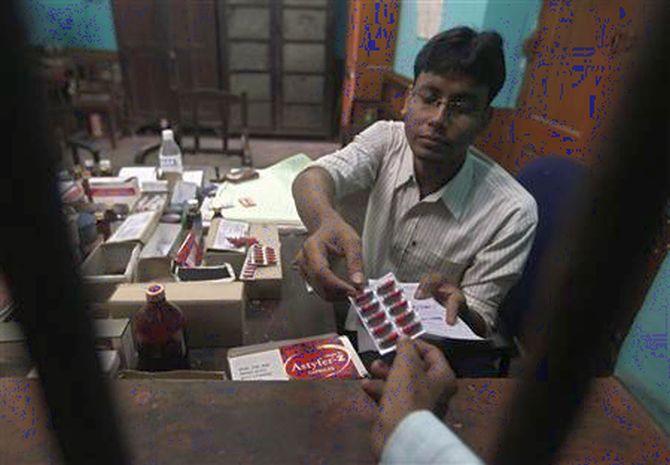 The pharmaceutical industry, after 12 months, bounced back to double-digit growth in May, clocking a 10.8 per cent year-on-year revenue growth, riding on a nine per cent volume growth.
The sector's relatively low growth in a year has been thanks to the transition to the goods and services tax (GST) regime.
The regime had tapered growth to single digits. In May last year, the industry had cut down its inventory days from a normal of 30-45 days to 15-20 days, owing to the shift to the GST regime.
Deepnath Roy Chowdhury, president of the Indian Drug Manufacturers' Association (IDMA), said it was a positive sign that the industry growth was back in double digits.
However, one would keep a close watch the June numbers to see if the trend continues.
"The industry is going through challenging times, especially price control measures bear down on industry," he said.
In May, price growth for drugs was in negative territory at (-)1 per cent.
The government is planning to introduce a new price index for pharma products that would determine the prices of all medicines sold in the country, not only those listed in the national list of essential medicines.
Currently, prices of around 850 drugs are capped by the government.
The National Pharmaceutical Pricing Authority revises these prices annually based on the wholesale price index (WPI).
For other medicines, companies can raise prices by 10 per cent every year.
Pankaj Patel, chairman of Cadila Healthcare, felt the double-digit growth is partly because of the low base effect of last May.
"The industry is definitely getting back on a growth path after the GST jitters," he said.
Domestic sales growth had slipped to an eight-year low to 5.5 per cent in calendar year 2017, thanks to the GST impact, delayed product approvals and inclusion of more products under price caps. In comparison to a 10.7 per cent growth in 2016, the industry recorded sales of Rs 1.16 trillion in 2017.
According to AIOCD-AWACS, market research wing of All India Organisation of Chemists and Druggists (AIOCD), the market touched sales of Rs 105.83 billion in May 2018.

Of therapies, the respiratory segment went up 15.4 per cent on year-on-year basis, while dermatology posted 14.4 per cent growth, anti-diabetes grew 14.1 per cent.
Photograph: Rupak De Chowdhuri/Reuters