Even as private firms were busy stitching merger and partnership deals, the government also remained active during the year working on a separate policy to promote and strengthen domestic production of active pharmaceutical ingredients.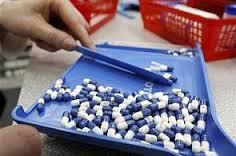 It's been a year of bitter medicine for Indian pharma companies with fines worth millions of dollars imposed by various foreign regulators, even as they stitched together deals worth billions of dollars, including the high profile Sun-Ranbaxy merger.
On the other hand, the government sought to put controls on drugmakers when it came to pricing of essential drugs, including those for common cough and cold as also for cancer and other diseases.
Incidentally, home-grown Ranbaxy, founded by the family of Malvinder and Shivinder Mohan Singh, was at the centre of most of the developments for major part of the year, including for M&A deals and regulatory clampdown by foreign regulators, including in the US and Europe.
In a surprise announcement in April, Sun and Ranbaxy -- at that time owned by Japan's Daiichi -- declared an all-stock deal to create India's largest and world's fifth-largest drugmaker in an over $4 billion deal.
The deal soon came under the scanner of fair trade watchdog Competition Commission of India, which ordered the first ever public scrutiny of an M&A deal for this merger, before clearing it towards the end of the year after ordering the divestment of seven brands between two firms.
The deal marked another transition in the ownership for Ranbaxy, in which Japan's Daiichi Sankyo had acquired a majority stake in 2008 for Rs 22,000 crore (Rs 220 billion) after the erstwhile promoters Malvinder and Shivinder Singh exited the firm.
Otherwise too, both Sun and Ranbaxy had to face their own issues with the US health regulator Food and Drug Administration for alleged violation of good manufacturing practice norms.
A number of other Indian drugmakers, including IPCA Labs, Wockhardt and Dr Reddy's Laboratories were also pulled up by the FDA for one or the other reasons.
The FDA imposed a ban on import of medicines produced at Ranbaxy's India-based factories into the US, the world's biggest drug market.
Ranbaxy also agreed to pay $39.75 million (around Rs 244 crore or Rs 2.44 billion) in tranches to the state of Texas in the US to settle the litigation concerning its participation in the Texas Medicaid Program.
Its woes extended to Europe when it was barred from exporting certain antibiotics from its Dewas plant to Germany for non-compliance to 'good manufacturing practise' norms.
Later, certain drugs produced at its Dewas plant were barred from export to the entire European Union for non-compliance to 'good manufacturing practise' norms.
Further, a US court did not grant the company temporary restraining order to block the US health regulator from approving other ANDAs for generic versions of digestive disorder medicine Nexium and anti-viral Valcyte.
Ranbaxy Laboratories had sued USFDA over revoking an approval to sell generic versions of Nexium and Valcyte in the US market.
It had also sought restraining the approval given by the USFDA to Dr Reddy's Laboratories and Endo Pharmaceuticals from launching generics of Valcyte.
On the positive side, a US jury ruled that AstraZeneca's patent litigation settlement for blockbuster drug Nexium with Ranbaxy was not anti-competitive.
Sun Pharma also faced regulatory heat as FDA put a ban on import of products made at its Karkhadi plant in Gujarat.
Another pharma firm which ran into rough weather was Wockhardt, in whose US facility in Illinois, USFDA found many procedural lapses.
The US health regulator also found nine possible procedural deviations in a manufacturing plant of Dr Reddy's Laboratories during an inspection.
Among others firms, Ipca Laboratories' Ratlam unit was also found to be violating good manufacturing norms by USFDA investigators.
Lupin and Unichem Laboratories were among six global drug makers on which the European regulator imposed a collective fine of 427.7 million euros for striking deals with French firm Servier to prevent entry of cheaper version of blood pressure drug Perindopril in the EU.
When it came to overseas acquisition by domestic firms, Aurobindo Pharma took the lead acquiring assets of nutritional supplement maker Natrol Inc and its other affiliate entities for $132.5 million (over Rs 810 crore).
Cipla wasn't far behind acquiring 60 per cent stake in Sri Lankan firm for $14 million (nearly Rs 85 crore) for marketing its products. It also acquired a majority stake in a Yemeni firm for $21 million (over Rs 125 crore).
The Mumbai-based firm also announced to acquire 14.6 per cent stake in US-based Chase Pharmaceuticals Corporation Inc.
It also announced its intention to acquire two manufacturing units from its contract manufacturer Okasa for Rs 100.93 crore (Rs 1 billion).
During the middle of the year, Cipla said it would invest up to 100 million pounds (nearly Rs 1,030 crore or Rs 10.3 billion) in UK over next few years for launch and development of new drugs as part of its global footprint expansion plans.
As far as partnerships are concerned, the highlight of the year was when three Indian pharmaceutical firms -- Cipla, Aurobindo and Emcure -- were named among the seven global companies that signed new sub-licensing agreements with UN-backed Medicines Patent Pool for the manufacture of generic HIV medicines - atazanavir and dolutegravir.
MPP negotiates licences with key patent holders to speed access of low-cost generic medicines to developing countries.
On the other hand, US-based drug maker Gilead Sciences Inc signed licensing agreements for hepatitis C drugs with seven India-based firms, including Cipla, Ranbaxy, Cadila, Mylan Laboratories, Sequent Scientific, Strides Arcolab and Hetero Labs to make them available in 91 developing countries.
Lupin and US-based Salix Pharmaceuticals also inked a definitive distribution pact under which Salix granted Lupin the exclusive right to market, distribute and sell certain Salix products in Canada.
During the year, global healthcare major Abbott opened its Rs 450 crore (Rs 4.5 billion) manufacturing plant for nutrition products in Gujarat as part of 'Make in India' plans.
Even as private firms were busy stitching merger and partnership deals, the government also remained active during the year working on a separate policy to promote and strengthen domestic production of active pharmaceutical ingredients.
It also mulled on bringing various departments and agencies dealing with the pharma sector under a single authority for better co-ordination and effectiveness.
The national drug pricing regulator, National Pharmaceutical Pricing Authority also intensified its bid to control prices of medicines in order to make them affordable.
In a move aimed to bring down prices of some of the key medicines, NPPA fixed the price of 108 non-scheduled formulation packs of 50 anti-diabetes and cardiac medicines.
This led to loud protests and uproar against it by the pharma industry with the sector approaching the Prime Minister and challenging it in Bombay and Delhi High Court.
However, it had to withdraw internal guidelines for further such price control actions issued under Para 19 of the Drug Prices Control Order, 2013 later.
Later, it also capped the prices of 95 formulation packs, including drugs such as antibiotic Ciprofloxacin, BCG vaccine and anti-diabetic Metformin.
NPPA also sought comments from the pharma industry, health experts and other stakeholders on recommendations of Tata Memorial Centre to add 12 drugs in the National List of Essential Medicines while asking for deletion of 3 dugs.
In the healthcare space, Apollo Hospitals in a major rejig at its top level in July re-designated Preetha Reddy and Shobana Kamineni as Executive Vice-Chairpersons in a move aimed at reorganisation in line with their expanded roles.
The company also re-designated Suneeta Reddy and Sangita Reddy as Managing Director and Joint Managing Director, respectively.
Taking forward a succession plan, Apollo Hospitals Founder Chairman Prathap C Reddy said his daughter Preetha Reddy is likely to succeed him as the Chairman of the group.
The healthcare provider also acquired Hetero Med Solutions Ltd's pharmacy stores business for about Rs 146 crore (Rs 1.46 billion).
It also joined hands with Sanofi to provide diabetes care via its 'Apollo Sugar Clinics'.
In another development, Fortis Healthcare's decision to divest its overseas operations substantially to focus on India received a setback when Singapore's competition authority sought a more detailed review of proposed Rs 655-crore (Rs 6.55 billion) sale of Fortis Healthcare's RadLink-Asia and its arm to Medi-Rad Associates, saying the deal significantly reduces the number of providers of radiology and imaging services.