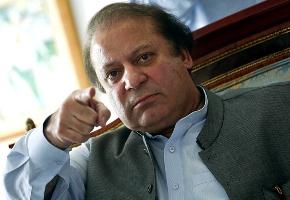 Pakistan's Prime Minister Nawaz Sharif on Thursday had to cancel his trip to Davos to attend the annual meeting of the World Economic Forum because of a serious shortage of petroleum in the country which has been plagued by a crippling energy crisis.
Sharif chaired a meeting here to review petroleum matters as officials said that oil supply had improved, easing more than 10 days of shortages that led to protests.
"The Prime Minister cancelled the visit to Switzerland where he was to attend the World Economic Forum to keep a watch on petroleum situation in the country," his office said in a statement.
At the meeting the Sharif said that all concerned ministries should ensure 'seamless coordination' to ensure steady supply of petrol in all parts of the country.
He also directed the relevant departments to ensure that the general public is kept informed about the current supply situation through media to dispel any impression of shortage.
"Strict action would be taken against all those responsible for creating this hardship for the people," he said.
Minister for Finance Ishaq Dar, Minister for Water and Power Khawaja Asif and other officials attended the meeting which reviewed supply and demand situation of petroleum for the next two months.
Image: Nawaz Sharif; Photograph: Damir Sagolj/Reuters