The coming years could be exciting for Bandhan Bank, IDBI Bank, IDFC First Bank, Federal Bank, and CSB Bank, reports Hamsini Karthik.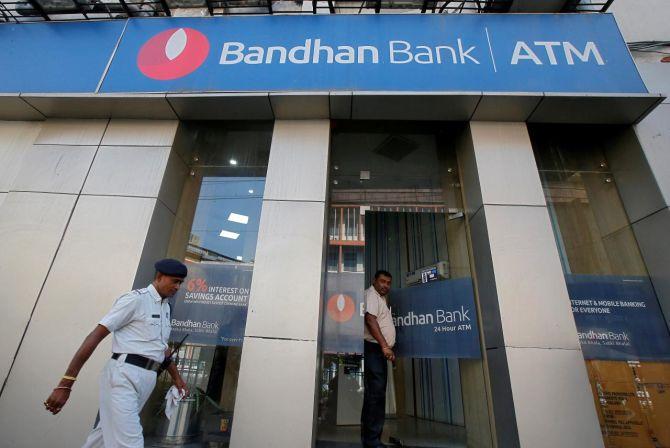 Apart from being mid-cap banking stocks, the common link between Bandhan Bank, IDBI Bank, IDFC First Bank, Federal Bank, and CSB Bank is that they have undergone a sea-change in the past two years.
While for IDBI Bank and IDFC First, their new managements have forced them to course correct, in the case of CSB, the need to reinvent may have been for existential reasons.
Notably, on a cumulative basis, slippages have come down for these banks in each of the last five quarters, and so have their non-performing assets (NPAs) ratio.
Also, in the wake of a steep fall in valuations, these stocks seem favourably positioned for investors having a three-five year horizon.
The caveat: Given economic uncertainty and lack of clarity on moratorium book for the banking industry, the next couple of quarters may be volatile, for both bank stocks and their financials.
Bandhan Bank
From a microfinance lender to a comprehensive bank, the acquisition of Gruh Finance has shortened the duration of Bandhan Bank's diversification exercise.
There's a scope for introducing more products and if the bank utilises the Covid-19 pandemic to its advantage in terms of reaching out to its customers in the hinterlands, steady year-on-year (YoY) growth of 30 per cent is achievable, according to analysts' consensus.
A note by foreign research house Bernstein says Bandhan is among the best in serving rural needs.
IDBI Bank
With two successive quarters of net profit and a provision converge ratio (PCR) of 94.71 per cent, legacy bad loans are gradually shrinking in its books.
Despite a 2.31 per cent YoY reduction in gross NPA ratio, at 26.81 per cent, the number is far from comforting.
However, the absolute net NPA figure has fallen from Rs 10,963 crore in June 2019 to Rs 4,474 crore in Q1FY21, and the net NPA ratio from 8.02 per cent to 3.55 per cent.
Placed under the prompt corrective action (PCA) framework, its lending activities remain restricted.
Hence, the NPA ratio may witness a material improvement only after PCA is lifted.
With the net interest margin (NIM) steadily improving (2.81 per cent in Q1FY21 versus 2.13 per cent a year ago) and deposits gaining traction, IDBI Bank, with Life Insurance Corporation of India as its promoter holding 51 per cent, appears attractive, provided it remains committed to the retailisation theme.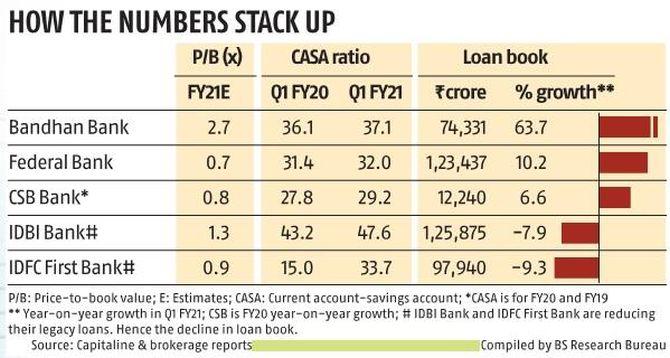 IDFC First Bank
True to its Managing Director & CEO V Vaidyanathan's commitment of repositioning the bank from a wholesale to retail lender, IDFC First Bank has been successful in shedding its legacy loans, recalibrating its deposits and loans to granular retail portfolios from wholesale ones.
Despite offering high interest on retail deposits, the bank is able to expand its profitability or NIM with each passing quarter.
Q1's 4.53 per cent, as against 3.01 per cent last year, suggests success in marrying its retail offerings under the erstwhile Capital First canvas into the banking fold, without compromising on the quality.
Analysts at ICICI Securities say the share of low-cost current account, savings account (CASA) and retail term deposits should account for 50 per cent of the bank's borrowings in the medium term.
Federal Bank
From being a south-centric bank, its gradual elevation as a pan-Indian outfit makes Federal Bank an exciting theme.
Some of its stronghold segments, such as gold financing and loans to small and medium enterprises (SME), are slowly gaining traction in the north Indian markets which should aid growth in the bank's expansion phase.
Entry into segments, such as vehicle loans and housing loans, is also positive.
Given the bank's past experiences in combating asset quality pressures, particularly in the SME space, and near-zero slippage in Q1 (barring Rs 190 crore set aside for a corporate loan account classified as fraud), analysts at Prabhudas Lilladher say the bank is building balance sheet strength.
CSB Bank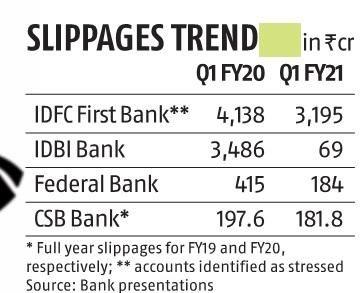 Trading way below its listing price of Rs 307 apiece, the stock may be best suited for those with a high-risk appetite.
With 30 per cent of the book originated by gold loans and over 60 per cent from Kerala, the bank has a long way to go in terms of geographic and product diversification.
Yet, Prem Watsa-backed Fairfax holding over 49 per cent stake in the bank and the recent induction of Mumbai-based banker, Pralay Mondal, to head its retail and SME operations instill hope.
The steady cleaning up of books and the net NPA ratio falling from 2.27 per cent in FY19 to 1.91 per cent in FY20 bodes well.
Feature Presentation: Aslam Hunani/Rediff.com