When you buy a life insurance policy, the only risk covered is mortality. So, purchasing a rider is a cost-effective way of managing your financial plan.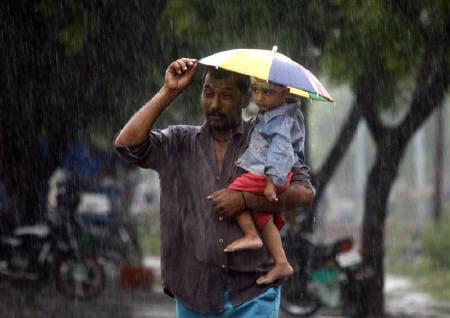 A man carrying a child tries to cover himself with the child's umbrella while walking during heavy downpour in Noida, in the outskirts of New Delhi. Photograph: Parivartan Sharma/Reuters
You are online, looking for a term life insurance plan. A pop-up advises you to buy a personal accident add-on cover with it.
Or you are looking for a family floater health insurance and debating whether to buy a rider that offers waiver of room rent.
While your cost might go up, these riders and add-on covers can, if used effectively, help derive more benefits from your insurance policy.
The terms rider and add-on covers refer to additional benefits which can be attached to the base insurance policy.
These cannot be bought alone but have to be purchased along with the base policy.
Though the terms are used interchangeably, riders are built into some policies, while add-on covers can be purchased separately.
LIFE INSURANCE
"When you buy a life insurance policy, the only risk covered is mortality. So, purchasing a rider is a cost-effective way of managing your financial plan,'' says Sujoy Manna, vice-president at HDFC Life.
Some common riders offered along with life insurance plans cover critical illness, accidental death and disability and waiver of premium. These can be bought with either a term or savings plan.
Critical illness rider
It is suitable for everyone, especially if the policyholder is the sole earning member of the family.
"The main reason for purchasing a rider should be to ensure that the bread winner is protected against any health or unexpected eventuality, apart from untimely death,'' says Amit Kumar Roy, chief distribution officer, Aegon Religare Life Insurance.

Death benefit is paid only in case of the policyholder's demise. So, in case of critical illness the family does not get anything. But a critical illness rider will pay a lumpsum.
Accidental death benefit
This pays an additional sum other than the regular death benefit, if the death is due to an accident. It is particularly useful if death occurs after a few days of hospitalisation.
In that case, the lumpsum paid on account of the rider can take care of hospitalisation expenses, before the death benefits are paid to the family.
Waiver of premium
Assume a policyholder has purchased a plan that matures after 20 years but he/she passes away after five years. In such a situation, this rider will ensure the policy continues.
The insurance company pays the premium.
This rider is suitable for those planning for their children's higher education or marriage and have invested in policies that will give payouts at regular intervals in future.
Hence, it makes sense to opt for it along with a children's plan, if you are investing in one, rather than in a regular money-back or traditional policy.
MOTOR INSURANCE
"A customer can avail of discounts if he/she opts for an add-on cover along with the base policy,'' says Vijay Kumar, chief technical officer (motor), Bajaj Allianz General Insurance. Some common add-on covers are roadside assistance, zero depreciation, protection of No Claim Bonus (NCB).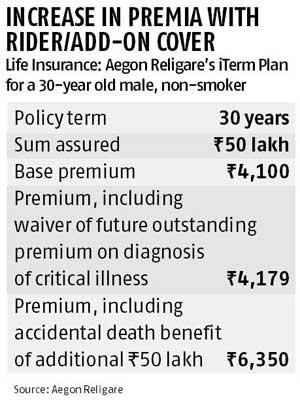 Roadside assistance
Some companies offer it as part of a comprehensive motor insurance plan. This comes handy if your vehicle breaks down while on the move.
Zero depreciation
During a motor insurance claim, depreciation is deducted from the assessed loss. However, a nil depreciation add-on cover ensures that full value of the spare parts is paid while settling claims and no depreciation is deducted, says Steve Hollow, deputy chief executive officer (CEO), SBI General Insurance.
Return to invoice
A return to invoice rider insures the entire value of the car. If there is an accident or the vehicle is stolen and the car needs to be replaced, the insurance company will be liable to pay the entire cost.
It is useful for those who have recently purchased a vehicle, as new cars or bikes are always at the risk of being stolen.
With the help of this cover, you will be able to claim your Insured Depreciated Value (IDV), along with the registration amount that paid at the time of purchase.
No-claims bonus protector
Typically, you can accumulate a claim discount of up to 50 per cent over a period of time. However, even a single claim can bring this down to zero. Buying a NCB Protector ensures your no-claim bonus remains unchanged, irrespective of whether or not you claim a benefit.
This is also available with health insurance policies.
HEALTH INSURANCE
Some the common add-on covers are critical illness, hospital cash, surgical expenses benefit, waiver of room rent and maternity cover.
Room rent waiver
Some health policies have a cap on room rent. If you take a waiver for this, you can stay in a room of your choice. This is useful if you live in a metro city, where hospital room rents are high. But if you live in smaller towns, you don't need this add-on cover, says Dahiya.
Maternity rider
Most health insurance policies that offer maternity cover have a waiting period of four years.
Taking this can help reducing the waiting period for maternity cover from four to two years. If 25-35 years and planning to start a family, you can take it, says Dahiya.
Cost of riders/add-on covers
For life insurance policies, there is a cap of 30 per cent.
This means that for all the riders you choose, the total premium should not exceed 30 per cent of the premium for the base policy.
The cost will also depend on the age of the policyholder and coverage of the policy, adds Manna.