Harsh Agrawal's plans to buy a timeshare package from Club Mahindra hit the instalment hurdle. With an interest rate as high as 15 per cent, comparable to a personal loan, Agarwal was not sure if he wanted to purchase it.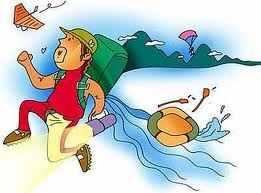 But the agent reasoned with him that the price -- Rs 9 lakh -- he was paying would get him one free holiday for end of 25 years. It sounded a very good deal, then.

The hitch: Few people use these schemes for 25 years. Most use it for 7-10 years. Even then, it wasn't a bad deal. Agrawal was paying the lodging cost, apart from the company's fees.

No wonder, the sales pitch on Sterling Holidays' website says, "Invest once at today's prices. Holiday seven days a year, every year, for 25 years. You are locked into the holidays at current prices, thus, making your holidays inflation-proof."

Explains a Mahindra Holidays spokesperson, "Members can choose to pay upfront or in instalments. The membership fee ranges from Rs 1.9 lakh to Rs 14.72 lakh. If a member chooses to pay in instalments he/she is required to pay 10-15 per cent upfront, and the rest can be paid via equated monthly instalments (EMIs) of 6-48 months."

While there is no interest on EMIs paid for 12 months, interest is 15 per cent for 24 months, 15.5 per cent for 36 months and 16 per cent for 48 months. In the case of Sterling, you need to buy vacation points and accordingly a holiday.

Its website says you need a minimum of 490 points for a week's holiday in a studio apartment in the blue or off season, annually. Sounds great but here is the other side of the story.

"In the last three years, not once have I got the destination I asked for. When I asked for Ladakh, they advised Kerala and when I asked for Port Blair, they advised Kulu-Manali," laments Mumbai-based Jayesh Shah, who is a Sterling Holidays' member.

Then, even if these companies say you can book two weeks in advance, you are mostly unable
to do so. You are likely to get a holiday of your choice only if you approach the company around six months in advance, say most.
"They add too many members with special offers all year (like plasma television sets for an upfront payment) but have limited room inventory. As a result, their resorts are full way in advance and they offer alternative locations," explains an expert.
Financial planners, while saying these packages are good, advise against borrowing. Only if you are sure to use holiday schemes every year, save and pay upfront than paying a heavy interest.
You are required to pay for tours, food, activities and taxes on reaching the destination. In comparison, Cox and Kings offers a trip to Darjeeling at between Rs 20,700 and Rs 33,000 for two persons (three night and four days).
Experts say a large number of holiday buyers are either those who are well settled in life and plan to holiday with their family, like Agrawal, or those who've just started working  or got married and want to take at least one break every year. In the first case, holidaying is discontinued once the children move out after marriage or to study or when parents become old.
According to Rajesh Rateria of Cirrus Travels, a Mumbai-based travel agency, membership with holiday companies is only for those who pre-plan their holidays and are sure to take one each year.
"If you want to see a new city, holiday companies may not be the right choice, as most of them have their resorts in the outskirts of cities. Opt for these if you want a laid-back holiday in the resort; their resorts are located in picturesque locations," he adds.
However, you could use these schemes effectively even if you do not travel every year. For instance, buy the scheme with a friend. If you cannot travel, your friend can with his or her family or friends. You could also buy it with a cousin or relative and enjoy as and when either or both of you can. This will mean using the scheme optimally and also lowering the cost burden by sharing it.