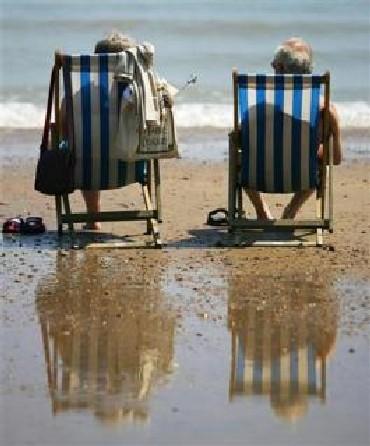 Developers are coming up with societies specifically designed for senior citizens. One can live there after turning 55
Retirement homes' segment might be at a nascent stage in India but with more seniors opening to the idea, developers are coming up with luxurious options.
Take Max India Group's Antara Senior at Dehradun.
The cheapest unit costs Rs 1.5 crore (Rs 15 million) and the most expensive goes for Rs 6.6 crore (Rs 66 million).
The annual maintenance charge is between Rs 35,000 and Rs 100,000.
Brotin Banerjee, managing director of Tata Housing, feels the market size of retirement homes should be Rs 4,000 crore (Rs 40 billion) by 2018.
A significant section of seniors today are financially well-off, independent, well-travelled, with an openness to spend their retirement in a senior living home.
"Even senior non-resident Indians accustomed to such facilities in developed countries are returning to their city of origin," he said.
After retirement, Ashok Kumar Bahl was looking for a place to reside that was similar to his company's township.
The steel company where he'd worked as a deputy general manager had well-maintained houses, greenery, 24-hour security and a clubhouse for employees to socialise.
After living at a few places, the 67-year-old zeroed in on a retirement home close to Delhi.
"It's clean, green, has tight security, a team that manages medical emergencies and it's designed especially for seniors.
"Also, there are daily activities that help in socialising with fellow residents," says Bahl.
He has been there for five years and three friends from the steel company have joined him.
His son, an Indian Institute of Technology graduate, works in the US and daughter, an MBA from a premier institute, has settled in Bengaluru after marriage.
Increasingly, many retirees and people close to retirement are looking at such residences, designed to meet their needs.
Senior living projects are gaining popularity, backed by builders such as Tata Housing, Max Group, Ashiana Housing and the Brigade Group.
These projects are targeted at financially well-off and upwardly mobile Indians, who see senior living as an attractive option.
According to a report by Jones Lang LaSalle, the current demand for senior housing in India is about 300,000 units.
It is estimated that by 2025, there will be 173 million seniors above the age of 60, from 76 million today.
There are 98 million people over 55 years, with steady annual growth of 3.5 per cent.
SOME PROJECTS

TATA HOUSING
City: Bengaluru
Cost: 1-BHK- and 2-BHK residences in the range of Rs 50-70 lakh (Rs 5-7 million)
Facilities: Homes with sliding windows, anti-skid tiles, wider corridors with support railings, grab bars, shower controls with anti-scald devices, emergency call systems in the bathroom and bedroom. Gym, reading room, multi-purpose lounge, concierge, housekeeping and laundry services, 24x7 health care centre with telemedicine facility
ASHIANA HOUSING
City: Lavasa-Pune, Bhiwadi-NCR, Jaipur, Chennai
Cost: Rs 30 lakh (Rs 3 million) onwards
Facilities: Anti-skid tiles, arthritis-friendly doors, intercom, hobby club, library, common dining hall, parks with walking track
ANTARA SENIOR LIVING
City: Dehradun
Cost: Rs 1.5-6 crore (Rs 15-60 million) for apartments between 1,400-10,000 sq ft
Facilities: Architectural standards adhering to American Disability Act provisions such as incorporation of wheelchair-turning radius, door and window widths and special care of ambient light levels in the transitional areas, so that eyes do not get stressed.
Facilities
The architecture of these projects takes into account a senior's requirement. Muralidhara CP, AGM -- Senior Living Operations at Ashiana Housing, explains:

Things are designed keeping the free movement of a wheelchair in mind.
The doors are wider and so are the rooms.
Switches and bathroom fittings are such that a person on a wheelchair can easily use these.
All elevators are broad enough to accommodate stretchers.
Other common features include anti-slip flooring and railings for support. All areas from reception to bedroom are flat. Clubhouses and ATMs are close to the homes.

These also have medical assistance available for primary care.
If the health issue is bigger, the person is rushed to a nearby hospital.
For those who need regular care, say a physiotherapist, these projects tie-up with medical practitioners to provide doorstep service.
Tata Housing has tied up with Apollo Healthcare for its Riva Residences, an integrated residential complex in Bengaluru.
Max India's group company, Max Healthcare, owns a super-speciality hospital four km from the Antara project.
There might be a mess facility offering customised or home-cooked food daily, in addition to a concierge, housekeeping and laundry services.
Indoor games, community hall, library, screening hall for movies, arrangement for visits to art galleries, malls and museums could be other attractions. Some projects also have an emphasis on activities.
Ashiana Housing has a person dedicated for this.
These include celebrating festivals, holding game tournaments and other competitions.
Buying and selling

Most retirement homes are sold outright.
There are a few rental models, too. In the former, there are two types. First, the units are sold only to those above 55 years; in the second model, anyone may buy.

Ashiana sells to a person of any age but requires only seniors to stay in the houses.
To ensure this, it relies on the society (called a social welfare group) formed by the residents. Family members can visit the residents and stay for 60 days in a year.
However, if a person below 55 stays for over a week, the security unit reports it to the social welfare group.
Antara Senior Living, which sells units only to buyers over 55, allows anyone to stay with the owner as long as they wish. However, when the house goes for resale, the company has the right to select whom the flat will be sold to.

Costs

Most of these projects are currently available on the outskirts of a city, for the peaceful surroundings and availability of large-size lots, plus the prohibitive cost of development in prime locations, say experts.
There's a premium on such houses, around three per cent, as these are specially designed.
As the market matures, the premium will increase on such houses, says Om Ahuja, chief executive-residential, Brigade Group.
That's because some of the components are made to order. For example, the ready-doors that one gets in the market cannot be fitted in such projects, as they are smaller.
The prices typically start at Rs 30 lakh. In Ashiana Housing's Bhiwadi project, where all flats are sold out, rates for a resale are Rs 3,500 to Rs 4,000 a sq ft.
A person may choose from one bedroom-hall-kitchen measuring 800 sq ft to a 3-BHK of 1,350 sq ft. Brigade Group offers 2-BHKs at Rs 600,000-700,000 and 3-BHKs at Rs 75-90 lakh (Rs 7.5-9 million).
Antara Senior Living offers apartments from Rs 1.5 crore (Rs 15 million) to Rs 6 crore (Rs 60 million), for flats between 1,400 and 10,000 sq ft.

The cost for the amenities is typically included as part of the monthly maintenance charges, which are higher than standard residential projects, depending on the sophistication.
Ashiana Housing charges Rs 2.1 a sq ft monthly; in Antara Senior Living, this can go up to Rs 100,000.
There are also paid services. For example, health care charges for Tata Housing's project work out to about Rs 350,000 for a five-year period.
In Ashiana Housing projects, there are separate charges for regular doctor service, maid and dining.
The health care charges at Tata Housing's Riva project are about Rs 350,000 for a five-year period and the maintenance cost approximately Rs 118,000 for 18 months.
Opt for a rental unit before buying a retirement home: Sheilu Sreenivasan
More seniors are looking at retirement homes not only because of a rise in nuclear families but also due to children migrating abroad. Before getting into one, a person needs to satisfy himself/herself that the projects are not only real estate play.
There have been cases where seniors bought houses and were promised services later not delivered.
A well-designed project is only one part.
The developer should ensure the seniors mingle with each other and form bonds. Before buying, one should ensure there are activities seniors can do with each other.
These should not be restricted to physical ones; they should be made to engage in mental activities, too.
The developer should also ensure people from different communities are able to integrate. If a person is made to sacrifice his or her food habits or customs, the purpose of senior community living is destroyed.
Opt for a rental unit before buying a retirement home or ask for a three-four day stay. This will help to evaluate activities on offer, staff behaviour, and fellow residents.
Sheilu Sreenivasan, Founder President, Dignity Lifestyle Retirement Township