Broader market is outperforming the blue-chips, providing good stock picking opportunities, say analysts.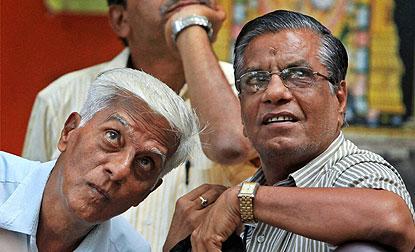 As investors await clarity on a corporate earnings revival, the market may remain in consolidation phase for a considerable time. Photograph: PTI
The benchmark indices, BSE Sensex and NSE Nifty, are almost at the same level as during the start of the year.
The BSE MidCap and SmallCap indices during this period have outperformed the blue-chip indices.
Select stocks in the broader market are showing noticeable resilience, even as the headline indices turn range-bound and choppy.
As investors await clarity on a corporate earnings revival, the market may remain in consolidation phase for a considerable time.
Analysts believe this could be an ideal time for adopting a bottom-up investing approach.
The strength exhibited by some of the relatively smaller companies indicates the appetite for equities is intact, they add.
"Investors will benefit from a bottom-up approach in sideways as well as trending markets, more so when markets are in a consolidation phase," says Ravi Shenoy, vice-president, mid-caps research, Motilal Oswal Securities.
Bottom-up is an investment approach that focuses on individual companies without laying much emphasis on the sector, the economy or the market cycle. Shenoy says the individual stocks they have selected based on a bottom-up approach have outperformed.
So, what should be the selection criteria for such an investment strategy?
"Adopting the bottom-up approach, investors should identify reasonably valued mid-cap stocks with favourable long-term prospects within sectors are aligned to India's growth story and favourable macro economic themes," says Ravi Sundar Muthukrishnan, senior vice-president and co-head of research at ICICI Securities.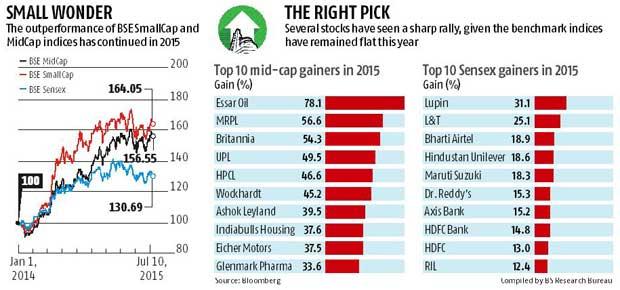 Most experts believe stock-picking opportunities lie in the mid-cap space, as most blue-chip stocks are typically fairly priced due to high investor focus.
According to Sanjiv Bhasin, executive vice-president, markets and corporate affairs, India Infoline, there is still "immense value" in the mid- and small-cap space, typically ignored by most foreign investors.
"Valuation comfort is what drives the real discerning investor to look at mid- and small-cap stocks. High dividend yield being the other attraction," he says.
However, there is a word of caution. The recent outperformance has narrowed the valuation gap between mid-caps and large-caps, thereby rendering the stock-picking approach even more vital.
"Large-caps generally trade at a premium to mid-caps. Due to outperformance of mid-caps, the valuation premium has shrunk for large-caps. Moving forward, we do not expect mid-caps to outperform significantly. However, we are selectively positive on reasonably valued growth stocks in the mid- and small-cap space," says Muthukrishnan.
As the mid- and small-cap indices outperformed the large-caps by a huge margin last year, the valuation differential shrank drastically.
This year, too, the outperformance has continued, which many fear makes mid-cap stocks vulnerable to corrections if the market sentiment weakens further. "Valuations for the CNX Midcap were at par with the Sensex P/E at 16.6 times at the start of July.
Historically, mid-caps have traded at a 10 per cent discount to large-caps. We, therefore, see scope for some more correction in mid-caps," says Shenoy.
Given that the mid-cap space as a whole may not perform well, what should be the strategy? Bhasin says investors should look at state-owned stocks operating in "monopolistic spaces" such as metro construction, defence equipment and second-tier city land construction.
These include stocks such as Bharat Electronics, BEML and National Buildings Construction Company, which offer good dividend payouts and high return on equity.
According to Muthukrishnan, quality cyclicals and stocks in evolving sectors, which do not find representation in the Nifty, could perform well. MCX, JK Lakshmi Cement and Cummins are some of his key recommendations.
Shenoy of Motilal Oswal expects Oberoi Realty and Sobha Developers in the housing space, PVR and Inox Leisure in the entertainment space, and DCB Bank and IDFC in the financial space to do well. Investors with high risk appetite can consider Repco Home, Indiabulls Housing Finance and Dewan Home Finance, he says.
Given the outperformance by mid-caps and that the markets are likely to remain range-bound, investors will be better off it they buy quality mid-cap names in bits during corrections, say experts.