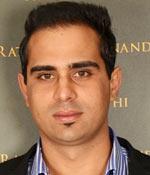 Finance Minister P Chidambaram presented his Budget on February 28.

What impact will it have on your financial planning?

Will you be able to save more money now or will your expenses go up?

Under the present circumstances, what will be the best investment options?

Should you put in more money in the stock markets or should you choose long term fixed deposits?

Will mutual funds be safe money-making avenues now?

Feroze Azeez, director -- investment products (private wealth management), Anand Rathi Financial Services Ltd -- answer our readers' questions during an hour-long chat on Tuesday.

Here is the transcript:

Feroze azeez says, Good afternoon,ready to take your questions

---
S Balaji asked, Dear sirs , Is it worth to invest in share Market at present conditions..
Feroze azeez answers, at 2013-03-05 16:02:40Yes, it is wise to invest in the share markets at the current valuations/level. As the valuations are lower than the historical & long term averages. Also, we have seen a 5 year time correction. And the expected interest rate softening should help
---
gopi asked, what is the best investment plant for people nearing retirement in services
Feroze azeez answers, A good hybrid fund which invests both in equity and debt as long as the time frame is greater than 3 yrs. HDFC prudence could be good choice
---
AL asked, Hello, i want to invest 2K - 3K for my daughter who is 3 months old. Can you tell me the different options that would give good returns. The period of investment is flexible.
Feroze azeez answers, Happy to know that you want to start investing early for your daughter. the investment options could be SBI emerging companies fund and ICICI focused bluechip fund. This will give you a good mix of large and mid cap stocks - kindly review every year
---
dfg asked, which is the best asset class in India?
Feroze azeez answers, Every asset class has different characteristic and can help full fill different needs for different individuals. Having said that today the prime assets classes both debt and equity look very interesting at this stage due to high accrual in bonds and good valuation which emerging in equity. Income funds could be a good choices
---
Raja asked, hello sir In which company we have to invest on current day.
Feroze azeez answers, if you are a passive investor you should look at Mutual funds as against stock. if you are very keen to look at stocks than after this budget choose the stocks from banking and infrastructure [ very selectively for long term only]
---
Ritesh asked, I am looking to invest in mutual funds through SIP.Pls. suggest 1 or 2 mutual funds to start with. approx- 02to 04 thousand a month
Feroze azeez answers, ICICI focused bluechip fund SBI emerging fund or IDFC sterling equity Please choose not more than 2 funds
---
kittu asked, would like to invest my money in gold ETFs?is this right time>?
Feroze azeez answers, If you buy gold it is very important to understand that you are buying gold and also buy dollar as the India gold price would also reflect the current exchange rate. So i would suggest investing in gold not just from a return management but more from a risk management due to inherent property of diversification
---
prks asked, Hello Ferozji. I am 40 yrs old salaried person. Till today I haven't invested any money except in FDs. Now I want to start investing by Rs. 5000/- per month initially. Could you please give strategy to follow. In which instruments should I invest in current scenario. I would prefer Mutual funds. Could you refer the type of MFs I should invest in with how much amount per category? Thanks.
Feroze azeez answers, Firstly, i would like to urge you to look at FMPs as a very good replacement for your FDs as they will be more tax efficient. With similar risk levels. [ depending on your marginal tax slab]. For monthly investment you can look at 2 equity funds - ICICI focussed bluechip and SBI emerging companies fund 1 debt fund IDFC dynamic bond fund
---
bimal asked, why the tax excepmtion under 80C is only one Lakh. Why not it is increased to two or 5 lakh?
Feroze azeez answers, This could have a huge revenue impact to the government under the circumstance of high fiscal deficit this kind of tax breaks are not expected to come through
---
AL asked, Hello, i am into service and saving is around 10K per month. Can you tell me where to invest? Taxt saving as well as outside this. Thank You.
Feroze azeez answers, You should ensure that you have utilized the limit of 80 c and now also of 80ccg [ RGESS ] Good ELSS schemes are- Reliance tax saver Fund ICIC tax saver fund You can look at the RGESS scheme from ICICI pru for 80ccg benifty
---
funky asked, Is it good time to invest in gild?
Feroze azeez answers, Investing in Gilt through a gilt mutual fund can be a volatile affair so understanding the risk is very critical. given the current outlook on the yields it is a good idea but would suggest you look at a dynamic bond fund so that the fund manager can efficient time the entry-exit IDFC dynamic bond fund could be good choice
---
monojit asked, following this year's budget, what will be the best option for investing approximately 2000 US$ per month in India - for the next 12 months
Feroze azeez answers, If you are a NRI - you should ideally look at large cap nutual funds and if you are keen to buy stocks. pls refrain from buying small/midcap stocks as there is immense monitoring which is required. You can look at banking and infrastructure sector selectively Mutual funds of debt nature are also attractive as the debt yields are significantly higher relative to USD investments
---
Veeresh asked, My savings is nearly 500,000 rupees a month. I already got a plot, 3 flats and some gold. What should I do next?
Feroze azeez answers, Since you have a large saving per month you should ensure you get a full fledged financial plan done so that the desired asset allocation can emerge. You should certainly choose a trusted wealth management firm who should be able to help you with financial planing/product selection/monitoring and review on regular basis.
---
Ram asked, Is it Good to invest in RGEES?
Feroze azeez answers, The timing of these scheme to my mind couldn't have been better due to the relatively inexpensive stock market. If you are a first time investor this is a very good incentive to start right away. The amount of tax saving may be small but can help absorb some risks associated with capital markets on the 50k limit under 80ccg
---
ravihonsani asked, Please suggest can i start SIP in templeton india pension fund?
Feroze azeez answers, Yes, you can certainly invest in Templeton pension plan. If you have a long term objective
---
Ramesh asked, Hi Feroze, good afternoon. This year's Budget is going to make a hole in our pockets, no?
Feroze azeez answers, From a personal finance perspective this budget is neutral. The direct taxes remain unchanged except unless the annual income is greater than 1 Cr per annum This budget has given a tax credit announcement of Rs 2000 for individuals earning less than 5 lakhs almost half the tax payers in the country will get this benifit total amount of almost Rs 3500 -3700 Crs On a lighter note, If you smoke or plan to buy a SUV certainly this budget has made a hole in your pocket.
---
justformanoj asked, FD's of around 8 lacs is available. Should I utilise it somewhere else. My monthly income is 80K.
Feroze azeez answers, Please look at FMP as it will save you at least 40-50k because they are fr more tax efficient. You should look at allocating funds to equity MF - you may start with the return of your FD moving to riskier assets If you are a first time investor you should utilize the provision of RGESS scheme as you annual income is less than 10 lakhs
---
dsfsd asked, Hello feroze, I am 27 year old and want to invest for my retirement near about 5k per month for (20 years). Can you please suggest something good. With no risk as i am salaried person.
Feroze azeez answers, You can certainly look at debt funds as you are conservative. But would urge you to look at equity funds as well since with 15-20 years the risk on capital is very low ICICI bluechip and IDFC dynamic bond funds should be looked at
---
Keval asked, i have 300000 in as saving in my hand. i want to invest them in such a way that it helps me to earn 10000 per month. is there any way??
Feroze azeez answers, Your return expectation seems to be very high of close to 3.33% per month making it a 40% return per annum. To achieve these kind of returns you may have to use derivatives. But i would suggest you refrain from taking high risks and tone down your return expectations
---
arn asked, Dear sir i already have a demat c/c and also have done transactions in share so i suppose 80ccg does not apply to me.
Feroze azeez answers, No, you will not qualify. If there are second and third holders to the demat account they will qualify irrespective of the trade in it.
---
Feroze azeez says, Thanks, it was pleasure to interact with you. Bye

---