Car thefts are common in India. And while there is no fool-proof mechanism to guard against thefts, there are several gadgets available that will help locate and recover them.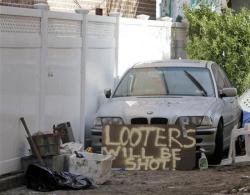 For instance, Surjeet Singh, a Gurgaon-based private sector employee, recovered his Mahindra-Scorpio with the help of a GPS-tracking device installed in his car.

Soon after his car was stolen, he got a message alerting him that 'someone had fiddled with the ignition switch and now the device was running on backup battery'.

After tracking the vehicle, the GPS device also intimated that the vehicle had moved out of the set area. All these indicators together helped him locate his car within 24 hours.

Most high-end cars already have these anti-theft devices. Less-expensive models have only the basic devices like the alarm and mechanical device. But you can add some on your own. A basic alarm device will cost you about Rs 3,000-4,000.

Insurance companies say, engine control module (ECM) are largely getting stolen. An insurance surveyor says, "I have been surveying a lot of ECM theft cases in the last few months. To add to the misery, insurers normally reimburse only 50 per cent of the amount."

ECMs can cost you anywhere between Rs 10,000 to 15,000 each. The easiest way to secure these anti-theft devices is to get it installed at a point that is not easily accessible when the door is opened. Another option is to get the ECM welded.

Kunal Khattar, vice-president, Carnation.in cautions that, basic devices are not enough, as cars do get stolen despite installing them.

"Hence, people should upgrade their vehicles to the next-gen devices like the GPS and Intelligent Computerised Anti-Theft (ICAT) system for better protection of their vehicles."

A GPS Tracking facility can help the service provider track a stolen car on real time basis using internet connection via a computer or even mobile phone. This is one of the most advanced and latest anti-theft device which tracks down your vehicle easily.

Where as an ICAT system, is a chip fixed into the car key. It carries a unique electronic identification and a secret code that digitally communicates with the engine
computer via a controller. The car starts only when the sensor in the vehicle accepts the chip in the key (wherein that secret code is matched of the key with the chip).
A sensor kicks in when someone tries to insert a fake key in a car. A GPS or ICAT can cost you anywhere between Rs 6,000 to 17,000 depending on its functions.
There are a variety of car security options available, you just need to know how to choose the right one depending on the requirements and risks the vehicle is exposed to. If you install these devices, they will also reduce your car insurance premium by 2.5 per cent or subject to a maximum of Rs 500.
Other anti-theft devices include the mechanical device and ignition cut off device. A mechanical device limits the movement of critical parts like gear and steering wheel, which can put the vehicle in motion. Whereas, the ignition cut off is a key-operated or hidden manual switch that interrupts the power supply from the battery to the ignition.
SUVs should have a good anti-theft device as they are widely used during elections and political rallies.
"Chances of low priced SUVs like Bolero and Zylo being stolen are high, as they have a huge rural demand. "Easy to sell" and widely used cars like Hyundai and Maruti are also amongst the most stolen lot," adds Khattar of Carnation.
If your car doesn't have an anti-theft device, it makes sense for you to analyse the risks your vehicle is exposed to. Amitabh Jain, head - customer service motor at ICICI Lombard says, your car attracts risk of theft if its parked in an open space/no dedicated parking space, or in an unguarded area overnight or if the vehicle remains unattended for few consecutive days.
Experts say, one should install an anti-theft device if he knows the area he stays or drives in, is theft-prone and unsafe. An auto expert said, where road connectivity is good with less security are places where cars are stolen largely.
Amarnath Ananthanarayanan, managing director and chief executive at Bharti AXA general insurance says, regions like National Capital Region (NCR), Hissar, Jharkhand, parts of Odisha and Jaipur are known for cases where they steal smaller cars like Maruti, Tata and Hyundai which are easy to dismantle and sell in the grey market.