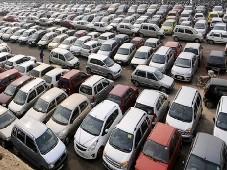 As monsoon picks up, be ready to drive through water-logged areas and mushy roads.

Since motor accidents typically see a rise during rains, motor claims also move up.

Hence, prepare your car to drive through mucky waters by buying the right covers and making sure you have a hassle-free claim.

Madhukar Sinha, national head, personal lines, Tata AIG General Insurance, says most car manufacturers offer free pre-monsoon car check-ups, which prepare your car better. "One should make sure cars undergo such check-ups and servicing regularly, so that the vehicle remains in good condition.

"We also advise one to be careful while starting the car after heavy rain or water-logging to avoid severe internal damages to the engine."

About 70 to 80 per cent of today's cars on roads are insured.

Though most policies sold today are comprehensive, one has to buy add-on covers according to his or her needs.

C V Srinivasan, head-motor underwriting at Royal Sundaram, says one should have the monsoon-specific add-on covers as insurers refuse to pay for damages due to consequential loss, also called an indirect loss.

Insurers can refuse to pay claims if they find the reason for claims is that the car was not maintained well.

For instance, they can refuse to pay claims if the car was found parked in submerged water for too long or if the car doesn't have safe parking space and so on.

Similarly, they can refuse to honour claims if you have been driving through water-logged areas for a long time.

One should read carefully through the policy's fine print, as the insurer can have these things mentioned in the policy exclusions and have the right to refuse to pay.

For instance, if you try to start a parked vehicle which is submerged in water, it will be considered a consequential loss and not be payable under a standard motor policy.

Such situations are best avoided and customers should immediately call for an insurance surveyor.

A standard motor policy will only pay for direct damages such as an accident.

Hence, it's important that you buy specific add-on covers to pay for such indirect damages. Amitabh Jain, head-customer service at ICICI Lombard, says: "This add-on
cover is of immense help in the rains, because in case of engine damage due to water ingression, a hydrostatic cover comes handy.
"To buy this, one will have to shell out 0.5 to two per cent of the insured declared value (IDV) of the car."
In other words, if a car's IDV is Rs 500,000, one will have to spend Rs 2,500 to Rs 10,000 to add this cover to the policy.
The under-body of the cars carries the highest risk of getting affected during rains.
Also, minor dents and scratches can get rusted during monsoon.
Car parts that get affected in the rains might not get fully covered as metal and plastic parts attract depreciation.
All plastic auto parts attract a flat 50 per cent depreciation, irrespective of the car's age, whereas parts made of fibre attract 30 per cent depreciation.
Metal parts like the bonnet and engine are depreciated depending on the age of the vehicle.
For instance, the electronic control module, a system in cars that controls other electrical systems, is most likely to be damaged during the monsoons and also attracts 50 per cent depreciation, says Amarnath Ananthanarayanan, managing director and chief executive officer at Bharti AXA General Insurance.
Insurers have also started offering road-side assistance, a service which helps the owner of the insured car when it's stranded with no help around.
Some insurers package this along with the policy, and some sell it as an add-on.
"This add-on cover helps specifically during rains because if the car is stranded in a water-logged area, one can call for help which the insurers make sure reaches you within an hour if it's within the city," adds Sinha of Tata AIG.
The cost of this add-on cover is also in the range of 0.5 to two per cent of the car's IDV.
Nikunj Sanghi, president of the Federation of Automobile Dealers Association, says one should get an anti-rust treatment and an under-body coat for his or her car just before the monsoons come in.
This will cost about Rs 4,000 to 8,000 each, depending on the car's model.
Consumables' add-on cover pays for any damage caused to items such as coolants, gear-box oil and clutch box oil.
This will cost another 0.2 to 0.4 per cent of the car's value.
Always carry a copy of the policy document and the toll- free number in your car.