The fall in metal and mining stocks comes on the back of weak Chinese trade data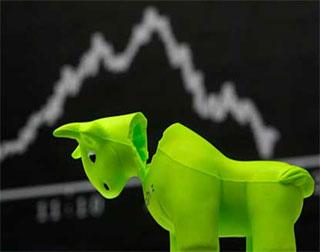 Reliance Industries, Oil and Natural Gas Corporation (ONGC), Bharti Airtel, Tata Steel, Sesa Sterlite, Cairn India and Wipro are among 175 stocks that have hit a three-month low as the S&P BSE Sensex slipped over 1,000 points thus far in December.
The S&P BSE Sensex that closed to 27,602 on Thursday has lost 1,092 points from its record closing high of 28,694 on November 28. The 50-share CNX Nifty Index has also declined 295 points at 8,293 from its lifetime high 8,588. The fall has seen around 175 stocks from the BSE-500, mid-cap and small-cap index touch their respective three-month low level during the current month.
Among individual stocks, Idea Cellular, Reliance Communications, Reliance Power, Adani Enterprises, Aban Offshore, Arvind, Housing Development and Infrastructure (HDIL), Hindustan Copper, TTK Prestige and Balkrishna Industries are among few notable shares touched three-month low on the BSE on Thursday.
Bajaj Electrical, Tata Sponge Iron, Aban Offshore, Hindustan Oil Exploration, Amtek India, Reliance Power, Tata Teleservices (Maharashtra), Hindustan Copper, Reliance Communications and HCL Infosystems are among 50 stocks that saw over 50 per cent market value erosion from their 52-week highs.
"Since the past few months, the markets have seen a sharp up move and a correction was overdue. The Indian markets are moving in line with their global peers that have seen a decent correction off late. I think once there is a reversal in the trend globally, Indian markets will also rebound. They will take directional cues from inflation data to be released this week and the outcome of the US Federal Reserve's meeting scheduled for the next week," said Rikesh Parikh, vice-president for market strategy at Motilal Oswal Financial Services.
The fall in metal and mining stocks comes on the back of weak Chinese trade data. China's exports rose 4.7 per cent in November, well below expectations and adding to concerns that it could be facing a sharper slowdown.
"Though a slowdown in China will impact metal and mining stocks, there are overall positives for the Indian economy, as it will keep a check on commodity prices that serve as a raw material for a number of sectors. We remain underweight on the metal space," says Mihir Vora, director and chief investment officer, Max Life Insurance.
On the other hand, ONGC, Cairn India, Aban Offshore, Hindustan Oil Exploration and Selan Exploration have been impacted by a steady decline in crude oil prices.
Analysts say the recent fall in the markets presents a good opportunity for investors to accumulate stocks from a long - term perspective.
"The current market situation, both on domestic and global front, is pointing towards this decline to extend further. However, we reiterate our view that investors should be utilise this fall to gradually accumulate fundamentally strong counters. On the other hand, traders should maintain cautious approach as we generally see stocks in mid-cap and small-cap segment decline sharply during such corrections. So, maintain stock-specific stop losses and avoid averaging your loss making positions," points out Jayant Manglik, president - retail distribution, Religare Securities in a recent note.