Tourism to Corbett and Almora could be particularly hit as a result of the fire, which has destroyed 2,200 hectares of forest.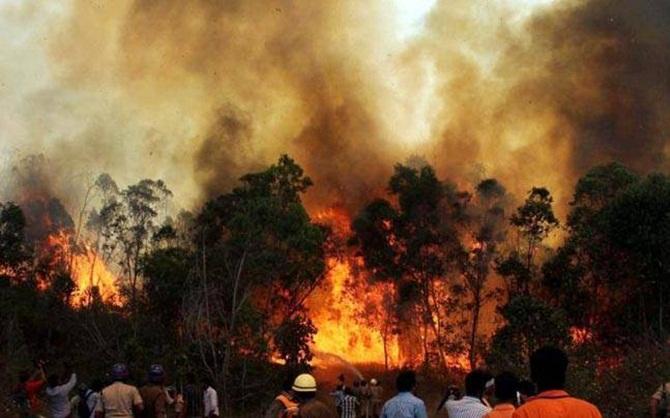 The forest fires in Uttarakhand, not unexpectedly, are affecting people's summer holiday plans to the hill towns of Musooorie and Nainital. May to July is the peak season for tourism in the state.
The last few days have seen a slew of cancellations. "The prominent coverage of the fire in the media is scaring tourists away from the state. We have had a couple of cancellations and we expect more to follow. The tourists are panicking," says Manish Srivastava, general manager at Vikram Vintage Inn, a four-start hotel in Nainital.
Travel portals, meanwhile, are expecting more queries from holidaymakers bound for Uttarakhand.
"So far, we have not seen an impact on our bookings. But the event has got a lot of attention from the media and there could be some doubts in the minds of travellers. We expect queries before people book a trip to Uttarakhand," says Sharat Dhall, president, Yatra.com.
Srivastava says tourism to Corbett and Almora could be particularly hit as a result of the fire, which is estimated to have destroyed more than 2,200 hectares of forest in the state. Tourism is the mainstay of Uttarakhand.
While teams from the National Disaster Force are fighting the fire, the state is also expected to get some rain over the next few days. Rains could ease the fire to a large extent.
The state's tourism department is hopeful people would start returning after the rain.
"Some impact is there on tourism but it is small. The problem does not affect the entire state. Rainfall has been forecast over the next couple of days. One spell of rain will bring the situation under control," says A K Diwedi, additional director (tourism), Uttarakhand Tourism Development Board.
Although the fire had also temporarily disrupted the railway route between Kalka and Shimla in neighbouring Himachal Pradesh, its tourism industry has come out of it unscathed.
"There is no impact on the state's tourism activity," says an official of a hotel operated by Himachal Pradesh Tourism Development Corporation in Barog.
Photograph: PTI