While a wallet is convenient, payments bank offers interest on deposits and ATM facility.
Experts explain the nuances to Tinesh Bhasin.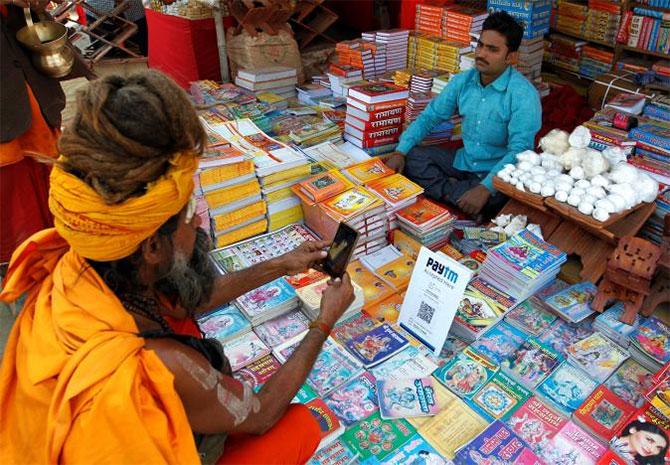 Bipin Preet Singh, the founder of MobiKwik, no longer feels that his company should become a payments bank. He believes the key offerings between the two are now similar after the Reserve Bank of India came up with new guidelines for mobile wallets.
In future, wallet users will be allowed to transfer money from one wallet to another, making them interoperable like a bank.
The maximum amount that a person can hold in the wallet is also the same as in a payments bank -- Rs 1 lakh.
Wallet players, however, will also need to do a KYC (know your customer) that is mandatory for all banks.
"The guidelines put wallets at par with a bank account," says Singh.
If a user is only looking at payments, wallets are convenient.
But payments banks go beyond just this. That's why companies such as Paytm and FINO Paytech have ventured into the payments bank space despite having had a mobile wallet for many years.
"A payments bank's offerings are much wider, while wallets are restrictive," says Shailesh Pandey, executive vice president and head-strategy and marketing, Fino Payments Bank.
If you are only looking at quick and convenient payments, wallets fare better.
All that an individual need to do is download the app, sign up and start using the wallet by transferring money from either a bank account or a credit card.
Many users also prefer wallets for online transactions to avoid exposing their bank and card details on the Internet.
If you want wallet-like functionality but more features such as interest income on idle money, fund transfers and withdrawal of money at an ATM via card, payments banks are more suitable.
Most payments banks are becoming like virtual banks as they use technology extensively and target more transactions on mobile.
The offerings from a wallet depends on the category it belongs to.
RBI has three categories of wallets -- open loop, closed loop and semi-closed.
Closed-loop wallets work with a single merchant and are used more often for reward points and loyalty.
Popular wallets are semi-closed wherein a person can pay at various merchants and also transfer funds to another wallet or bank account.
Open-loop wallets belong to banks and users can also withdraw money at ATMs. But idle money doesn't earn interest.
The wallet an individual uses can be a forced choice, too, as a merchant may offer the benefits of only his wallet.
Also, if a user doesn't opt for a 'low' KYC, s/he cannot transfer money to another wallet or bank account, and monthly limit drops to Rs 10,000 for payments.
In future, the wallet player will also need to implement two-factor authentication -- validate transaction by sending one-time password.
Payments bank are also trying to give users an on-boarding experience similar to that of a mobile wallet.
Fino Payments Bank, for example, allows instant opening of account on submission of PAN card and Aadhaar. The average time taken to get an account opened is four minutes.
Customers get a debit card and PIN immediately after opening the account.
According to an RBI report, if a customer visits a bank branch three times to open an account -- first for inquiry and later for submitting the forms and collecting documents -- it costs him almost Rs 139.
The total time spent in the entire process is around 7 hours and 28 minutes.
Companies in the payments bank space are therefore targeting accountholders of public sector and co-operative banks and also tech-savvy youth that don't have a bank account yet.
Photograph: Jitendra Prakash/Reuters