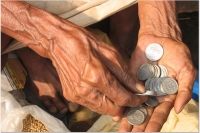 Lack of tax incentives and inadequate awareness about the New Pension System has resulted in only 1,109 subscribers filing their applications as on July 31.
Pension Fund Regulatory Development Authority rolled out the NPS for all citizens from May 1. Till July 31, only 1,109 forms were collected by the 22 points of presence appointed by the interim pension fund regulator.
"Initially, when NPS for the private sector was launched, we expected it to grow at a slow pace but it grew at a much lesser pace then expected," ICICI Prudential Pension Fund Management director-on-board, Tarun Chugh, told PTI.
ICICI Prudential Pension Fund Management, which has 49 branches authorised by the PFRDA to act as points of presence, collected 218 forms, the highest among all 22 POPs.
He further said the lack of tax-breaks for NPS is one of the major reasons for it not picking up.
"At the time of retirement one can withdraw 33 per cent of the contribution and the rest 67 per cent is used for annuity, which is taxed. There should not be any tax at the time of withdrawal," Chugh said.
Taxation on annuity at the time of withdrawal under NPS is not in line with provident fund, he said.
At the time of the launch of NPS, the interim pension fund regulator chairman, D Swarup, had also said, "it (NPS for private sector) will be slow in the beginning. We do not foresee large volumes initially."
UTI asset management company's chief marketing officer, Jaydeep Bhattacharaya, said, "Pension is a push-based product. Lack of adequate provision to push NPS makes its penetration low."
Awareness about the system is also less, he said.
"87 per cent of India's workforce does not have a pension plan. There is a need to make them aware about the pension plans," he said.
"As cost structure of NPS is higher than mutual fund products, NPS needs to find a way to reduce the cost structure," Bhattacharaya added.
UTI AMC collected 121 forms from subscribers from its 25 points of presence branches.
Citing no tax benefits on NPS as one of the reasons for a low number of people joining the system, an official from another pension fund manager said, "People should feel the necessity to join NPS, which can be generated by giving them adequate tax incentives."
There is a need for NPS to be publicised properly as not many people are aware about the system, he added.
Among all other POPs, Kotak Mahindra Bank collected 182 forms, Computer Age Management Services 160 forms and Axis Bank 138 forms.
There are six fund managers selected by the pension regulator PFRDA--these are UTI Mutual Fund, Reliance MF, ICICI Prudential Life Insurance, IDFC MF, SBI and Kotak MF.