Even as the company links the cascading effects of demonetisation and the GST to the sharp drop in its growth rate, analysts argue that Patanjali lost focus somewhere in the way and that caused its decline.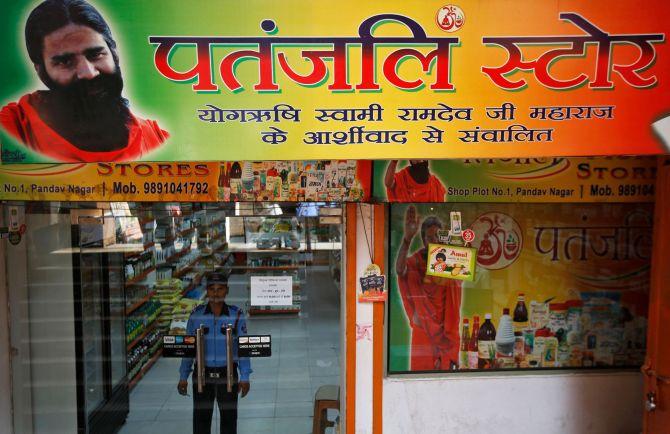 Baba Ramdev's Patanjali Group clocked Rs 12,000 crore in sales during 2017-18 (FY18), up from Rs 10,561 crore in the previous year, the latest figures sourced from the company show.
Patanjali's revenue grew in double digits, a yardstick of things going well at a time when businesses have faced speed bumps.
But, compare the sales growth number in FY18 - at 13.6 per cent - with that in the three preceding years, and the gap tells a story.
In 2016-17, Patanjali sales had grown 111.2 per cent, in 2015-16 at 149.3 per cent, and in 2014-15 at 69.4 per cent.
"We have grown consistently despite disruption in business activities due to macro factors like the goods and services tax (GST) and micro-level issues like realignment of rural distribution," company spokesperson S K Tijarawala told Business Standard.
To be sure, between 2011-12 and 2016-17, Patanjali's top line grew at an 88 per cent compound annual growth rate.
Even as the company links the cascading effects of demonetisation and the GST to the sharp drop in its growth rate, analysts argue that Patanjali lost focus somewhere in the way and that caused its decline.
Telecom, security services, and online applications are among the new business areas that it ventured into recently.
According to Abneesh Roy, senior vice-president, research, Edelweiss Securities, constant innovation is a necessity in today's competitive fast-moving consumer goods (FMCG) market.
Heightened competition from existing players meant a loss of competitive advantage for Patanjali during the recent quarters.
Patanjali products reach close to a million outlets and 10,400 branded stores, Tijarawala pointed out.
The number is far from its target to reach over 25 lakh outlets by March 2018.
"A strong distribution network serving rural market, covering modern trade and e-commerce channel is important.
Hindustan Unilever (HUL), for example, today gets 1.5 per cent of its sales from online stores," said Roy. Retail reach of HUL, Nestlé, and ITC stood at 80 lakh, 40 lakh and 60 lakh, respectively.
In the meantime, Patanjali has worked out a plan to retain an edge in the market.
The strategy is to capture the overseas market as fast as possible.
"We have already secured approval from the US Food and Drug Administration and will start exporting by March 2019 from our plants in Hardwar and the upcoming food park in Noida.
"The food park in Nagpur will be ready within this year too," said Tijarawala.
In fact, Patanjali is setting up manufacturing units in Nepal, Bangladesh, and West Asian countries, he said.
"We are finalising other export markets as overseas demand for Patanjali products remains robust."
Since late 2016, major players in the food and beverages and personal care space like HUL, Dabur, and Colgate-Palmolive had upped the ante against the Hardwar-based ayurveda major.
While HUL relaunched its ayurvedic brand Lever Ayush after over a decade to counter Patanjali's carpet bombing strategy in the personal care space, Dabur extended its ayurvedic brands like Dabur Lal, Hajmola, and Honey and regained lost ground.
Colgate-Palmolive pitched its toothpaste brand Cibaca Vedshakti against Patanjali's Dant Kanti.
Entry of players like Britannia and ITC in the ghee market, also played a role in Patanjali's muted sales growth, given that ghee remained its highest grossing product with over Rs1,000 crore sales last year.
While, Dant Kanti's market share grew to 8.4 per cent in May 2018 from 6.3 per cent a year ago, incremental growth in ghee market fell short of that in the previous year.
Patanjali's growth in ghee stood at 5 per cent, compared to over 30 per cent during 2016-17, said sources citing Nielsen data.
Also, it lost market share in honey and hair care products like Kesh Kanti to Dabur and Garnier, respectively.
While Dabur strengthened its advertising and cut prices to counter Patanjali's claims of offering pure honey at cheapest price, Garnier came up with a range of herbal-natural shampoos.
"Probably they are trying to grab more than they can chew," said a senior executive from a leading FMCG player.
Brand expert Harish Bijoor believes Patanjali needs to refocus on branding as well as distribution.
"Today it is hard to differentiate between its products and competing brands on the shop floor, as the company has now ventured into general trade as well," he said.
Re-establishing Patanjali as an exclusively ayurvedic brand would be critical now.
Ramdev's group is not giving up. To strengthen its sales and distribution, Patanjali has hired 11,000 field personnel in the past 50 days and is planning to double the number by year-end.
"We believe these measures will bring in the next phase of growth as we aim to become the No. 1 FMCG player in India by 2020," he said.
Photograph: Adnan Abidi/Reuters