After rectifying battery glitches, Air India has inducted 6 aircraft so far


The Boeing 787 Dreamliner, the latest acquisition of Air India, is likely to shore up India's national carrier's fortune as passengers are giving big thumbs up after travelling in the next generation flying machine.

"We hope that Air India's fortune will turn significantly with the induction of the Dreamliners. Passengers are responding very positively to the new aircraft as the Dreamliner is the ultimate in terms of passenger comfort," Civil Aviation Minister Ajit Singh told PTI.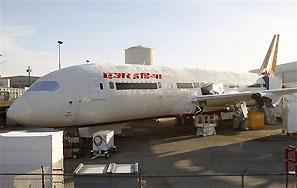 After rectifying initial technical problem, the Air India so far has inducted six 787 aircraft into service.

The B-787s have remained grounded since January 17 after a fire in the lithium-ion batteries of a parked plane in Boston and a case of forced landing of another B-787 for the same reason in Japan.

The B787 is operating on domestic services between Delhi-Chennai, Delhi-Bangalore and Delhi-Kolkata routes besides international operations to London, Frankfurt and Paris.

The Dreamliners offer roomier cabins, larger electronically dimmable windows, a state-of-the-art in-flight entertainment system powered by the most sophisticated GEnxt engines.

"The experience
in the flight was excellent. With larger leg-space and wider seats, passengers enjoy wonderful travel in Dreamliners," Atiqul Rehman, a Londoner who recently travelled in the new Air India aircraft, said.
The Dreamliners offer a superior economic performance with 15 per cent lower fuel consumption than current aircraft in the same category, lower operating costs and lower maintenance.
Boeing India President Pratyush Kumar said the Drealiner's spacious architecture, stowage space, cleaner, healthier air, lower cabin, dimmable windows ensure a smoother and unrivalled passenger experience.
The 787 cabin environment allows more oxygen to be absorbed into the blood reducing headaches and dizziness and passengers will feel more refreshed and be ready to go when they arrive on a 787 Dreamliner after a long flight.
"The aircraft is too good to travel. I would recommend everyone to enjoy flying with Dreamliner," said Rajiv Arora, a Delhi businessman, who travelled to London in Air India flight.
"The Boeing 787 has the optimal size and range to allow Air India to not only operate its current routes more profitably, but also to open up new markets giving Air India a true first mover advantage," the Civil Aviation Minister said.
The Boeing is expected to deliver the remaining eight aircraft by December 2013 and with induction of new aircraft, the Air India fleet will operate on the Delhi-Hong Kong-Osaka and Delhi-Seoul routes.