Air India is seeking a mid-term review of its turnaround plan, after several of the initial estimates regarding fuel price, exchange rate and market growth turned out to be wrong.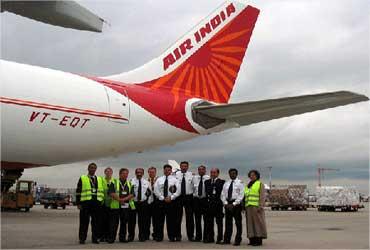 By the end of this month, the government will constitute an expert committee, comprising senior personnel with experience in the aviation industry, to set a road map for the cash-strapped public-sector carrier, Air India.
The committee of four or five experts will be asked to give by March-April a report outlining measures to help the carrier realise its full potential.
Separately, Air India is seeking a mid-term review of its turnaround plan, after several of the initial estimates regarding fuel price, exchange rate and market growth turned out to be wrong.
"We are examining options of inducting former civil aviation secretaries and former Air India chairmen-cum-managing directors in the committee.
Former Air India managing director Michael Mascarenhas would be a good person to have on board," said a senior civil aviation ministry official.
Veterans with extensive knowledge of the transport infrastructure sector, such as former Delhi Metro Rail Corporation chairman E Sreedharan, could also be approached.
However, the priority is inducting professionals from civil aviation background.
The panel is being constituted according to objectives outlined in the draft civil aviation policy, unveiled by minister Pusapati Ashok Gajapati Raju last month.
While privatisation of Air India will not take place immediately, the minister had said he did not rule out the option for the state carrier in future.
"An expert committee would be set up soon to develop a road map for Air India.
"All these suggestions have emerged. We don't want to open a Pandora's Box.
"We will have to take a conscious decision, as it is a delicate matter," Raju had said.
Raju and Minister of State for Civil Aviation Mahesh Sharma are set to meet Air India Chairman & Managing Director Rohit Nandan on Saturday to review the airline's financial and operational performance.
In 2012, the central government had approved a financial restructuring and turnaround plan for the carrier, promising equity support, loan guarantees and cash infusion.
The equity infusion was to take place if Air India showed improvement in its performance.
The airline has improved occupancy, yields, punctuality and fleet utilisation and cut down on loss-making routes, but it has slipped on financial parameters.
Air India's losses widened to Rs 5,389 crore (Rs 53.89 billion) in 2013-14, primarily due to high operational costs.
It also missed the target of Rs 1,040 crore (Rs 10.4 billion) in operational profit.
The net loss was Rs 5,100 crore (Rs 51 billion) in 2012-13 and Rs 7,100 crore (Rs 71 billion) in 2011-12.
The September quarter of 2013-14 was the worst for the airline; it missed its revenue target by Rs 700 crore because of lower passenger load and a local fare war, said sources.
Air India, however, hit the 2013-14 revenue target of Rs 19,300 crore (Rs 193 billion).
"The turnaround plan was finalised on certain assumptions regarding global crude oil prices and the exchange rate.
While the crude oil price is falling now and is obviously beneficial to us, it crossed $110 a barrel last year and impacted the airline.
Similarly, market and demand growth have not been to expectation.
The government needs to conduct a mid-term review of the turnaround plan," said an Air India source.
"Intensifying competition and the government's move to give traffic rights to Gulf carriers have impacted us more," the source added.
On asset monetisation, too, Air India's assumptions were wrong.
The airline had factored in Rs 1,200 crore (Rs 12 billion) in asset monetisation last year but was unable to conclude land deals.