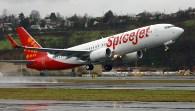 With airfares spiralling, members of a Parliamentary panel grilled top officials of the Civil Aviation Ministry and demanded quick action to curb overpricing of air tickets.
Members of the Committee on Estimates, which met earlier this week, expressed deep concern over the phenomenal rise in airfares in the recent past and wondered whether anybody had control over selling air tickets.
A section of the members sought to hold the open market economy responsible for the present situation and favoured setting up of a body to ensure that the airfare do not shoot up suddenly in the future.
"Somebody has to be responsible for controlling airfares. The situation should not be allowed to go out of hand like the recent past," said a member of the Committee headed by Francisco Sardinha.
The Competition Commission of India has asked its investigation wing to inquire into the possible cartel-like behaviour in fare hike by airlines. The Commission has also asked the Civil Aviation Ministry to share information about the fare hike by airlines with it.
The suo motu action by the Commission follows media reports and the statements by Civil Aviation Minister Praful Patel on steep hike in fares announced by airlines in non-peak season last month.
Some members were concerned over the delays in flights due to various reasons and wanted the airliners, at least the national carrier, to strictly follow schedules. Members were also worried over the financial health of Air India and referred to reports in a section of the media that the national carrier would be unable to even pay salaries to their employees after March 2011.
Representatives of Ministry of Civil Aviation appeared before the Committee to answer queries of members on matters related to development and regulation of civil aviation sector. Some members stressed on the need to provide adequate air links to the remote areas of the country like the north east where air travel is the only option for faster travel.
They were also concerned over the accumulated losses of the national carrier and the negative growth it has been posting for the past several quarters.
Officials have been asked to come prepared with answers to the queries raised by members during the meeting when they appear before the Committee the next time.
The Estimates Committee is to report to Parliament on improvements in organisation, efficiency or administrative reform, that could be effected in a state-run organisation and suggest alternative policies to bring about efficiency and economy in administration.