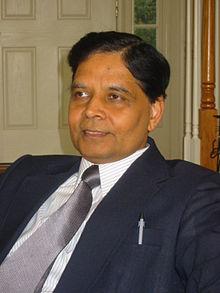 Pitching for greater trade liberalisation, Niti Aayog Vice Chairman Arvind Panagariya on Thursday said no country has grown more than 6 per cent for longer period without rapid growth of trade.
"Trade openness in India has delivered. Trade liberalisation has done wonders to India... No country has grown more than 6 per cent for longer period without trade growing very rapidly," Panagariya said at an event in New Delhi.
He said that in the 1980s, "we were fighting for trade liberalisation in India and at that time it was a contentious issue. But today it is not a contentious issue.
"Export to Gross Domestic Product was 7 per cent in 1991, now it is close to 25 per cent".
Panagariya also noted that India's import to GDP ratio in 1950s was at around 10 per cent of GDP, which in 1970s came down to 4-5 per cent of GDP.
India is aiming to nearly double its exports of goods and services to $900 billion by 2020.
Most of the South East Asian economies, including Singapore, South Korea and Taiwan, maintained exceptionally high growth rates between the early 1960s and 1990s on the back of rapid increase in trade.
Image: Arvind Panagariya; Photograph: Kind Courtesy, Wikimedia Commons
© Copyright 2022 PTI. All rights reserved. Republication or redistribution of PTI content, including by framing or similar means, is expressly prohibited without the prior written consent.