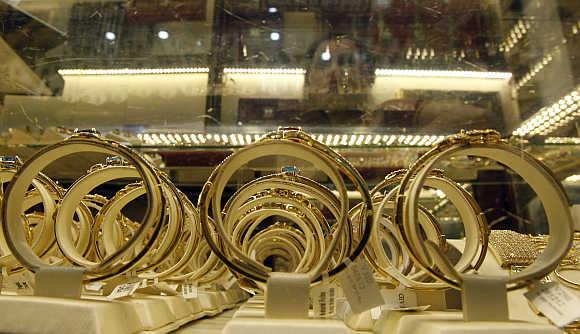 Jewellery and watches major Titan Co expects to take a hit of up to Rs 500 crore this fiscal because of government's move to lower the transaction threshold of quoting Permanent Account Number to Rs 200,000 from Rs 500,000 earlier.
"We would have of around Rs 400 crore (Rs 4 billion) to Rs 500 crore (Rs 5 billion) effect on our turnover.
"This would be loss of turnover. This is our estimate," Titan Co managing director Bhaskar Bhat told PTI.
The company has already taken a hit because of the previous limit at Rs 500,000, he added without quantifying the loss.
Last month, the company had stated that it expected cash sales of jewellery items between Rs 200,000 and Rs 500,000 to be impacted to some extent after the government move.
Claiming that the company has not resorted to means to circumvent the rule by breaking up bill, he said: "We are suffering on account of that. We do not break up bill as 100,000, 100,000 and then sell."
In December last year, the Finance Ministry had lowered the purchase limit for quoting PAN to Rs 200,000 per transaction from Rs 500,000 as part of measures to curb domestic black money generation.
In FY 2014-15, Titan Co had reported a revenue of Rs 11,903.21 crore (Rs 119.03 billion).
At present, jewellery constitutes around 73 per cent, 25 per cent is from watches and rest is from eye-wear and precision engineering segment.
Titan's watch segment is having a year-on-year growth of around 10 per cent.
"People are buying; luxury segment and premium segment is growing. . . However, mass market has got affected," Bhat said.
Titan has collaborated with global information technology major HP to offer a range of smart watches.
"Our smart watches would be well designed and very good looking, you would see them in next 15-20 days," said Bhat.
He further added that still smart watch segment in India is very small and would grow gradually.
The image is used for representational purpose only