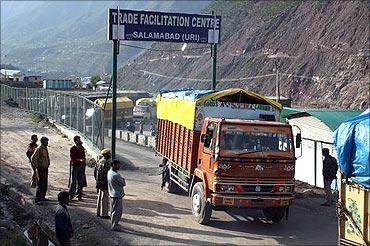 Pakistan on Friday pitched for liberalising visa regime with India and expressed willingness to accord non-discriminatory market access (NDMA) to New Delhi soon to boost bilateral trade.
"I believe yes. I have great confidence. We will be able to resolve that," Pakistan's Commerce Minister Khurram Dastagir Khan said when asked as to when Pakistan will grant NDMA status and sort out issue with regard to trade with land route. He was talking to reporters after inaugurating 'India Show'.
Khan said that the issue of allowing all the tradeable goods through the Wagah-Attari border would be resolved soon. Currently only 137 products are permitted through the border.
On visa, Khan said: "The truth is that visa restrictions are the biggest non-tariff barriers. People and businessmen are not able to travel to each others' countries. That is the great barrier to trade."
He said that although both sides have made progress in that direction, things have not yet materialised completely. Khan also made a case for larger dialogue between the two countries to promote bilateral ties.
"Trade cannot happen in vaccum... Trade cannot solve all the problems, but it will help... The fact is that the composite dialogue is suspended as of today... So, instead of the two foreign ministries saying will you be my valentine, talks are suspended.
"What we are really hoping is that, the trade dialogue can go forward in the atmosphere in which our larger dialogue is resumed and we are able to discuss these issues," he said.