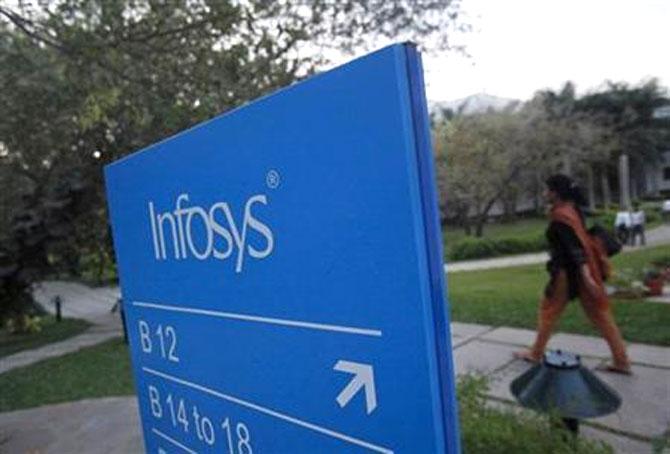 On the sidelines of Infosys' conference to announce third-quarter earnings, Chief Executive Officer Vishal Sikka tells Itika Sharma Punit and Bibhu Ranjan Mishra how he is settling into his new job and what he thinks about business in 2015. Excerpts
Does the third-quarter performance suggest Infosys is on course to regaining its bellwether status?
It is too early to say and I would not quite jump to that conclusion as much as I would love to. We have seen early signs, however, of our strategy taking effect.
That is for sure. There are a lot of signs already that the strategy is making its way into the business, but I think in terms of revenue, it will take some time.
How is your 'new and renew' strategy playing out with clients?
In the case of clients, 'new' and 'renew' applies in a very simple way.
They have existing systems and processes that they want to improve and renew to bring more efficiencies.
Typically, in the case of information technology, this takes the form of transforming systems to run on the cloud and bringing in new open source technologies.
But our renewal is about taking our own services, which we have been offering for several years, and renewing each on the basis on automation and advanced technologies. So, the renewal of existing services will lead to better productivity, better efficiencies and more revenue per employee.
New things are the ones not there today, such as solutions based on design thinking and open source technologies for doing big data. What are the early signs of your clients' IT spending in 2015?
It varies by industry.
In financial services, in the Americas, we expect budgets to be flat to marginally lower. But in Europe we expect these to be up.
If you look at manufacturing, at a sector level we expect budgets to be flat but for sub-sectors like high-tech and automotive, we expect budgets to move up.
Whereas, in aerospace, we expect budgets to be down.
Given the sectoral challenges in energy and utilities, and telecom, we expect budgets to be down.
Life sciences budgets will be flat to marginally up.
So, it is a mixed bag. In many cases, budgets are still not finalised and these are all early indicators.
How is the innovation fund going to work and how will you manage engagement with start-ups?
One of the things I am most excited about is that our board has agreed to expand our fund for investing in start-ups. While this fund is for global use, we also want a dedicated focus on Indian start-ups.
The fund is separate from the merger and acquisition plans of Infosys.
It is just something we will invest in start-up partnerships. We will run it from our corporate centre and over the next few weeks, we will establish how we will use it.
You will probably hear more details about the plans over the next few weeks.
We are still thinking about how we will engage with start-ups and probably over the next few weeks, we will put an outline about that in place. You can never say no to merging start-up engagements with core businesses but I think that would not be the right way to go about it.