Area under organic farming in India is likely to grow over ten-fold to one crore hectres in the next five years on buoyant domestic market and increased farmers' interest to ensure sustained yield at lower costs.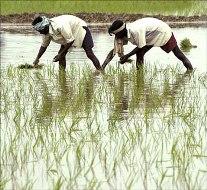 "Since the beginning of organic farming almost ten years back, acreage in India is still minuscule at 11 lakh hectres. I hope this will grow ten-fold in five years," International Competence Centre for Organic Agriculture President Mukesh Gupta said.
Gupta, who is also Operations Director at Morarka Organic Foods, one of the pioneers in organic farming in India, said growth in the chemical fertiliser-free, pesticide-free process of farming was inevitable in India in sync with the enhanced awareness among the people on the back of higher per capita income.
"Unlike in chemical agriculture, in organic farming you don't use anything from outside for production. Everything you use, is there in the land. No chemical fertiliser, pesticide. This ensures sustainability of yields at no cost. Farmers are now more inclined to this mode of farming.
Consumers are also preferring organic products," he said. Organic farming, though at its infancy in India, is now practiced across the country in states like Himachal Pradesh, Haryana, Rajasthan, Gujarat, Maharashtra, Sikim, Meghalaya, Mizoram, Chattisgarh and Jharkhand.
"The growth in organic farming has been phenomenal in the last three years during which almost 300 products have been made into the list of cultivation under it. We believe that this will go up in the coming days," Gupta said.
The Indian organic product market is currently pegged at Rs 1,500 crore (Rs 15 billion), he said, adding that this would likely to go up to Rs 10,000 crore (Rs 100 billion) in the next five years.
The global market is over $100 billion, he said. "India exports organic food products worth Rs 350 crore (Rs 3.5 billion) a year now. I believe this would increase to over Rs 3,000 crore (Rs 30 billion) in the next five years," Gupta said.