Gold is the first product for options trading that markets regulator Sebi has allowed after 14 years of commodity exchanges in the country.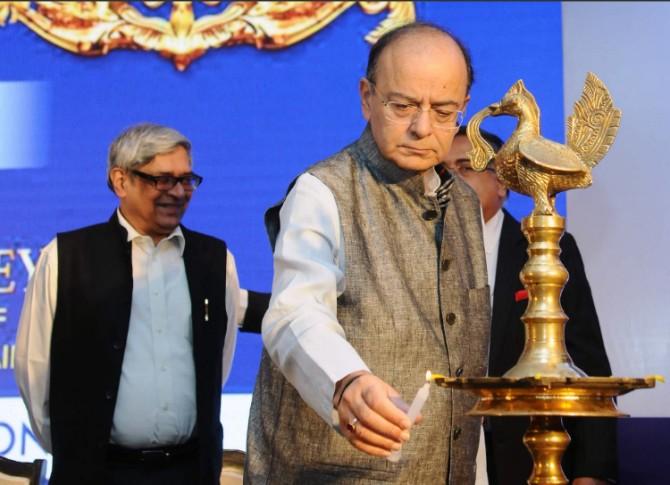 Finance Minister Arun Jaitley on Tuesday launched gold options trading on the leading commodity bourse MCX and said this was one of the steps towards formalising gold trade.
After the success of the gold options, MCX said it will approach the regulator Sebi seeking permission for other commodities like cotton, crude palm oil, silver and copper.
At present, MCX offers futures trade in gold and other commodities even as the industry has been demanding other products like options trade also for hedging.
"This marks a very important evolution in trading of the yellow metal itself. It hedges all risks by giving them (traders) the option of futures," Jaitley said after unveiling the options trade on the auspicious day of Dhanteras.
Indians are great buyers of gold. This new product will be extremely successful, he said.
Emphasising that the government is taking efforts to formalise gold trade, Jaitley said, "I am sure more it formalises, better it is for consumers, jewellers and those trading in this. That's in consonance with the business environment for future that we see for us".
This is the first product for options trading that the regulator Sebi has allowed after 14 years of commencement of commodity exchanges in the country, he added.
According to MCX, gold options contracts are available for trading from Tuesday and investors can trade in one kg gold. The contracts will expire in November and January 2018.
Asked about measures taken to promote the new product, MCX Managing Director and CEO Mrugank Paranjape said: "Fundamentally, it is an extremely low-cost product. However as an introductory measure, we are not charging any transaction fee on this product till December."
From the exchange perspective, that will be a good enough time to develop the market, he said.
On plans to launch more commodities under options category, he said, "As per the Sebi rule, options trade is allowed in a commodity which has certain volumes in futures trade. We have 7-8 commodities like cotton, CPO, crude, silver, zinc and copper which qualify."
The exchange has not applied for new commodities. "After 3-6 months, we will decide after looking at the success of the gold options."
Terming it as a major reform, MCX chairman Saurabh Chandra said: "Options would complement the existing array of commodity futures contracts and help in enriching the informational efficiency of the market's price discovery process. It gives market participants great flexibility to manage risk and achieve their trading objectives."
There has been a very conscious effort by the government and Sebi to develop and integrate commodity markets in a phased manner, he said.
To further strengthen the market, he said that a committee has been set up in NITI Aayog to integrate spot and derivative markets. Another committee set up by the finance ministry is looking at way to transform India's gold market.
Finance Secretary Ashok Lavasa, member, NITI Aayog & cairman, Economic Advisory Council to Prime Minister (EAC-PM) Bibek Debroy, MCX Chairman Saurabh Chandra and MCX managing director and CEO Mrugank Paranjape were present at the event.
MCX is the leading commodity bourse in the country with a market share of over 90 per cent. It has a large presence in gold, base metals, and energy.
Image: Finance Minister Arun Jaitley lights the traditional lamp to mark the inauguration of gold options trading in the country. Photograph: Courtesy, Jaitley's Twitter page.
© Copyright 2022 PTI. All rights reserved. Republication or redistribution of PTI content, including by framing or similar means, is expressly prohibited without the prior written consent.