The BJP also claimed senior Congress leaders were divided on the issue of supporting the land Bill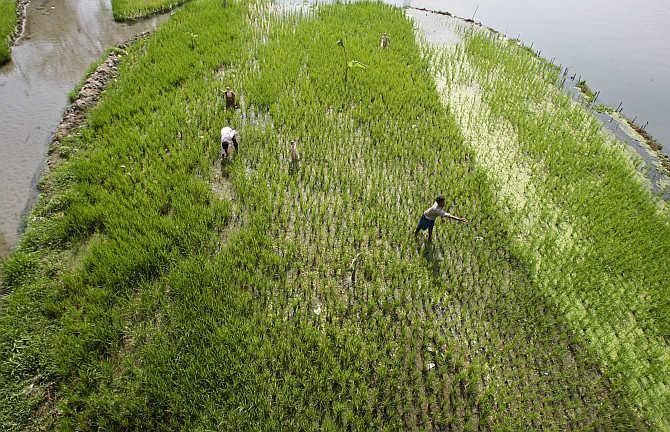 Prime Minister Narendra Modi on Monday said at a public rally in Punjab that efforts were being made to mislead farmers on his government's land Bill, even as a Bharatiya Janata Party and Rashtriya Swayamsevak Sangh coordination meeting in New Delhi assessed the possible impact of the criticism of the contentious land Bill by the opposition parties.
The BJP also claimed senior Congress leaders were divided on the issue of supporting the land Bill.
The prime minister addressed a gathering at Hussainiwala near the India-Pakistan border, after paying floral tributes to freedom fighters Bhagat Singh, Sukhdev and Rajguru.
The three were cremated at Hussainiwala by the British after they were hanged in Lahore on March 23, 1931.
"These days, several efforts are being made to mislead farmers," Modi said. The PM said he tried to allay fears of farmers by answering all of their questions during his 'Mann Ki Baat' programme on All India Radio on Sunday.
Punjab Chief Minister Prakash Singh Badal, who leads the Shiromani Akali Dal -- BJP coalition government in the state, was present on the occasion.
The Akalis had initially opposed the Modi government's land ordinance but decided to vote in its favour in the Lok Sabha after the government brought in nine amendments.
The Akalis want favour of keeping the consent and social impact assessment clauses against forcible land acquisition.
Modi told the gathering the land Bill was development oriented, and promised that children of affected people will be given employment.
"Our government wants farmers and villages should progress and we are making efforts in this regard," he said.
The PM appealed to farmers to think of the future of their children.
Modi also expressed concern about declining water table in Punjab, excessive use of fertilizers and the damage to crops because of recent rainfall and hailstorm.
In New Delhi, a BJP-RSS coordination committee meeting at Surface Transport Minister Nitin Gadkari's residence also discussed the opposition's attempt to paint the land Bill as anti-farmer.
In Hyderabad, Parliamentary Affairs Minister M Venkaiah Naidu said the government could re-promulgate the land ordinance if the Bill were to fall in the Rajya Sabha.
BJP National Secretary Shrikant Sharma claimed that divisions in the Congress were at their 'peak', and its leaders were speaking in different voices on the land Bill issue.
Image: Farmers work in a paddy field on the outskirts of Siliguri. Photograph: Rupak De Chowdhuri/Reuters