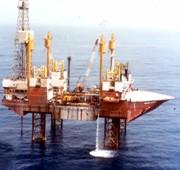 State-owned Oil and Natural Gas Corporation is set to undertake exploratory drilling work in three offshore oil and gas Blocks in Krishna-Godavari basin soon, according to sources close to the development.

Once all formalities are completed, the ONGC consortium will spend about Rs 1,700 crore (Rs 17 billion) on developing these three blocks, sources indicated.

Other members of consortium are Oil India, APGIC and NTPC.

As many as 19 exploratory well will be drilled in the three blocks- KG-OSN-2009/1, KG-OSN-2009/2 and KG-OSN-2009/4-put together.

The Oil and gas major won these blocks in the eighth round of NELP conducted in 2009.

"The Ministry of Environment and Forests gave conditional clearance to undertake exploratory drilling in these three blocks.

"Once successful, the total investment required for the full-fledged drilling for three Blocks will be in the range of Rs 1700 crore.

The exploratory drilling will be done in 19 wells," a source told PTI.

In KG-OSN-2009/1Block, ONGC holds 80 per cent stake while Andhra Pradesh Gas Infrastructure Corporation and NTPC hold 10
per cent each.
Six Exploratory wells are to be drilled up to a depth of 4.3 km in this Block.
In KG-OSN-2009/2 Block, ONGC holds 90 per cent and the rest is held by APGIC.
Six Exploratory wells will be drilled up to depth of 3.7 km in this Block.
In the case of KG-OSN-2009/4 Block, ONGC holds 50 per cent, Oil India 30 per cent and APGIC and NTPC, 10 per cent each.
Seven Exploratory wells will be drilled up to depth of 4.6 km in the Block.
The drilling period for each well be between 35 to 50 daysdepending up on the depth of the well and availability of rigs, sources added.
When contacted a senior official of ONGC said the whole process will take at least a year and after that data will be analysed.
After the MoEF clearance for the exploratory well, the Oil and Gas producer will have to get the consent of the Andhra Pradesh State Pollution Control Board to proceed further, the official informed.
ONGC, which has 24 blocks in KG Basin currently, produces approximately little above 800 tonnes of oil per day.
It also produces, on an average, 3.2 million metric standard cubic metres per day (mmscd) of gas from its onshore blocks.
© Copyright 2022 PTI. All rights reserved. Republication or redistribution of PTI content, including by framing or similar means, is expressly prohibited without the prior written consent.