Electric mobility in India is touted to be the way to the future, but implementation of large-scale projects to bring infrastructure for charging is still lacking.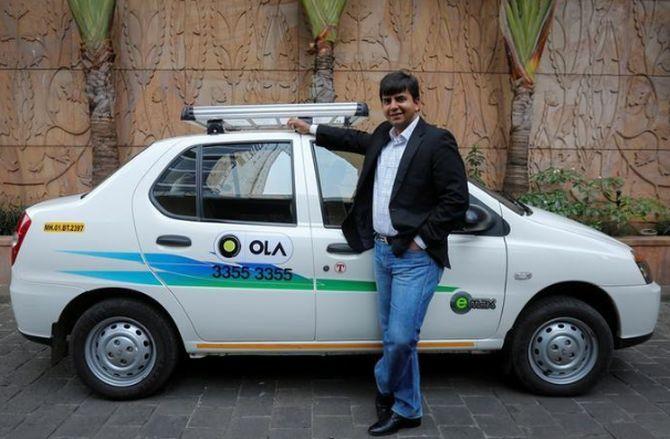 At a time when India's ride-hailing sector could be heading for a consolidation, driven by Japanese investor Softbank - the biggest investor in both Uber and Ola - the Indian firm is looking to edge past its global rival in the eyes of its backer by announcing a plan to bring one million electric vehicles on to India's roads by 2021.
A million electric vehicles on Indian roads has been a dream of Masayoshi Son, group chairman of Softbank, who has emerged as one of the biggest investors in the country's renewable energy space apart from making big bets in e-commerce and ride hailing.
In December 2016, he had said he would like to "gift" a million electric cars to India.
Ola, on Monday announced its 'Mission: Electric' under which it would work to have a million electric vehicles on its platform by 2021.
The Bengaluru-based company said it would kick off this movement by onboarding 10,000 e-rickshaws and electric auto rickshaws within the next 12 months.
In a statement, the company said it "will work with driver-partners, cities, vehicle manufacturers, and battery companies to make sustainable technologies cost-effective and viable in daily mobility."
Business Standard had reported in January that Ola had hired Chinam Netaji Patro as its senior director for EVs, with a plan to develop electric auto rickshaws.
While electric cars are still far too expensive and suffer from drawbacks of long charging times and short ranges, experts say that electric rickshaws could be a good first step towards electrification since they typically serve shorter trips and can do away with expensive technologies such as high-voltage drivetrains and chargers.
"Three-wheelers are a vital means of transportation and a source of livelihood for millions of people every day. It also represents an immediate opportunity to improve outcomes for all stakeholders while reducing pollution across towns and cities." Bhavish Aggarwal, co-Founder and CEO of Ola, said in a statement.
In May last year, Ola had kicked off its first electric mobility pilot in Nagpur with help from the government and manufacturers like Mahindra Electric.
While insiders say the experiment has failed due to the high cost of electric vehicles, lack of charging infrastructure and the driving range of vehicles being lower than anticipated, it has pushed the company to focus more on electric three-wheelers for the time being.
Ola now says that it will expand the number of electric rickshaws in Nagpur, besides bringing them to three new cities in the next one year; it, however, does not disclose the names of the new cities.
While the company has been working on innovating in the space of electric vehicles, it isn't particularly looking at turning a manufacturer on its own; it would rather be more of a player to bring together the several stakeholders and innovate for reducing costs.
Electric mobility in India is touted to be the way to the future, but implementation of large-scale projects to bring infrastructure for charging is still lacking.
Companies like Ola are seen taking the lead here, while other mavericks in the space, such as Chetan Maini, the original founder of Reva which is now Mahindra Electric, are working on solutions of mass-scale battery-swapping stations.
Experts in the automotive field say that electric mobility in India still has a long way to go, but the one thing that's certain, gauging by global trends, that electrification of vehicles is inevitable.
For a country like India, where car ownership is still low, it's very important for ride-hailing players to begin supporting electric mobility, they add.
Photograph: Shailesh Andrade/Reuters